My wife, Diane, and I are fortunate enough to live on the Riviera Maya–a stunning, palm-infused, unflawed stretch of coastline on the east coast of Mexico's Yucatán Peninsula.
Kissed by the turquoise, warm waters of the Caribbean Sea and graced with powder-white sands, this part of Mexico is spectacular. A living reef (the world's second largest) lies just offshore and provides world-class diving and snorkeling opportunities year-round. An International airport in Cancún annually delivers some five million tourists from all across the globe to this popular Caribbean vacation destination.
And the weather here is perfect. Well, almost perfect. The summer months of June, July, and August are the hottest with average temperatures in the low 80s F; but daily highs can climb into the mid-90s F with an abundance of sticky humidity. Stepping from an air conditioned car or home into these conditions can feel like stepping into a steam bath and trying to breathe through a hot, wet sponge. That's my take…but Diane loves it.
These are the days to strip off the street clothes and don your swimwear for an extended soak in the pool or ocean. Hydration is important so keep an iced cooler of cold drinks nearby. This is also a great time to get out and explore the many local cenotes (underground, water filled caves) filled with cool, clear, fresh water; perfect for an afternoon picnic, and these subterranean stalactite/stalagmite-filled caverns will keep you out of the hot sun.
These hotter months are also excellent for exploring other, cooler parts of Mexico in the central highlands; places like San Miguel de Allende or the Lake Chapala region, where temperatures remain in the mid-70s F throughout the year. The Riviera Maya boasts over 200 days of sunshine per year so be sure to liberally apply the sunscreen if you plan on spending time outdoors.
The Perfect Climate for Getting Outdoors
The weather supports outdoor activities year-round so if you like to fish, the Riviera Maya is your place. Offshore fishing is available all along the coast through hundreds of charter boat operators. I happen to like the small piers in the village of Puerto Morelos, with its landmark leaning lighthouse. Or, if you prefer, just step into the surf and cast your line into the froth to see what bites. All beaches along the coast are public, however access to those public beaches may be through private property, so be aware. There are well-marked public access points to beaches up and down the coast and most permit fishing as long as there is not an abundance of swimmers.
December, January, and February are the coolest months, with temperatures averaging in the low-to-mid-70s F and negligible humidity. Comfortable sleeping temperatures drop into the 60s F at night. Break out the kayaks and the bicycles or enjoy an excursion to one of the many Maya ruins in the area. This is a great time of year to be outdoors, and hiking around a centuries-old Maya ruin with a camera is a great way to spend the day.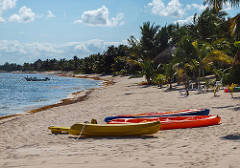 There are essentially two seasons here in the tropics; the wet season and the dry season. July and August begin the rainy season, with September winning the award as the wettest month. You can expect about 10 inches of rain to fall over seven days throughout September, with October and November getting drier as the days go by.
I happen to love watching thunderstorms and the Riviera Maya provides some awesome examples. There is something humbling…almost spiritual in their breathtaking power. Sometimes, in the evenings, we sit outside on our roof terrace and watch in the distance as nimble arcs of blue-white light jump from cloud to cloud over dark Caribbean waters, and deep, fearsome rumbles of thunder vibrate our very bones.
If a thunderstorm prevents a day at the beach or a bicycle outing, take advantage of the opportunity to see a movie in one of the many, modern theaters showing first-run films in English, or check out the Maya museum in Cancún for a look into an ancient culture.
So maybe the weather isn't perfect; At least not every day, but living on the Riviera Maya is as close to perfect as we need.
Get Your Free Mexico Report Here:
Learn more about Mexico and other countries in our daily postcard e-letter. Simply enter your email address below and we'll send you a free special report – Why Millions of Americans Are Moving to Mexico.
This special guide covers real estate, retirement and more in Mexico and is yours free when you sign up for our postcards below.
Get Your Free Report Here