They knew they couldn't afford to retire in California…
But Today, Deby and Chuck Are Living Their Dream Retirement in Costa Rica
Beach, Mountain, Lake, City
and Country Living…
Quality, Low-Cost Quality Healthcare…
For $2,000 a Month or Less,
You Can Do the Same
Dear International Living Reader,
Back in 2005, Deby Hogue says, she was working at a Montessori school and her husband, Chuck, had been working in construction for 30 years.
As Chuck used to say back then, "I am beat up from the feet up." It was a natural time in their lives to retire and make some more memories.
The couple had dreamt of retiring to the beach, but they couldn't see it happening for them in California, where they're from.
On a surf trip to Costa Rica that year, however, they found what they were looking for in the little town of Nosara.
"We found surf, beautiful beaches, and great restaurants… and the place that would become our retirement home."
As Deby and Chuck soon realized, while they couldn't afford to retire at home, they could very well afford to retire in Costa Rica. And in their mid-50s at the time, it would be even earlier than they had hoped.
Nosara had everything they were looking for. A small town on the Pacific Coast, it's sheltered by green hills to the east. But to the west, its beaches are the main attraction. There are five separate beaches here, in fact, in secluded coves and bays. The largest, Playa Guiones, is three miles long, and has been named by National Geographic as one of the top 20 surfing destinations in the world.
Imagine, retiring to one of the world's best surf destinations…
These beautiful beaches and the laidback tranquility of little Nosara attract young, lively visitors who come to surf, practice yoga, and enjoy the stunning natural landscape and wildlife.
Everything you might need is here, Deby says, including a great market, a hardware store, a post office, and a small airport from which you can take a 45-minute flight to the capital city of San Jose.
"The town also has a nice community of expats from Europe, the U.S., and Canada."
Just a seven-minute walk from the beach Deby and Chuck found a lot for sale for just $55,000. Relying on Chuck's construction skills, they decided to build their own home.
The house has three bedrooms, one of which is accessed by an outside spiral staircase," says Deby. "We call this "the monkey room" as it's next to papaya trees that the monkeys love to eat from. We have a large patio where we put our dining table and I have an outside kitchen where I do most of my cooking. We are surrounded by lots of trees and plants… we have to constantly rearrange the plants because they grow so large."
Chuck and Deby figure they spent $120,000 to build their home. (Try doing that in California… where a home this close to the beach will cost a million dollars or more…)
"We love our life in Nosara… it's vibrant and healthy," Deby says. "Chuck surfs and I have started to blog about my cooking and our life here."
They eat out once or twice a week, mostly because Nosara is a fun place to socialize, she says, everyone knows one another.
"We usually spend between $8 to $12 on a meal. My favorite dish when we eat out is what's called a casado—a plate of rice, red or black beans, a choice of fish, beef, pork, or chicken, and a colorful salad of lettuce, tomato, carrots, cucumber, hearts of palm, and avocado."
As residents of Costa Rica, they're enrolled in Caja, the national healthcare program. They pay $83 per month for that, for the two of them.
And while Deby cautions that Costa Rica is not the most inexpensive place to live, she says their monthly expenses are reasonable.
"We spend about $2,000 per month on food, gas, dinners out, car repairs. It really is a great life in Nosara… one we're very much enjoying."
You, Too, Can Have the Retirement
of Your Dreams in Costa Rica
For years now, Costa Rica has been one of the most popular tourist destinations for North Americans. Nearly a quarter of the country is national park land and protected areas. There are plenty of beaches, too, on both Pacific and Caribbean Coasts. And the country's Central Valley offers a nearly perfect climate… never too hot and never too cold.
Retirees, too, have taken note of all this country has to offer.
Costa Rica ticks almost all the boxes on anyone's retirement checklist:
Conveniently close to home—With many direct flights to two international airports (and a third in the works), it's close to the U.S. and Canada, (less than three hours from Miami).
Excellent weather—From the temperate Central Valley to the beautiful tropical beaches, there's a climate for everyone.
Top-quality healthcare—The World Health Organization praises Costa Rica for its health care system, and has ranked it better than the U.S., despite spending 87 percent less on healthcare per capita.
The most stable democracy in Latin America—No other country has the peaceful history and democratic stability of Costa Rica (and no army)!
All the comforts of home—modern shopping malls and world-class hospitals. Reliable high-speed Internet is available just about everywhere.
Low, low taxes—You'll pay zero income taxes on foreign-earned income. If you buy a home in Costa Rica, your annual property taxes will be little more than $200-$500 in most cases. And there's no capital gains tax!
With one of the world's lowest poverty indexes and a high standard of living, Costa Rica offers a surprisingly low cost of living.
Sure, some of the things I've just mentioned are also true of many Latin American countries. All are more affordable than the U.S. and some are even closer geographically (but not by much). Many have democratically elected governments, although few with as longstanding history as Costa Rica.
But as Deby and Chuck and others have learned, Costa Rica offers advantages most of us aren't aware of:
A built-in community of English-speaking locals and expats—it's said that more than 11,000 U.S. retirees currently live in Costa Rica.
It's healthy… with little pollution and lots of clean water and fresh air. (Costa Rica is one of the only countries in the world to reverse deforestation!) A staggering 99% of its energy comes from renewable, money-saving sources.
Adult literacy is practically 100%. Thanks to the well-educated, well-informed workforce, many international companies have offices, factories, and call centers here—contributing to the strong and stable economy.
The happiest people in the world live here. Sociologists from the Happy Planet Index have said Costa Ricans "report the highest life satisfaction and have the second-highest average life expectancy of the Americas (second only to Canada)."
It's no wonder that many foreign retirees are living Pura Vida (the purely good life) in Costa Rica. And you could, too…
Find Out if Costa Rica is Right for
You with International Living's
2016 Fast-Track Costa Rica Package
Discover everything you need to know
about Costa Rica to determine if it's your ideal
retirement or relocation destination…
Come away with all the knowledge and contacts
necessary to make your move with confidence.

If you've read this far, you may have something in common with the Hogues.
Maybe you're concerned about your financial future or your health… wondering if you'll be able to have the kind of life you dream about… or if you can afford to retire at all.
To that, I say: thousands of foreign retirees have made their dreams come true in Costa Rica. And you can, too. As Deby and Chuck discovered, you may even be able to retire earlier than you ever thought possible.
You can quit working and start living. Or even start a profitable new venture… something you're passionate about and have dreamed of doing. With the Fast-Track Costa Rica Package, we'll show you how.
"America is no longer
a place to grow old."
Tired of bad weather, high costs, and the lack of respect for older people in the U.S., Paul and Gloria Yeatman moved from Baltimore to a cozy home on a tropical mountainside in Costa Rica's Central Valley… but just 45 minutes from the beach.
They wanted fun and adventure in their retirement. "And no more snow."
Their goal, they say, was to live better than ever… but on $2,000 a month or less.
"We're doing exactly that," they say, "and we love our life here."
I'm Jackie Flynn, publisher of International Living.
We're bullish on almost all of Latin America, as you know. And the more research we do on Costa Rica, the more over-the-top bullish we are on Costa Rica. Forget about the naysayers—Costa Rica is as good an option as it's always been for retiring inexpensively, starting a business, or happily spending time in your second home in the sun.
Costa Rica just makes sense. It's the most politically stable country in Latin America, with a long history of peacefulness. (President Oscar Arias won the Nobel Peace Prize in 1987 for his efforts to bring the peacefulness of Costa Rica to other countries in Central America.)
Plus, Costa Rica has all those advantages I've already told you about. It offers great weather, beautiful beaches, world-class health care, and it's so very affordable for daily living.
In a moment I'll share a typical monthly budget for a couple living in Costa Rica. Most report that they live far better in Costa Rica on about one-third of the costs back home.
But Isn't Costa Rica Real Estate Expensive?
Despite what you may think, real estate prices in Costa Rica are just as low as in Mexico and other popular Central American countries like Belize and Panama.
As anywhere in the world, prices are higher in high-traffic tourist and resort destinations. That's the rule of supply and demand, after all.
But if you relocate to Costa Rica, it's doubtful you'll settle in a tourist destination. Most expats, in fact, settle in the Central Valley. There, you'll find prices extremely affordable. Same with the Lake Arenal area to the north and certain pockets of coastline.
In fact, if the beach is your thing, you'll be spoiled for choice, as Costa Rica offers more than 1,000 miles of coastline. Know where to look and you'll find some incredible bargains.
But don't just take it from me. Here's what International Living Real Estate Editor Ronan McMahon has to say about Costa Rica real estate:
"In the 1980s, International Living recommended buying real estate in northern Costa Rica. This part of Costa Rica caught on… and became the number one destination among foreign retirees and investors. Through the 1990s, the market boomed.
"Thing is: there are, arguably, nicer parts of Costa Rica that haven't yet caught on. In these areas, prices are very affordable. Along Costa Rica's southern coast, for instance, you can buy a quarter-acre lot in a high-end private community for $45,000. With custom homebuilding costs at only $100 per square-foot, you can build a 2,000-square-foot dream home for $200,000."
Ronan has logged hundreds of thousands of travel miles in pursuit of the world's best real estate bargains and he's high on Costa Rica. In the Fast-Track Costa Rica: Lifestyle and Opportunity Package, his business partner Margaret Summerfield will give you all the details and tell you where to find the country's best real estate deals… in areas they both believe hold tremendous potential for appreciation.
The Central Valley is Where Most Expats Settle, Thanks to Convenience Climate, and Cost of Living…
As I mentioned, Costa Rica's Central Valley is where most foreign retirees settle. That's because of the temperate weather and proximity to the modern amenities of San José, with mega shopping malls and world-class medical care.
That's where you'll find Greg and Jen Seymour. A few years ago, they were firmly stuck in the "rat race" in Dallas…Greg as the vice president for a company that handled paper and electronic discovery for law firms and Jen in the commercial title insurance industry.
They enjoyed big city living and they were making good money, but between social commitments, constant and mundane tasks like car and house maintenance, grocery shopping, and ever increasingly demanding jobs, they felt like something was missing.
Life was passing them by.
They started doing some research and soon realized that they could live affordably in Costa Rica… They could retire early, at ages 44 and 41. And life could be so much better, with much less stress… less focus on work and more focus on spending time doing the things they really wanted to do…
Fast forward three years.
Today, Greg and Jen live in Grecia, about a 30-minute drive from the international airport at Costa Rica's capital city of San Jose.
It's convenient to get back to the States to visit family and friends, they say. Grecia is small and easy to get around by bus, and "it's non-touristy," as Jen describes it.
Greg and Jen Retired Earlier Than They Thought Possible…and They're living the Life of Their Dreams for Less Than $1,500 a Month—Rent Included.
"Our total budget is usually between $1300 and $1500 a month," says Greg Seymour, and that includes rent for their three-bedroom furnished home with "a million dollar view of the breadth of the Central Valley. We pay $625 and that includes wi-fi and a weekly gardener. We are quite happy with the type of life we live on that."
The climate is perfect, they say. Because of the elevation of the town and surrounding areas, the temperatures are temperate and comfortable—no higher than 80 F during the day and in the high 50s F or low 60s F at night.
They're happy living a simple life surrounded by natural beauty and wildlife.
Best of all, they live on a fraction of what it cost them to live back home—though admittedly their lifestyle is much simpler. That's the way they like it though.
"It doesn't feel like a sacrifice to us to live more frugally," Jen explains. "We knew we wanted to simplify our lives. And it was this change that allowed us, more than anything, to retire at an early age."
Today their monthly expenses come in at just $1,400—less than a quarter of the $6,000 they spent every month in Dallas. But living more frugally doesn't mean they have to live with just the bare essentials.
Their budget includes rent for a spacious three-bedroom, two-bathroom, fully furnished house, "with a million dollar view of the breadth of the Central Valley," says Greg.
"We pay $625 a month for rent, and that includes wi-fi and a weekly gardener. Our total budget is usually between $1,300 and $1500 a month and we are quite happy with the type of life we live on that."
That budget includes groceries and occasional restaurant dining, too, they say most of their activities now cost very little. They've started a blog, Jen's writing a book, and they've made great friends who they often meet for coffee or wine in each other's homes.
"We hike for hours," Jen says. "I do yoga. We enjoy our time together."
As Greg and Jen point out, one of the reasons Costa Rica's Central Valley is so popular is because of the great climate. Not too hot and never too cold, they can spend lots of time outside.
And because neither heat nor air conditioning is needed, utility costs are low. All this, and affordable property prices, too…
Check out these bargains available right now in the popular Central Valley: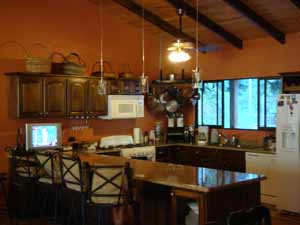 Affordable carefree condo living: On the western side of metropolitan San José, near the Forum Business Park in the well-to-do suburb of Santa Ana, you can pick up a brand-new two-bedroom/two-bath condo in a complex with swimming pools, tennis courts, lot of green areas, and more starting at just $106,000. In nearby Escazu, a huge three-bedroom two-and-a-half-bath home of nearly 3,0000 square feet—with a nice garden and upscale finishings like granite countertops, ceramic tile, and an enclosed terrace is selling for just $265,000.
Just a few miles from the suburb of San Ramon (also very popular with expats) a small two-bedroom home is for sale on a 5,400 sq. ft. lot. The home has been recently renovated with skylights, natural wood accents, and all new tile. In a safe family neighborhood, the property features lots of mature shade trees. Price: Just $65,000!
Just nine minutes from Puriscal—just an hour by paved road all the way from the airport at San José—you'll find an 1,800-sq.-ft. three-bedroom/two-bath home that's been built to North American standards. You'll love the gorgeous mountain views that surround this nearly two-acre property. You'll love the 15-foot wood-beam ceilings. There are natural streams and springs on the property, fruit trees and more… even a horse barn. Price: just $199,900.
And remember, property taxes are ridiculously low. The current tax rate is 0.25% of the property value. That means you can expect to pay annual property taxes of about $400 for the home near Puriscal. What a deal, huh?
Best of all, if you sell your home in Costa Rica, you won't pay a dime in capital gains tax. Zero, zip, zilch.
In the Fast-Track Costa Rica Package, we'll pinpoint the areas where you'll find the best property bargains and profit opportunities.
For Natural Beauty, Laidback Living, and Affordability, Lake Arenal is Well Worth a Look…
Prefer to live even farther from the city, but still in a temperate climate? Beautiful, affordable Lake Arenal is well worth a look.
Not ready to buy? Rent!
The very best advice for any potential expat anywhere is "Rent before you buy." Fortunately, Costa Rica offers a multitude of rental choices.
If you budget $600 per month in rent, you'll find good options for quality living… maybe with a bit left over! Paula and Gloria Yeatman pay $500 a month to rent their furnished three-bedroom home in the Central Highlands.
In the Fast-Track Costa Rica: Lifestyle and Opportunity Package we'll show you exactly where and how to find the country's best rental bargains.
Just a three-hours drive north of San Jose, but still in the highlands, the lake area is blessed with a spring-like climate year-round.
If you like to fish, this may be the place for you. The 33-square-mile Lake Arenal is known for its Rainbow bass sport fishing. And for windsurfing and sail boarding.
Looming above the green landscape at the east end of the lake, is the 5,479-foot Volcan Arenal, a cone-shaped volcano that's active but not dangerous. (A side benefit from the volcanic activity is that thermal hot springs abound in the area. The mineral-rich waters, naturally heated to upwards of 100° F, are said to have medicinal properties in regards to arthritis and other ailments.)
You'll find a vibrant and active expat community here, too, along with a small town atmosphere, a rural feel, and peace and quiet.
Fortunately, Lake Arenal is one of the places in Costa Rica that has yet to hit its stride as far as real estate prices go. Some real bargains can be found here. Like:
A sensational one-third-acre lake-view lot on a private road, completely fenced and with a 220-degree expansive lake view, just $24,900.
A 3-bed 3-bath home with stunning lakeviews. Watch monkeys play in the trees and take your pick from tangerine, avocado, lemon, and banana trees. There's a hot tub, 3-car garage, and much more, just $165,000.
Looking for a business to run? Within walking distance of Nuevo Arenal town, there's a three-bedroom house that also comes with four one-bedroom rental apartments—all for a negotiable $149,000.
And this one is almost too good to be true: a cute and oh-so-tidy Tico-style home with two bedrooms and an awesome lake view. This one will need some updating but the price is right: Just $59,000!
And What About the Caribbean Coast?
Costa Rica's Caribbean Coast is another place that deserves your attention. It's as beautiful as you might imagine it too be, with warm turquoise waters and white-sand beaches. And it's far less settled than the Pacific Coast, meaning that opportunities are plenty.
Beach living more your style? You, especially, will be happy in Costa Rica:
In Nosara, where Deby and Chuck Hogue live, a unique Spanish-style condo is for sale… with French doors that open to the balcony overlooking the swimming pool and a stunning ocean view, complete with custom-made furniture for just $165,000.
Playa Hermosa, just a few miles south of popular Jacó, is a happening Central Coast town that draws many expats and tourists. There, you can buy a fully furnished two-bedroom one-bath condo so close to a great surfing beach you can hear the surf from both bedrooms. The price is an incredibly low $75,000.
In Herradura, very close to the upscale Los Suenos Resort and Marina, the price for this spacious 2,200-sq.-ft. four-bedroom, three-bath home—with a private swimming pool… has been reduced from $299,000 to just $250,000.
Always wanted to own a beach bar or restaurant? Costa Rica offers lots of opportunities for entrepreneurs. At Playa Coyote in the popular "Gold Coast" area of Costa Rica's Guanacaste province, an oceanfront bar is for sale… With a two-bedroom owner's residence and an independent one-bedroom guesthouse. This is oceanfront… and the price? Just $199,000.
Beach Lovers Take Note: The Costa Rica Coast That Deserves Your Attention Right Now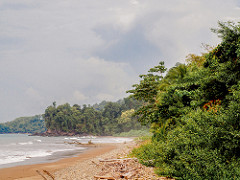 If you're a beach lover… or a real estate investor… there's an area of Costa Rica that particularly deserves your attention… right now.
It's the southern Pacific coast… called the Costa Ballena (whale coast) for the majestic humpback whales that migrate to the warm waters here each year from December to April.
The Costa Ballena is more lushly beautiful, more deeply colorful, and the views from the hillsides overlooking the Pacific Ocean are more strikingly dramatic than anywhere along the more popular Gold Coast to the north.
You'll hear all about it in the Fast-Track Costa Rica: Lifestyle and Opportunity Package. We'll tell you exactly where to go, who to see, and what kinds of properties make sense if you'd like to buy in this part of the country.
If history repeats itself (as we expect it will), now that the new coastal highway is open and once the new international airport opens as planned, property prices here will rise rapidly.
The Beach Destination in Costa Rica
That's a Bargain Hunter's Dream
"Costa Ballena prices are as low as one-tenth what you'll find along the Gold Coast, just a day's drive to the north," reports real estate scout Margaret Summerfield.* "And the Costa Ballena is far prettier, in my opinion."
You're just in time to SAVE BIG $$$ along the Costa Ballena
In Ojochal, the town that's most quickly growing along this coast, you'll find a private river-view estate on 2.5 acres of land. The 1,800-sq.-ft. two-bedroom, two-and-a-half bath home has gorgeous wood accents throughout and hardwood floors in the master bedroom. Doors open to the terrace and pool. There's plenty of room to add on to the existing home or even build some guest casitas. The asking price for this gem is just $198,000.
In the hippest and happiest surfer town along this coast, you can buy a quarter-acre lot with a three-floor two-bedroom home on the river, not far from the beach. Price: $98,000. There's a deck with fantastic views, and yes, this lot has a free and clear title. (And seller financing is available!)
And for as little as $45,000, you can purchase a home site in the best community along this coast… with truly superb views. And with costs of custom homebuilding of the highest standards at only $100 per square-foot, you can build a 2,000-square-foot dream home for $200,000…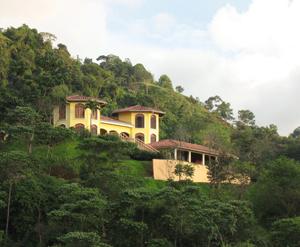 In California, a comparable home would cost you 10, maybe 20 times more. But why live in California with its high taxes, pollution problems and skyrocketing cost of living, when you can live in beautiful, pristine, affordable Costa Rica?
When you secure your copy of International Living's Fast-Track Costa Rica: Lifestyle and Opportunity Package, you'll hear from all our best Costa Rica resources… attorneys, doctors, insurance professionals, construction and real estate experts… who can help you better understand the many benefits and options Costa Rica offers. They will tell you where to go to find the best quality, the best deals and value… on everything from real estate to moving companies to doctors, spas, restaurants, and more.
You'll also hear firsthand from others who've done what you're contemplating…
You'll listen to expats like Jason Holland, International Living's roving Latin America editor.
Jason and his wife, Liz, had grown weary of the frantic pace of life in the States. They were looking for a more welcoming and laidback environment to raise their son, Owen.
"I'd been laid off from my job in South Florida," Jason says, "and started working as a freelancer… which was going well. My wife was pregnant and we had no medical insurance. We already had a five-year-old. Things just weren't adding up. We had always wanted to live overseas… somewhere with a lower cost of living. We had been to Costa Rica before—and we knew it fit the bill."
So off they went, along with their happy-go-lucky Standard Poodle, Jester, and their curious little Havanese, Shadow, to Costa Rica. They settled in Grecia, a popular small town in the Central Valley. But they also lived for a time in the beach community of Tamarindo. And they welcomed another child to the family. Little Wesley was born in June of 2012 at the CIMA Hospital in Escazu.
Jason and his family fell in love with their new life in Costa Rica… for all those benefits I've already mentioned, and because, as Jason says, he left behind the over-the-top consumer culture, fast-paced lifestyle, and stress…
In the Fast-Track Costa Rica: Lifestyle and Opportunity Package Jason will help you out… So will Jackie Minchillo from Tamarindo and Greg and Jen Seymour and Gloria and Paul Yeatman, who live in the Central Valley… and many more, from all areas of the country… all along the Pacific and Caribbean Coasts, the Central Highlands, and Lake Arenal.
Here's what the U.S. government says
about Costa Rica…
"Costa Rica has long emphasized the development of democracy and respect for human rights. The country's political system has steadily developed, maintaining democratic institutions and an orderly, constitutional scheme for government succession.
"Several factors have contributed to this trend, including enlightened leadership, comparative prosperity, flexible class lines, educational opportunities that have created a stable middle class, and high social indicators.
"Also, because Costa Rica has no armed forces, it has avoided military involvement in political affairs, unlike other countries in the region."
These are all smart people, like you. And they all say that the decision to move to Costa Rica was one of the best they've ever made. And they have no intentions of ever leaving.
Besides everything I've already mentioned, Costa Rica has something very important going for it: a strong economy.
Of all the countries in Latin America, Costa Rica is the number one tourist destination. Tourism brings in more than $2 billion every year. And remember, this is a country the size of the state of West Virginia.
Plus, Costa Rica has attracted one of the highest levels of foreign direct investment per capita in Latin America. As I said earlier, many multi-national companies have located here. And unlike most of Latin America, Costa Rica is not highly dependent on remittances—they only represent about 2% of GDP.
As a sign of its prosperity, remember: no other Central American country has more than one international airport. Little Costa Rica has two… with a third on the way.
Importantly, according to U.S. government statistics, Costa Rica enjoys the region's highest standard of living and a low unemployment rate.
Now… What About the Daily Cost of Living?
Just How Affordable is Costa Rica?
How much does it cost to live in Costa Rica? The short answer is: whatever you want… within reason, of course.
You can spend just about as much or as little as you want. As Greg Seymour says, if you focus on what's important you can live very well in Costa Rica for very little money. He also says that you don't have to "keep up with the Joneses" here.
"Your 'needs' will become simpler here," says Greg. "You can live comfortably with a lot less stuff."
For sure you can live like a rock star in Costa Rica on $4,000 per month. Most expats, though, report they live happily and without sacrifices on a monthly budget of $2,000 to $3,000.
For example, as I've mentioned, Greg and Jen Seymour's budget in Grecia in the Central Valley is just $1,500 a month. Paul and Gloria Yeatman, in nearby San Ramon, live well on a monthly budget of just $1,800.
The rent for their furnished home is $500. They have high-speed Internet, utilities, weekly house cleaning, a gardener… They spend money on food, entertainment, and transportation, as we all do. They spend just $60 (total for both of them) for the country's universal health plan (known as Caja) and another $80 for medications not covered.
It's important to note that Caja expenses have gone up since Paul and Gloria arrived… more on health care costs in just a moment.
Still, by moving to Costa Rica, Paul and Gloria say they've reduced their total living costs by 65%
But it's not just the cost savings you should consider… it's the overall improvement in your quality of life.
Here's a typical monthly budget, based on calculations for two people living in a mid-range, two-bedroom home in the Central Valley:
| | |
| --- | --- |
| Housing (average rental): | $600 to $1,000 |
| Electricity: | $50 to $70 |
| Gas: | $10 to $20 |
| Water and trash collection: | $12 to $25 |
| Transportation (taxi): | $130 to $170 |
| OR… Maintenance/ fuel for one car: | ($100 to $250) |
| Phone (land line/ local calls): | $7 to $25 |
| Phone (cell phone): | $20 to $70 |
| Cable or satellite television: | $30 to $50 |
| Internet: | $35 to $50 |
| Caja health plan: | $150 to $200 |
| TOTAL: | $1,044 to $1,930 |
Note that this sample budget doesn't include groceries or entertainment, but a good rule of thumb is to budget about half of what you spend at home. We've listed a range here, because some of these expenses depend on your tastes, habits and consumption.
Your actual budget may be even less—some landlords include internet and other expenses like lawn care, water and trash pick-up. And, of course, if you pay outright for your home you won't have any housing costs.
A Real-Life Medical "Miracle"
A few years ago, an expat who lives near Lake Arenal got an infection in his toe. He was admitted at the hospital in Liberia, 90 minutes away and spent five days there where he says he received "excellent care."
But the miracle of it all was the cost. Because he is enrolled in Caja, the country's national medical program, he didn't pay a cent for any of his treatment or for the hospital stay. Zero, Zip. Zilch. Try that at home…
You can see how affordable it is to live in Costa Rica. Choose to live in the Central Valley where you won't need heat or air conditioning and your monthly expenses will be very low, indeed.
You can afford to treat yourself with things you might not afford at home… like a maid and gardener, spa days, and more…
In Costa Rica, even the lowest budget affords a very good lifestyle. You'll enjoy guilt-free consumption at very low prices. For instance, splurge on a salon haircut, manicure or pedicure ($5-$10 each), pay a maid to clean your house ($14 a day) or a gardener to do your lawn work ($4.50 an hour).
Remember, thanks to Costa Rica's government health care program, your health care costs will be negligible. But should you desire elective procedures, you'll pay about one-third what you will in the States. A facelift, for instance, averages $2,800 to $3,200 in Costa Rica, compared to $7,000 to $9,000 or more in the United States. A visit to a dentist will set you back about $50, including X-rays, and a teeth-cleaning will run about $40.
All This, and World-Class, Affordable Health Care
Hands down, Costa Rica's universal health care system is one of the best in Latin America and, indeed, among the best in the world. Once you obtain legal residency in Costa Rica, foreigners are eligible (required, in fact) to participate in Costa Rica's universal health care system, CAJA. For this coverage, a retired couple might expect to pay $150-$200 a month total for the two of them. It's affiliated with ten major public hospitals in the country and many small clinics in almost every community.
You can also buy private insurance—most plans cover dental work, optometry, and cosmetic surgery in the case of an accident. Prescription drugs, certain medical exams, sick visits and hospitalization are covered at 70% cost, and surgeon and anesthesiologist costs are covered at full cost. Private medical insurance in Costa Rica currently costs about $200-$300 a month per person, depending on age, gender and other factors.
And don't worry about language issues—many doctors speak English and have received training in Europe, Canada, or the U.S.
You'll save, too, on the little things that matter the most, but can add up. Like:
Ticket to see a movie in a modern theater—$5
Tickets to see a cultural event at the National Theater start at $2
Ticket to see a National Soccer Team Match in the brand-new stadium—$20
Fresh Red Snapper—approximately $5 per pound
A pound of beans—$0.90 per pound
A pound of rice—$0.50 per pound
Four avocadoes—$2
Pineapples—$1 each
A bottle of Imperial beer—$1.25
A pack of local cigarettes—$2.20
Bus ride from downtown San José to Escazu—$0.75
Bus ride from San José to Jaco Beach (60 miles)—$4.11
But it's not just the potential cost savings that you should consider… it's the overall improvement in your quality of life.
As another couple that moved to Costa Rica from Toronto, say, "We feel rejuvenated here. We have a beautiful home in the mountains overlooking the Pacific and are surrounded by exotic plants and wildlife. We don't need heat or air conditioning. We have ocean breezes during the day and mountain breezes at night. Howler monkeys are our alarm clock. Local beaches are pristine. Fruits and vegetables are delicious, as is the amazingly fresh fish. We wish we'd moved here years ago."
More time and more money to spend as you like… no taxes, no inflated prices, no more worries about outliving your retirement nest egg.
Maybe even money to spend on things you might not afford at home… like a maid and gardener, spa days, and more…
Are you ready to learn more about all that Costa Rica has to offer?
With the Fast-Track Costa Rica: Lifestyle and Opportunity Package we'll show you exactly how to live this laid-back luxurious lifestyle… no matter how small your budget.
If you want to salvage your retirement dreams, retire even earlier than you thought you could, or just live a more luxurious life than you ever thought possible—then there's no better opportunity to gain access to so much expertise…
Whether You're Retiring or Buying a Second Home…
or Starting The New Life You've Always Dreamed Of… This Package
Will Help You Make It Happen
People are coming to Costa Rica for various reasons. And we've got all the bases covered with all the high-powered local experts you need to know.
See firsthand how little it really costs to live in Costa Rica. Not via some theoretical budget, but by hearing from the people who are already doing it. People like Deby and Chuck Hogue, Gloria and Paul Yeatman, Greg and Jen Seymour, Jason Holland, and more…
Discover the best places to live and buy property, by learning all about the latest hot spots on the Costa Rica real estate scene. Not from some agent's listing, but by hearing from the International Living contacts who have traveled to see these areas first-hand.
Get in early on the newest emerging markets. Not by listening to salespeople, but by taking advantage of our market analysts' extensive experience.
Learn what it takes to start up a business. Not from a book, but from expats who have done it themselves… and done it well.
Know what documents you need to qualify for residency and Costa Rica's health care system… and where to bank, the best place to buy insurance, buy a car, etc. etc. Hear it straight from the attorneys, professionals, and others who are guiding your fellow expats.
Learn how to finance your purchase in Costa Rica, whether from a bank or from your own IRA. Expert—and certified—financial planners and banking specialists will be on hand to show you the way.
Get the whole picture, not just the fluff. Taxes, insurance, and visas are not the fun part of being an expat. But you need to know this part of the story before you take your next step in Costa Rica. Our trusted professionals will deliver the information you need.
To discover the real Costa Rica, you need to hear from people like yourself—those who have gone before you
For the Fast-Track Costa Rica: Lifestyle and Opportunity Package, we've invited an unprecedented number of expats who have bought second homes, retired, or started a business in Costa Rica. Men and women who just a short time ago, were in the same position that you are today.
Here are just a few of the people who make up our staff for this groundbreaking package.
Dan Prescher
International Living's Dan Prescher is special projects director and media director for International Living, no one is more qualified to talk about living overseas than Dan. He's traveled all over Latin America researching and writing about everything from deserted beaches to bustling world-class cities where life is good and costs are low. He and his wife, Suzan Haskins, are four-country expats.
Roger Petersen, legal counsel
When it comes to residency, tax law, corporations, trusts, banking, and real estate, there is no better authority in Costa Rica. Educated in the U.S., Roger has been practicing law in Costa Rica since 1992. He'll bring you up to speed with the practical information you need to know if you're planning to retire, buy a property, or start up business. His firm, Petersen & Philps, is one of the leading law firms in Costa Rica when it comes to expat issues and more.
Dr. Kenneth Rojas Calderon
Dr. Rojas is a private practice physician with associations at the top private hospital in San José, Clinica Biblica. He'll be on hand with details about Costa Rica's excellent health care services and private health care options.
Winton Churchill
Winton Churchill is founder of the Barefoot Consultant an international training and consulting company that helps clients make a living from anywhere in the world by tapping into their own skills and career experience. "By taking charge of their earning power, rather than waiting for governments, financial institutions and employers to 'right themselves,' the baby boomer generation now has the power and access to put their skills and abilities on the global market regardless of where they live or work now," he says.
Nick Hodges
With CPA/PFS, MBA, and CFP designations, Nick has a specialty niche tax and financial planning practice working with U.S. citizens who hold an international perspective. For over 20 years, he has helped his clients handle their tax and financial affairs Stateside and abroad, mitigating taxes and maximizing opportunity. He is well-versed in the matters of U.S. expat tax and as an extensive traveler, he understands what expats need as they manage their tax and financial worlds across multiple continents.
Doug Hendler
Doug is a Toronto attorney and specialist in tax issues for Canadian expats. His estate planning work for clients includes the creation of trusts and estate plans, advising clients with respect to asset protection strategies, and the structuring of the assets and affairs of his clients.
Margaret Summerfield
Born in Ireland, Margaret has spent most of her adult life living outside her home country. She now resides in the Casco Viejo neighborhood of Panama City, Panama—and from there she travels extensively in her role as Managing Director for Pathfinder, International Living's preferred real estate advertising partner. She's logged hundreds of thousands of miles traveling in Central and South America, scouting new properties, and new opportunities, off the beaten track.
Jason Holland
Jason had the benefit of living overseas from an early age. His father worked for the U.S. government in Turkey, Germany, and Spain. Jason was born in Madrid and spent most of his childhood in Spain, returning to the U.S. to attend the University of Florida. After graduation, Jason worked as a journalist, writer and editor, but the call of the expat lifestyle was strong. In February 2012, he and his family moved to Costa Rica. Today, he spends his time traveling in Latin America, researching and reporting on behalf of International Living.
Suzan Haskins
As a writer/editor for International Living for nearly 14 years now, Suzan has traveled extensively in Latin America, searching for the world's best and most affordable lifestyle opportunities. She has lived in Quito, Ecuador; Lake Chapala, San Miguel de Allende, Mexico; Panama City, Panama; and San Juan del Sur, Nicaragua. She currently lives in Cotacachi, Ecuador. (But Costa Rica is dear to Suzan's heart—she and her husband, Dan Prescher, were married in Costa Rica.) She'll talk about the challenges and rewards of the expat life.
And what's more, you'll get first-hand information directly from the experts in Costa Rica on:
Shipping your household goods
Home, auto, life, and health insurance
Banking
Volunteer opportunities
Cultural acclimation
Learning Spanish easily for enjoyment and business
The legal ins and out of buying real estate in Costa Rica
Financing real estate in Costa Rica
The best visa option for your needs
And much, much more… including all the country's best destinations depending on your lifestyle needs
Our seasoned professional experts will deliver the on-target information you need to get the real picture about living, buying, or starting up a business in Costa Rica.
And yes, many of the expats I've introduced you to here will be there, too. I've already told you some of their stories. They left the U.S. or Canada for a variety of reasons… but for sure to escape high costs and frigid winter temperatures. To a person, they've found the American dream alive and well… but in Central America. They'll tell you the unvarnished truth about life in Costa Rica… the good, bad, and the not-so-good.
Believe me, this firsthand information is worth its weight in gold.
You'll discover everything you need to know about Costa Rica, and in one of the country's most comfortable and beautiful settings…
This Package is a One-of-a-Kind Opportunity. The Depth,
Breadth, and Diversity of Lifestyles in Costa Rica
Just Can't Be Found Anywhere Else…
You'll see all sides of Costa Rica. From luxury living to a comfortable and enjoyable way of life that you can manage on a social security check… from the lush green mountains to the dazzling beaches and everything in between.
This package will bring you up to speed on affordable lifestyles that you didn't know about before.
Think about it. If you gather this information on your own, you'll spend thousands of dollars, and months of your time. Knock on doors, search the internet, sit in lawyers' offices, and hang out with real estate agents, it will be impossible to assemble the body of knowledge that we've pulled together for this package.
As Joseph Locasclo said, "I enjoyed the fact that most of the presenters were either locals or expats. Their presentations were very informative and all were very approachable and helpful."
Robert Scolara, agreed. He said: "It was informative, entertaining, professional yet casual and most importantly—we were not pressured to do anything!"
Frankly, our Fast-Track Costa Rica: Lifestyle and Opportunity Package is a good investment of time and money for anyone who's considering making a life there… well worth every penny you'll pay to attend.
But here's one more important thing to consider:
Sign up for the Fast-Track Costa Rica: Lifestyle and Opportunity Package and we'll send you via e-mail one of the most valuable reports about Costa Rica we've ever developed.
This special report—Rescue Your Retirement and Live the Good Life in these Five Costa Rica Destinations—was created specifically to deliver actionable information and real examples about life in Costa Rica and details about why we believe it's the best retirement destination in Latin America… not the cheapest, and not with the lowest real estate prices… but hands-down the best.
No matter your budget or lifestyle, you'll learn how you can live the life of your dreams in Costa Rica. You'll also learn more about some of the locations we've discussed here… San José and the Central Valley, Lake Arenal, Guanacaste, the Caribbean Coast, the Costa Ballena, and more.
Rescue Your Retirement and Live the Good Life in these Five Costa Rica Destinations will be rushed to you immediately when you sign up for the Package.
This valuable report is only available to Fast-Track Costa Rica: Lifestyle and Opportunity Conference attendees and you. It will not be offered for sale.
Reserve the 2016 Fast-Track Costa Rica Package
for the Lowest Price Available
The full price to attend the International Living Fast-Track Costa Rica: Lifestyle and Opportunity Conference was $1,095. However, you can secure yourself a copy of the 2016 Fast-Track Costa Rica Package for only $349…a mere fraction of what attendees paid to join us in San José.
And with this package, you'll have the distinct advantage over those attending the conference: You can listen in at your leisure…skip around to the presentations that interest you most, take notes… And more importantly, you can access the recordings as many times as you like, so you don't miss a thing.
The important information, the secrets and briefings, will all be captured in the 2016 Fast-Track Costa Rica Package and we want to make it as accessible as possible for you.
To sweeten the deal, we're throwing in a $100 voucher toward any upcoming International Living conference. Use it to attend next year's live program in Costa Rica or any future conference you may be interested in. There is no expiration date on this voucher.
The price includes:
Audio recordings of all our Costa Rica experts' presentations
Copies of all slideshows
A $100 voucher toward any of our future conferences anywhere, any time.
Plus a special bonus report, titled: Rescue Your Retirement and Live the Good Life in these Five Costa Rica Destinations.
Sign Up For the Fast Track
Costa Rica Package Now—
This is your best chance to fulfill your dreams in Costa Rica, whether it's to:
Enjoy a comfortable, secure retirement,
Own a second home in a warm, sunny climate,
Start that business you've been dreaming about, or
Learn more about one of the world's best-performing property markets…
This package will provide the content to fit your needs.
This will be the deepest, broadest, most in-depth look at any country that we've ever presented.
Sincerely,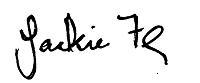 Jackie Flynn
Publisher, International Living
Here are comments from attendees of past Fast-Track Costa Rica Conferences:
"Appreciated the ability to learn about Costa Rica in depth while vacationing in the country. This is the best possible way to visit any country in my opinion. Not only did I have a great time here but I feel that I really know Costa Rica now."
—Warren Marshall, Montreal, QC
"A very valuable experience, the content presented was very valuable."
—Hilary Williams, Rockville Centre, NY
"Schedule was great. All speakers were qualified and helpful."
—Gil Wood, Spring, TX
"Enjoyed this immensely!"
—R.E. Lee Stuart, Marietta, GA
"Very informative; definitely hit all the "hot" topics; Great speakers; nice variety."
—Carolyn Mergens, Roswell, GA
"The agenda was very well done. Covered the most important topics for decision making."
—Jerry Johnston, Sun Lakes, AZ
"Very comprehensive agenda. I am very impressed. A little overwhelmed but nice to know I will have access to it again. I would do this again."
—Ninette Crunkleton, Roanoke, VA
"IL helped me get here (to Costa Rica) by offering opportunities that will enhance my life forever."
—Randall Richardson
"Ecellent, would attend another conference!"
—Steve Turner
"Loved the good, bad and ugly approach; it was very authentic and increased my confidence level."
—Patti Nelson
"It was great to hear such a variety of information in one place. The conference opened our eyes to ways of earning an income and the possibility of renting to determine the exact location we would love to live."
—Gina Sweenie
Sign Up For the Fast Track Costa Rica Package Now