Reserve a Copy of our Brand-New
2017 Fast Track Your Retirement Overseas Package Today—and you'll pay just $249.
The Exact Coordinates:
Where to Retire Rich on $1,680 a Month… or Less

We'll connect you with the people you need overseas, pinpoint the specific towns that suit you best, and hand you a personalized, step-by-step plan to create your ideal life abroad… on less than it would cost you to stay home.
Dear International Living Reader,
Retirement: It's the radical notion that, after a lifetime of working, you could do more of what you want to do… in the way you want to do it.
And really, that's the end goal, isn't it?
It's to have control… it's to have the confidence that your nest egg will go the distance so you can afford to relax and enjoy life your way…
…so you can travel, spend time with the family and friends you choose, read those books you've been meaning to read, take up an instrument, learn a new language, start a little business, volunteer…
If you want to retire in comfort, with dignity, and create a life for yourself that you genuinely enjoy… I want to assure you: You can.
You can do it no matter what happens on the policy front at home.
You can do it whether you've saved enough for retirement… or not.
And you can do it whether you're ready to retire now… or simply looking for a more adventuresome life today, even if "retirement" is a decade or more down the road.
Because in all sorts of beautiful, welcoming, good-weather communities dotting the globe from Latin America to Southeast Asia to Europe… you can spend less but live better.
Laid-back beach escapes. Quiet mountain getaways. University Towns. Even cosmopolitan cities.
As one happy overseas transplant put it, "Our overall cost of living is about a third of what our cost of living was in the States." Yet their modest budget doesn't require them to skimp.
Quite the contrary.
This husband and wife from Houston are living large in a tropical beach town, steps from the ocean. Their home is a fully furnished, modern townhouse with three bedrooms, a maid's quarters, and four-and-a-half bathrooms. It sits in a beautifully landscaped community with three swimming pools and 24-hour security.
They live about 200 yards from the white sand and turquoise waters. It's not only beautiful, they say, but "rent on a house like this in the States, so close to the beach, would be four times more than we pay here."
It's all about good value.
In the right communities, you can live a richer, more engaging life than you do today… but spend $1,680 a month or even less (housing included).
In other words: Get the destination right, and you could retire rich on your Social Security income alone.
Depending on the locale, on a budget of $975 to $2,000 a month, a couple can enjoy good weather… welcoming neighbors… easy, safe living in beautiful surrounds… plenty to stay busy… fresh foods… sound medical care… meals out… and even have enough leftover for travel…
Of course, you could spend more if you like… and enjoy a genuinely luxurious lifestyle.
With $2,500 to $3,600 a month to spend, a couple can live extremely well in many places, and afford the sort of comforts only the very wealthy take for granted at home—perks like a housekeeper to cook and clean every day or a home with a pool and a gardener to maintain the grounds…
Your Timing is Just Right Today…
but It May Not Be Forever
The point is, no matter what your budget, in the best-value destinations around the world, your dollars really stretch. And that means you have great options for improving your lifestyle while you shore up your retirement…
And right now is one of the best times in history to live better for less overseas. Infrastructure is stronger today than it ever has been—which means it's easier, faster, and safer to get around. Technology makes it simpler than ever to get what you need and to stay in touch from far-flung corners of the planet.
Plus, the U.S. dollar is stronger than it's been in a decade (so strong, that in one place, for example, your greenbacks today buy 66% more than they did just three years ago).
In many ways, it's like the planet is on sale…
So your timing is very good today. Windows of opportunity have slid wide open all over the world… and I'd like to invite you to look through them with me and my experts. I think you'll be pleased by what you discover…
Try a College Town on $1,790 a Month
Maybe for you the ideal destination is a highland getaway where the climate is always spring-like, 12 months a year—lows in the 50s, highs in the 70s. In this place, you can enjoy cosmopolitan diversions like symphony performances, movies, theater, lectures, art and history museums, archeological attractions, and more… but do all of it on a modest budget.
A couple can live very comfortably from $1,680 a month in this place, housing included.
One expat living there who traded the stresses and expenses of Florida for a more affordable, healthier, and laid-back life says, "The rent [here] averages around $450 for a three-bedroom, three-bathroom house. I don't need a car, as buses are a quarter a trip and a taxi anywhere in town costs $3 a ride.
"I don't need air conditioning or heat, because it's pretty much 75 degrees every day. Food is farm fresh… what you get is generally grown locally. I walk everywhere and I've lost what the expats call the 'freshman 20 pounds,' the reversal of the college trend."
You Can Afford Your Own
Caribbean Island Getaway
Lots of folks like the idea of warm-weather, beachside living. But in California or Florida, that's an expensive proposition.
Not so, however, on one island escape you might like, where you can live with white sand, palm trees, and warm turquoise waters on your doorstep… and spend less than it would cost you to stay home.
In this tropical paradise—known for its diving, sailing, and old-school Caribbean charm—you could own your own apartment with an ocean view for as little as $159,900.
For the price you'd pay in a nice suburb of Cleveland, you could live right on the sand on this island in a two-bedroom condo with an inviting balcony and community pool and walk right out onto the beach—all for just $275,000.
A long-time expat on the island says, "We spend less than a third of what we did in California without sacrificing on lifestyle." In fact, you could argue they live much better today than they did in the States.
"It didn't take me long to settle into the Caribbean; my blood pressure dropped by 20 points almost immediately," she says. "There are no more 6 a.m. conference calls, hectic travel schedules, or high-pressure corporate politics… I certainly don't miss eight-lane freeways and road rage… And we feel no pressure to keep up with the Joneses… The Caribbean Sea is my touchstone—a calming presence. Everything else seems insignificant when I gaze at the never-ending waves breaking on the surface of the offshore reef."
Of course, a Caribbean island escape may not be on your wish list at all… and that's just fine…
Maybe You'd Prefer A
Dramatic Pacific-Coast Escape
If the rugged Pacific is more your style… you should know: There's a spot where you could have a beachfront condo with 180-degree views out over a blue crescent bay.
It really does look like California (only it costs about one-tenth the price)…
So instead of spending a million or two to be right on the ocean… you could own a place where you can see the water for about $154,900… and a couple could live in this town comfortably on less than $20,400 a year, everything included.
This is a quiet, laid-back community where surfers like to come and sun-loving expats from around the world have begun to settle. You could rent a one-bedroom place close to the ocean for as little as $550.
One smitten transplant says, "Back home in San Diego, I never dreamed that I could afford to own something with an ocean view. I'm just a middle-class gal. There you can pay $1.5 million for something like that. Yet here I own a small two-bedroom, two-bathroom house, on an acre with an ocean view, which cost just $132,000. I pay real estate taxes of just $151 a year."
With her house paid for, she doesn't have housing costs, and so her monthly budget comes in at about $1,000 a month.
… though, as I said earlier, you could spend more if your budget allows…
There's a couple from Boston, for instance, who ditched their high-powered, 8-to-late jobs in favor of a life in this Pacific-coast town, where the lower cost of living would mean less work and more time to spend with their kids, relaxing, and really "living."
Today they splurge in renting a five-bedroom, three-bath house on a hill at the edge of town, where they catch the cool breezes off the water and can see the ocean over their infinity pool. It's the sort of swank place that would rent for thousands of dollars a month in the States. But they pay just $1,400.
Then There's That "Other" San Francisco (From Just $975 a Month)
If super low-cost living is your highest priority, then you would do well to look at one jewel of a city we recommend. It's like San Francisco with its cool weather and steep hills—only at a small fraction of the price.
This city is home to six universities, which makes for an educated, interesting, vibrant population. The lifestyle is genteel and the locals are known for their sincerity and polite, traditional culture.
Surrounded by green carpets of coffee fields, the air here is fresh and clear… though it's a bustling city of 450,000. That means you can enjoy all the perks of a cosmopolitan life… but escape to the countryside easily.
And good living in this community won't break the bank. A couple can live comfortably in the trendiest part of town for just $975 a month.
A meal might set you back $3 and a taxi ride across town $2. Rent on a two- or three-bedroom apartment starts at just $375 a month. (Or you could opt for a more "working class" neighborhood and pay $200 a month in rent.) Prefer the countryside? On the outskirts of town, within easy reach of all the big-city comforts, you can rent a two-bedroom home from $250 a month.
I'll say it again: It's all about the value.
And those are just four of dozens of very good options you have in the world today for improving your lifestyle while you keep more of your hard-earned income in your own pocket.
Today, I'd like to give you the exact coordinates for those places—and many more like them.
Plus I'll introduce you to the experts who can help get you there and settle in quickly, easily, and with confidence.
Get the Exact Coordinates You
Need for a Better Life Overseas
If you like the idea of getting your own road map for where you should go… and introductions to the helpful folks you should connect with on the ground… then I feel confident you'll enjoy what we've put together…
Announcing International Living's All-New
2017 Fast Track Your Retirement Overseas Package
Including all the recorded presentations, slideshows and more from our 2017 Fast Track Your Retirement Overseas Conference

If you like the idea of living overseas… enjoying a bit of adventure… and saving money while you live a more relaxed, fun, fulfilling lifestyle… but you aren't sure about where you should go or how to actually get yourself there and settled in… then this could be perfect for you.
Because we'll be focused on the most important things you need to get from where you are now… to that place overseas that's an ideal match for you.
First, we'll help you figure out exactly what you're really looking for overseas so we can help you pinpoint on a map the place where you'll find it.
You see, it's fine to say, "I'm sick of the snow, I just want to go someplace warm." But in truth… that statement won't get you too far. It doesn't really answer the question: "Where, exactly, should I go?"
That's why one of the first things this resource will help you do is come up with a list of the attributes your ideal destination offers—maybe you want a beach, maybe you're looking for cultural diversions… maybe you require a place where you can live on a particular budget… maybe proximity to "home" is important—or maybe none of that matters to you.
Everybody is unique and has different priorities, interests, must-haves, and wishes…
So in the 2017 Fast Track Your Retirement Overseas Package, we'll help you—step-by-step—sort all that out and then draw some lines from that dreamy place you see in your mind's eye… to a real-world destination on a map that meets your criteria.
But that's just for starters.
Get the Reliable, Well-Informed Contacts You Need
This resource is, at the core, all about hearing from the right people. So often in life, it's who you know (not what you know) that makes all the difference.
That's why we'll make sure you hear from our top experts and expats from all over the world. These guys know their stuff… and we'll have them share their insights, recommendations, cautions, and advice.
Because it is, really, a simple, effective, and proven way to explore your best options overseas… getting the straight-shooting story—the coordinates you need for where to go—from experts who know their stuff…
My name is Jackie Flynn. I'm the publisher of International Living, and this Fast Track Your Retirement Overseas Package is all new and entirely reinvented for 2017.
In this era of "fake news" and hyper-partisan, yell-fest journalism… I know how hard it can be to cut through all the noise and get to the truth of any matter.
And that's part of the reason we're putting this package together. So you can hear from the experts and see for yourself what your best options are.
It's real. It's honest.
We'll make going overseas a straightforward matter—telling you about the benefits and the drawbacks of the places we introduce you to—whether you're looking for a part-time escape or a long-term solution.
And we'll introduce you to people who are really doing it… folks plugged in, on the ground… experts you can rely on to give you the real-world story.
You'll hear from our editors from all around the world. They're your eyes and ears from Latin America to Southeast Asia to Europe, and each of them is on a mission to tell you all about what life in his or her neck of the woods is really like.
Plus you'll hear from local attorneys, real-estate experts, and additional expats already doing what you're thinking about. And you'll also hear from respected authorities about taxes, banking, traveling, day-to-day costs, and more…
As one attendee last year who attended the Fast Track Your Retirement Overseas Conference put it, "IL probably saved me thousands, if not tens of thousands, of dollars exploring countries on my own."
Another said, "Thank you for getting me closer to my dreams."
A third made clear, "I feel that I received good, honest answers for the questions that I've asked so far."
Here at International Living, we've been on this beat for 36 years.
Our editors and contributors based around the planet have helped tens of thousands of people, live better for less overseas. And they can help you, too… so you can get overseas faster, more affordably, and with more confidence.
We'll Help You Narrow Down, Compare,
Contrast, and Weigh Your Best Options
When you invest in this Fast Track Your Retirement Overseas Package, we'll introduce you to the very best options you have for living a richer, less-stressful, more adventure-filled life… while you spend less than it would cost you to stay home.
But it won't be "information overload."
Everything you could possibly know about hundreds of places on the planet—that's more paralyzing than helpful, really.
What you need is guidance, answers, good judgment, and advice. And that's what we'll deliver.
The exact coordinates you need.
We're going to narrow down your choices for you, right up front and then help you home in on the ones best suited to your individual situation, given your priorities, your interests, your dreams, and your budget.
And then we're going to put all these "best options" in context for you, help you compare and contrast the places you learn about, detail who would like a certain place… and why. And, equally important: Who wouldn't like it.
Our experts aren't going to talk in generalities. They'll be focusing in on specific communities you should have on your radar screen.
They know the countries they live in well… and they're going to share the kinds of insider secrets you won't find out about anyplace else, like…
The best place for a bargain homestead in Costa Rica. Including a spot near a lake where you can pick up a 10-acre farm with coffee and fruit trees for just $155,000.
Where to find twice the view at half the price in Belize… plus another low-cost, "untourist" escape in the country where you can gain all the perks of Caribbean living—palm-lined coast, turquoise waters, sun-soaked and balmy days—on the cheap. A two-bedroom, furnished waterfront condo with a panoramic view rents for $900 a month.
An unspoiled medieval wonder in the south of France where oysters go for $6 a dozen, and graceful stone archways beckon you into a history-rich world. In this town, a one-bedroom apartment in excellent condition lists for $103,000…
A sunny beach retreat on Nicaragua's dramatic Pacific coast where a modest $1,200 a month is plenty to bankroll a genuinely comfortably, laid-back life with surfing, fishing, and nightly sunsets make for a laid-back life.
An expat-friendly lakeside retreat in Mexico with a mild, spring-like climate where $1,500 a month is plenty to fund a couple's retirement. This lively community offers plenty to do beyond taking in the pretty views—golf, tennis, theater, travel clubs, and more—plus homes start as low as $45,000.
A Thai island that offers everything from simple bungalows on the beach to high-end villas overlooking the ocean—with rents as low as $500 a month. A monthly budget of $1,800-$2,200 for a couple funds a truly comfortable life with access to modern hospitals, English cinemas, Western supermarkets, great international restaurants, and seaside pubs… and world-class water views, too.
Scuba divers, fishermen, and surfers, heads up: There's an unsung little beach town in Panama you're going to love, where you can rent for as little as $500 a month and on a budget of $1,500 a couple can live comfortably, everything included.
Portugal really is Europe's best-kept, best-value secret today—for first-world living at a low cost. For instance, take a little enclave with historic ambiance four miles from the heart of Lisbon. Here you'll find apartment buildings, local shops, and cafés where you can enjoy coffee and pastries—but encounter few crowds. A couple can live comfortably here for as little as $2,200 a month. You can throw in a generally mild climate, rich history, and friendly locals for free…
If the low-stress, welcoming vibe of a small town appeals to you, consider this village of 8,000 in Ecuador where the weather is spring-like year-round, you can eat dinner for $5 a head, and a typical taxi ride will set you back around $1. Expats say it's like Mayberry—neighbors know each other, folks come to each other's aid in times of need, and children can safely roam the streets. Here you can rent from about $450 a month.
Spain is on sale right now if you're shopping with dollars and the values can be extraordinary… in the right spots. One that deserves more than a passing glance is a big city in a small package right on the eastern Mediterranean, with sandy beaches and warm waters. The plazas are filled with medieval buildings and narrow, winding streets of residences with lovely neo-classical facades. And you can own a two-bed, two-bath apartment in an elevator building here with balconies overlooking the street for about $205,000 right now.
Colombia is a place where you can improve your lifestyle while you slash your spending by 60%. In one super-value city, the temperatures are in the upper 70s F to lower 80s F during the day and the mid-60s F in the evening. At 5,000 feet above sea level, the air is dry and bug free, so you needn't pay for a/c or heat. It's a green city with hundreds of small parks scattered around. The healthcare is excellent. It's infinitely livable. And a furnished, three-bedroom apartment with two living rooms, in one of the most coveted areas of the city, can be had for only $800 a month.
Art galleries, live theater, daily and weekly markets, festivals, gardens, restaurants, street food… if an exotic, warm-weather, low-price retirement in Asia appeals to you, then we might have just the spot. This colonial retreat in Malaysia melds old and new beautifully… and you can rent a rambling apartment of 2,000 square feet from just $650 a month…
In our Fast Track Your Retirement Overseas Package, we'll tell you about each of those places… and many more in addition.
Plus we'll spend lots of time focused on practical solutions for better living overseas, too…
You'll find out about where and how to save on healthcare overseas, for instance. In the right places, you can get the same quality of treatment you'd expect at home (sometimes better)—but at a small fraction of what you pay today.
Just take Mexico, for instance. A hip replacement? Stateside it would be $43,000 to $63,000. In Mexico, it starts at just $9,500. A simple doctor's visit? $31. Mammogram? $60 to $80. Dental crown? $300 to $350. You get the idea…
And we'll focus in on many other questions you likely have as well, like how to find a great rental… how to get your mail… the ins and outs of arranging your finances… how to keep in touch with family and friends… and lots, lots more…
The Timing is Right Today to
Retire Better for Less Overseas
I realize I said this earlier, but I think it bears repeating: Looking overseas is smart right now. Across Central and South America, Europe, and Southeast Asia—in countries like Belize, Costa Rica, Panama, Spain, Mexico, Nicaragua, Ecuador, Malaysia, Portugal, Thailand, France, and Colombia—we see windows of opportunity sliding open today.
With our network of experts based around the planet, we're well positioned to notice… and point them out to you…
You know, this is not something you hear much about in the mainstream. These days, the media is hyper-focused on politics, race relations, and healthcare, and foreign policy. We get a lot of inflammatory noise and factoids… and all of it reported as if the U.S. sits at the center of the universe. That's what sells.
But it hardly paints an accurate picture of what's going on in the world as a whole.
Most people… billions of people… live quiet, safe lives in communities where they're busy earning a living and raising their families and spending time with friends and aspiring to live well and create a measure of happiness for themselves.
There's a whole other world out there that most folks never hear about. A world that's safe, welcoming, peaceful, and just waiting for you to explore…
And it's that world we'll bring to you in the Fast Track Your Retirement Overseas Package.
It's a world full of opportunity… opportunity to retire earlier, to upgrade your life while you spend less, to take control of what your days look like, to lower your stress level and have the funds (and the time) to relax, travel, volunteer, take up a new hobby…
There's opportunity to invest for profit… to protect your assets… ultimately, to create a life that looks the way you dream it could…
More Comfortable Living, Less Stress…and Half (or Even Less) the Cost of Home
Just like these folks have…
"We could never have afforded our beautiful home on the beach in the U.S.," says Dean Young, who settled with his wife in Belize. "…we live richer for less. Even our property taxes are cheaper, at only $18 a year."
On their beach, they built a house with a pool and a little guest cottage. They pay $26 a month for Internet access and about $1,000 a month keeps them and their many pets well fed. The weather hovers near 84 degrees year-round, and life is truly relaxed.
"I often think of my friends in the U.S. and Canada who are busy running their furnaces to the max and shoveling snow," Dean says. "Here I am in shorts and a tee shirt, watching the moon rise. We love it here. We are at home with the ocean, palm trees, pool… and all of it so affordable."
They're hardly the only ones who have traded up overseas in retirement…
"I love the beach," says Kim Holmes, at the home she shares with her husband Brian, overlooking a dramatic Pacific view in Costa Rica. She says, "We used to live on the beach in Oceanside, California… But here it costs a quarter of what it did there."
While retiring overseas isn't something you hear much about in the mainstream press… those in the know realize how powerful a retirement strategy it can be when you can effectively double your disposable income. Instead of counting pennies, all of a sudden you can relax, afford what you want, live with the confidence that your nest egg will go the distance.
Take Rick and Nancy Delve. They'd been living in the Ventura-Santa Barbara area of California. Life was good there—but it was also hectic, stress-filled, and expensive.
So they headed to Panama. Today their costs are about 40% of what they paid to live in the U.S. And they haven't sacrificed a thing. In fact, they're living better than ever.
Their home, near a crystal-blue brook, overlooks the 9th hole of a lovely golf course. Their windows open to lush, green-valley vistas. The nearby community center houses a state-of-the-art spa and health club. They've got high-speed Internet, satellite television, gourmet food… all the comforts of home, but at a fraction of the price.
"It's a lot like the U.S. was back in the 1950s, when I was a kid," Rick says.
He speaks to an important—but often overlooked—benefit of life in many of the best places overseas, which you'll hear about in this package. It's simpler. The pace is slower. People take more time for relationships, for neighbors, for family.
As a result… and expats say this all the time… people are more gracious, happier, friendlier. Life is less stressful, less rushed, less about "stuff," and more about "living."
If that sounds like a welcome respite to you… then I encourage you to invest in this package. We'll reveal the inside scoop on all kinds of attractive communities overseas where you could live a rich and fulfilling life… and spend less than it would cost you to stay home.
And we'll give you the coordinates you need to get there.
Our Mission: Hand You the
Coordinates for Your Own Dream

Retirement Retreat… and Give You

the Contacts You Need to Get There

We created this all-new Fast Track Your Retirement Overseas Package to show you how—like the folks you just heard about—you, too, could match the idea of your ideal retirement with a real place on the ground where you could turn your dream into reality.

To show you exactly how it's done—step-by-step—our in-house experts from around the world are going to share their advice, insights, and recommendations.

You'll hear from…

Dan Prescher, IL senior editor. Based in Mexico, Dan has also lived in Ecuador, Panama and Nicaragua. He and his wife, Suzan Haskins, headed south after too many cold winters in Omaha, Nebraska. Today, they're our down-to-earth and practical-minded eyes and ears on the ground in Latin America. Dan will be our emcee and also lead several panel discussions. Having reported from destinations all across Latin America, there's nobody better qualified to lead you through a comparison designed to help you pinpoint the place that would suit you best.

Jessica Ramesch, IL Panama editor. Panama always earns high marks as one of the world's top destination for retirees, in part because of its Pensionado program, which is designed to entice foreign retirees with such perks as 50% off closing costs for home loans… 20% off medical consultations… 15% off dental and eye exams… 25% off airfare… and more. Jessica will detail the benefits of this program for you and also point to the very best opportunities in Panama for living—city picks, beachfront havens, and mountain retreats as well.

Glynna Prentice, IL Mexico editor. Glynna will share her favorite spots for pampered, good-value living in Mexico… some inland, some coastal… and the places where she sees the most profit potential, too. Today Mexico boasts has one of the strongest economies in the western hemisphere… it's close by… offers excellent healthcare options… comes with plenty of the comforts you're used to, like theaters, shopping centers, good cell phone and internet coverage… plus super-low taxes… warm weather… and great day-to-day affordability, too.

When she's not in Mexico, Glynna likes to spend a few months at a time in Europe, making her base in Spain, where she lived full-time for years. With the strong U.S. dollar making Europe more accessible than ever, Glynna will speak, too, about Spain and Portugal—arguably your two best-value options for retirement in Europe today.

She'll show you where to turn your gaze… like the warm coastal Spanish town of Alicante on the Mediterranean—where you could snag a renovated third-floor, two-bed, two-bath apartment close to the beach with three terraces and parquet floors for less than $105,082.

Or you might prefer Portugal, where a couple can live comfortably for as little as $2,200 a month. Throw in a generally mild climate, rich history, and friendly locals, and you have a country that offers a lot—including a low cost of living similar to that in Latin America's more developed countries… with all the benefits of European life thrown in.

Keith Hockton, IL Malaysia Correspondent. As Keith will tell you: Malaysia may be far away, but the values once you're there are truly extraordinary. In vibrant Penang, for instance, you could live in a high-rise that looks and feels as sophisticated and swank as something in high-end Miami… but pay less than you would in Boise, Idaho. A couple can live here comfortably on $1,300 a month and that's including rent. Shop at the local markets and a big bag of fresh fruit will cost about $4, reliable high-speed internet is $30 a month, and you can hire a housekeeper for four hours a week for just $12.

Suzan Haskins, IL senior editor. Suzan will speak about Ecuador, specifically, a country she called home for many years. She'll share her many insights about why this locale represents one of the best-value retirement havens on the planet… and help you discern if you'd like it there—or not. From hot-and-sunny beaches to cooler-weather mountain retreats, you have options in Ecuador. And in many of them, you can live extremely well for under $1,845 a month, housing included. From the music-rich city of Loja to the beaches at Salinas to the highland city of Cuenca and the lush valley of Vilcabamba… expats have settled all around Ecuador and Suzan will show you why.

Bonnie Hayman, IL Nicaragua correspondent. From dramatic Pacific-coast beaches to colorful colonial towns, Nicaragua offers extremely good values on everything from real estate to day-to-day living… and a gentle charm that's hard to resist. Long in the shadow of Costa Rica when it comes to "retirement destinations," Nicaragua has finally come into its own, and Bonnie will talk about why she fell instantly in love with life there. If you're looking for a place that's close to home, where a couple could live in high style on $2,000 a month, Nicaragua deserves your attention.

Barbara Diggs, IL France correspondent. Think you can't afford to retire in the South of France? Think again. Barbara will explain how you can make it happen—on a budget. While it's true that unless you're fairly well-heeled, you should cross places like Cannes and St. Tropez off your list, there are still a number of south of France towns, villages and cities, and spots in the country's mid-region, too, that offer a highly enjoyable lifestyle for a reasonable price. In this package, she'll show you where to go—and what to expect. You might well be smitten with a region that offers the same beauty, charm and balmy weather as its more famous Provençal neighbor, but with fewer crowds, less gloss and at half the price.

Nancy Kiernan, IL Colombia correspondent. Colombia remains a country largely misunderstood in the mainstream… which, frankly, means opportunity for you. Remarkably sophisticated, you'll find all kinds of interesting options for living well in Colombia, from coffee country to warm coastal retreats to our top city pick: Medellin. Right now the exchange rate equates to great bang for your buck. In Medellin's best neighborhood, for instance, you'll find you can grab a well-appointed apartment in a modern building with a pool, playground, and two parking spots for just $152,700… and it's the sort of place you could easily rent out when you're not there.

Steve LePoidevin will talk about why—if value for money is at the top of your priority list—Thailand might suit you well. (In the city of Chiang Mai, for instance, a large condo in the main part of town rents from just $500 and up. Two people can go out to dinner and have a couple of beers and the total will come to less than $10.) Thailand is friendly, exotic, and remarkably sophisticated. Active expat groups make it easy to integrate, healthcare is among the very best in the world, and the beaches are world class…

Ann Kuffner, IL Belize Correspondent. The Caribbean has a well-deserved reputation for being expensive. Only it's not that way everywhere. You can own a waterfront condo on the beach in Belize's Ambergris Caye (with its palm-lined Caribbean beaches, fine white sand, and turquoise waters) for just $177,500. For true Caribbean value, Belize is hard to beat… but it's only one of the reasons this English-speaking enclave makes sense today. Ann will talk about why she likes life there… and take you on a virtual tour of a few special spots where you can live better—for less. Like a little-touristed waterfront community where one couple reports, "We live on about one-third of what it cost us to live in Pennsylvania."

Jason Holland, IL Roving Latin America editor. Long based in popular Costa Rica, Jason will bring with him a whole basket full of opportunities for you: great-value destinations… good-living options… real-world intelligence… and Costa Rica secrets you won't hear about anywhere else. For instance, he'll talk about an outdoor-lover's paradise that's attracting friendly, laid-back expats who enjoy an easy-going, low-cost lifestyle.

This place is about three hours from San Jose… and the views are extraordinary. So is the weather—not too hot, good breezes. If you like to sail, kayak, canoe… this place is for you. There are good restaurants… and a tight-knit, entrepreneurial group of foreigners. Plus he'll share his picks for the best coastal deals… the interior, cool-weather towns he likes best… and more…

And you'll hear from other experts as well…

Ronan McMahon of Real Estate Trend Alert and Pathfinder, International Living's preferred real estate advertiser, and his colleague Margaret Summerfield will give you not only the important insider guidance (and cautions) on buying overseas… but they'll also discuss three reasons why 2017 is the year to invest in overseas real estate. You'll discover secrets like…
The coordinates for the place that boasts the best short-term rental market in the world—where you could gross 8% to 14% this year.
A crisis opportunity that's throwing up incredible opportunities in South America—in a place where you could see values on your real estate investments rise 22% to 27% in local-currency terms next year alone.
A timely big-city play in a place that's vibrant, cultured, educated—and misunderstood. It's one of the most livable cities in the world, yet inventory on smaller apartments is about to be restricted, which will drive prices up. Now's the time to pounce.
Winton Churchill, founder of Barefoot Consultants, will show you how you could add to your retirement funds—and even bankroll your life overseas—with an income you take with you wherever you decide to go. You may not think you have a "portable" skill, but don't be so sure. Winton will show you how you can tap into the 30-70% of opportunity most folks leave on the table.
Warren Hardy of the Warren Hardy Spanish School in San Miguel de Allende, Mexico will be featured as well. And if you like the idea of a Latin American retirement… you'll find his guidance invaluable. Many of the countries you'll learn about are Spanish-speaking—and that can feel like a roadblock for many folks. But it shouldn't… and Warren will show you why.
His specialty is teaching expats—and he gears his programs specifically for older learners. He'll talk about why it's important that you learn the local language wherever you end up… and will show you some tricks to make it a lot easier than you imagine.
Steve Garfink, author of Retire in Luxury on Your Social Security, will be on hand to talk about what, specifically, you can do to ensure you're positioned to claim the maximum retirement benefit due to you. Experts say couples leave an average of $120,000 in benefits unclaimed… simply because they don't know to ask for them. Steve will talk about savvy claiming strategies and the questions you need to ask to make sure you've got your "ducks in a row."
And the speaker list for this Fast Track Your Retirement Overseas Package goes on… with attorneys joining us from the countries where they work… developers… investment experts… real estate agents… and more…
Answers to Your How-to Questions
to Jump Start Your Life Overseas
This program is comprehensive. We won't leave anything to chance. And that means our experts, in addition to location-specific presentations, will cover lots of other live-overseas how-to's as well, like…
How to navigate your healthcare options and figure out your best path for insurance and access to care, given your personal situation and priorities.
Should you buy or rent overseas? "It depends" is often the answer… so we'll show you what it depends on, exactly… explain how to choose, and then how to find the housing you're after at a good price in a place you'll like…
How to get your financial world in order so you're not only set to go overseas… but you have a realistic, workable plan in place for managing your finances from abroad as well…
What will you do once you get overseas to stay engaged, feel connected, and enjoy yourself? We'll talk about everything from how to find and join expat groups, to how to tap volunteer opportunities, how to pursue hobbies you're interested in, and lots more…
How you can earn overseas and fund a life that looks the way you want it to look. With technology making earning from anywhere easier than it's ever been, you may be surprised by the many ways you can get paid overseas—doing things you enjoy on a schedule you set. If you like the idea of earning on your own terms, you'll want to make sure you're in the room for this eye-opening discussion.
Creating your own personalized go-overseas timeline and the insider's guide for putting your plan in motion and keeping it on track—so you get from where you are now to where you want to be quickly, easily, and enjoyably.
The point is: This is the ideal resource for getting the "real scoop," and arming yourself with the kind of on-the-ground insight that is just plain impossible to glean online or from book research.
In this package, we'll give you the details and input you need to target the specific community that makes the most sense for you and put a realistic, step-by-step plan in place for getting there.
It's a way to do it efficiently, quickly, and comfortably.
Come Away with Your Own, Individual Master Plan for Retiring Better Overseas
In addition to all the one-of-a-kind advice our experts will offer you through their presentations, we'll also give you another, super-powerful resource as well.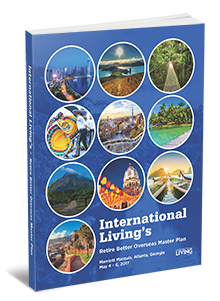 We call it International Living's Retire Better Overseas Master Plan and when you order this package today, we'll send you a copy.
It's not available to the general public. We created it for event attendees and you—when you order this Fast Track Your Retirement Overseas Package.
This Master Plan is as much a workbook as it is a guide to the countries and opportunities we'll be exploring together in this package.
As an integral, companion resource to this package, it includes not only important country-specific information, details, recommendations, and contacts that go along with each expert's presentation…
But it's also full of worksheets and questions for you to consider. And consider them we will, together.
The Master Plan is something you work through with our experts' guidance, and as you do, it will begin to point you down a specific path.
But your path will be your own. You have your own ideas, your own priorities, your own set of circumstances… and those drive the direction you head in.
Using the Master Plan, you'll literally begin to circle on the map the spots you should be focusing on.
You'll find the Retire Better Overseas Master Plan full of…
Interactive elements designed to help match your dreams about life overseas with the specific place (or places) where you could make that dream real.
Your step-by-step guide for what to do first, second, third, and so on so you can smoothly transition from where you are now to where you dream of being.
A cheat-sheet that gives you a checklist for planning your escape overseas.
In-depth country reports on Belize, Costa Rica, Panama, Spain, Mexico, Nicaragua, Ecuador, Malaysia, Portugal, France, Thailand, and Colombia that function as written companions to the presentations our experts give—so you have a detailed reference you can refer to later.
Our rolodex of contacts you need to help you get overseas quickly, efficiently, and with as few hiccups as possible.
And more…
You'll Be Well Prepared…
If you're ready to turn your retirement dreams into reality… then I encourage you to listen in to the 2017 Fast Track Your Retirement Overseas Package to find out how easy, economical, and enjoyable it can be to live well overseas—whether you're ready to go now or planning for 15 years from now.
When you reserve your 2017 Fast Track Your Retirement Overseas Package now, we'll give you every tool you need to be confident you've targeted a place in the world that makes good sense for you to live better and spend less. And you'll know exactly what to do to get there.
We could reasonably charge anywhere from $1,100 to $2,000 for this package. That's what you'd typically pay for a program of this caliber. And it would certainly be worth every penny.
Just one good idea you hear could easily return to you twice that much.
But we want this package to be as accessible as possible, so we're making it easier than ever for you to claim your copy.
Reserve the 2017 Fast Track Your Retirement Overseas Package for the Lowest Price Possible
The full price to attend the Fast Track Your Retirement Overseas Conference was $945.
But you can secure yourself a copy of the 2017 Fast Track Your Retirement Overseas Package for only $249…a mere fraction of what attendees paid to join us in Atlanta.
And with this package, you'll have the distinct advantage over those attending the conference: You can listen to all of the presentations, even those held simultaneously.
And you can listen to them at your leisure…skip around to the presentations that interest you most, take notes… and more importantly, you can listen to them as many times as you like, so you don't miss a thing. Of course—you will miss out on the cocktails and getting a chance to rub elbows with the presenters.
But the important information, the secrets and briefings, will all be captured in the 2017 Fast Track Your Retirement Overseas Package and we want to make it as accessible as possible for you.
And to sweeten the deal, we're throwing in a $100 voucher toward the next International Living conference. Use it to attend next year's live program (or any future conference you may be interested in).
I encourage you to act quickly.
The price includes:
Audio recordings of all our overseas experts' presentations
Copies of all slideshows
A $100 voucher toward any of our future conferences anywhere, any time. There is no expiration date on this voucher!
Plus your special bonus, International Living's Retire Better Overseas Master Plan (This is only available to conference attendees and to you…when you order the 2017 Fast Track Your Retirement Overseas Package.)
If This Information…These Tips and Secrets… Don't Work, You Pay Nothing
You have nothing to lose: You can call us within 30 days of receiving the 2017 Fast Track Your Retirement Overseas Package and tell us that the information didn't help you. (Or don't tell us anything. Just ask for your money back.) We'll give you back your $249. And your $100 voucher, good toward any future event, plus the Retire Better Overseas Master Plan are still yours to keep.
So if you're serious about tapping into the opportunities still available overseas, I urge you to reserve your 2017 Fast Track Your Retirement Overseas Package now, using our secure online order form.
Interactive, Useful, Personalized
As I said earlier—this Fast Track Your Retirement Overseas Package is geared entirely to helping you—in your individual situation—to find the spot that's right for you.
Everybody's Master Plan for going overseas is going to look different.
After all, what would make you happy might drive your neighbor nuts. We all have our own preferences, our own interests, our own lists of "must-haves" and "can't stands," our own budgets. Everybody's situation is unique, in other words.
That's why this special Fast Track Your Retirement Overseas Package is going to be super-interactive.
If you're ready for answers… ready to get the coordinates for the spot that's right for you… ready to get an actionable master plan so you know how to get from where you are now… to your ideal retirement locale overseas…
Then I hope you'll order today…
Because in your just-right place overseas, the climate will put a smile on your face… the cost of living will allow you to live better than you do at home… and you'll have the time and freedom to create a retirement that matches the one you see in your mind's eye.
The 2017 Fast Track Your Retirement Overseas Package will provide you with the content to fit your needs..
Sincerely,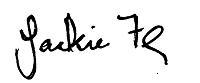 Jackie Flynn,
Publisher, International Living
P.S. I don't think that a comfortable, enjoyable retirement should be a radical notion. I think the idea that you could have control over how you spend your days… and the confidence that your nest egg will go the distance… I think that should be within everybody's grasp.
It doesn't feel like it is at home… but in the right places overseas, it's easy. You can afford to relax and enjoy life your way…
…and that means you can travel, spend time with the family and friends you choose, read those books you've been meaning to read, take up an instrument, learn a new language, start a little business, volunteer…
Laid-back beach escapes. Quiet mountain getaways. University Towns. Even cosmopolitan cities. In the right places—and we'll hand you the coordinates for where they are—so you really can live a richer, more engaging life than you do today… but spend as little as $1,680 a month to do it (housing included).
That means you could live well on your Social Security income alone.
On a budget of $2,500 to $3,600 a month, a couple could enjoy the perks of a rich man's life… a six-figure retirement on less than $50,000 a year.
In International Living's 2017 Fast Track Your Retirement Overseas Package—we'll "hold your hand" and walk you through the options that are best for you. We'll pinpoint the coordinates you need on a map. And we'll connect you with exactly the people who can help you get there with ease.
Don't wait and miss out. Click below to order now.