With most of the population of Ecuador living in the highlands, and given the scenic beauty of the Andes, sometimes it's easy to forget that the country also offers long stretches of amazing Pacific coastline. And with its hundreds of miles of sandy beaches, all in a great climate for enjoying the sun and surf, it can be hard to choose the perfect spot.
Here are three very different beaches on Ecuador's coast that are popular with both Ecuadorians and expats.
Chipipe: Perfect for Families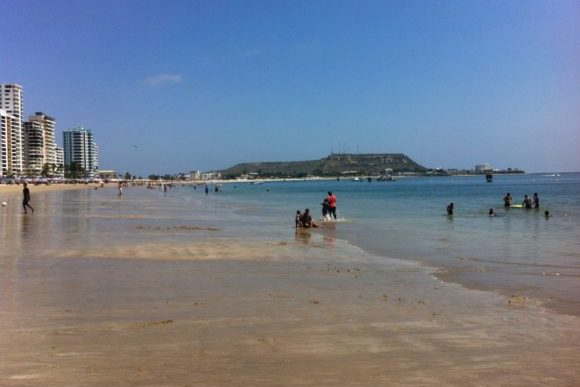 A quirk of geology has made Chipipe Beach one of the most family-friendly beaches in all of Ecuador. On the southern coastline, the Santa Elena peninsula juts out sharply to the west. This land break provides large and sometimes dangerous waves on the southern side, but on the north side of the peninsula, Chipipe sits in a small harbor formed by the land on one side, and the Salinas Yacht Club on the other.
This makes for small, gentle waves—perfect for water sports and families with children. Even at high tide, this mile-long beach is almost 100 yards wide in places, and the soft sand stretches into the ocean at a gentle angle, giving bathers a large and safe area to wade and swim. Vendors offer just about any kind of food and beverage, and the more adventurous can rent paddleboards, kayaks, or jet skis. If you are looking for a little more excitement, hop on a "banana boat" to be towed out to sea behind a powerboat for a wild (and wet) ride.
Ayangue: Relax off the Beaten Path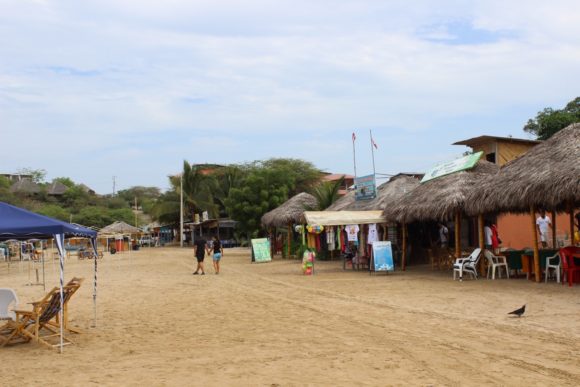 If you're looking for a nice, quiet beach off the beaten path, but still want to relax and enjoy some great food and maybe a cold beer or cocktail, then Ayangue is a perfect choice. Although it is less than an hour from the busy Santa Elena/Ballenita area, its location just under two miles off the main highway gives it a little more privacy than some other beachfront towns. But it is well worth the extra effort. Ayangue is a fishing village, and the beach is almost completely enclosed by encircling cliffs, creating a natural harbor. This is a great place to charter a day of fishing or whale watching, but it's also a terrific place to relax.
Although it's small, the beach is wide, with plenty of places to setup for a day of sunbathing. There are many cabañas along the beachfront, offering fruit drinks (with or without alcohol), soft drinks, souvenirs, massages, and fresh seafood. Ayangue is also called "Lobster Bay," and on the beach you can get a delicious lobster meal for less than $10. It is a terrific place to spend a relaxing day at the beach, enjoying the sun, sand, ocean, and seafood.
Los Frailes: A Protected, Beautiful Beach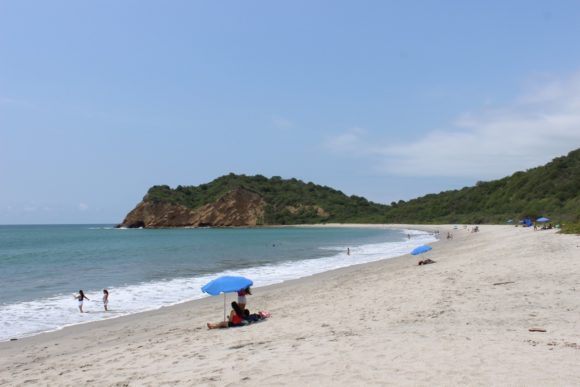 Just a few minutes north of Puerto Lopez is one of the most beautiful beaches on the planet. Ecuador has set aside Los Frailes, located in the Machialia National Park, as a protected beach. Entrance is free, but you will be carefully instructed that you are not allowed to take any food or drinks on to the beach, and that you may leave nothing behind but your footprints.
These vigilantly protected rules have left this beautiful white-sand beach as close to pristine as any you can find in the world. The water is many shades of wonderfully clear turquoise, making it a popular snorkeling spot. Sea turtles are often seen, along with a wide variety of fish.
You can drive into the preserve and park at an area with a bathhouse and small stores selling snacks and drinks. From there it's a short walk to the beach. For something even more remote, there are trails around the park that will take you to some stunning overlooks, and two other beaches that are only accessible by the trails. It is a great way to spend a day enjoying the unspoiled natural beauty of Ecuador's beaches.
Image: ©iStock.com/pxhidalgo
Get Your Free Ecuador Report Here:
Learn more about Ecuador and other countries in our daily postcard e-letter.
Simply enter your email address below and we'll send you a FREE REPORT – Ecuador: Live Like Royalty on Your Social Security.
This special guide covers real estate, retirement and more in Ecuador and is yours free when you sign up for our postcards below.
Get Your Free Report Here