Mexico may be famous for its luxurious beaches with white sand and crystal blue waters, but if you prefer to recharge your batteries with urban buzz and a shot of culture, Mexico also has some great festivals that'll do just that.
These three festivals in particular are not to be missed and are packed with dance, music, theater, film, and local culture. To top it off, the host cities are things of beauty in their own right. All three are Spanish-colonial gems, with grand buildings, romantic streets and plazas, and plenty of outdoor cafés. It's no wonder these cities are favorites with expats.
Guadalajara: Mariachi and Horseback-Riding Festival
Mariachi singers, strumming guitars and wearing their distinctive costumes and sombreros, are as much a symbol of Mexico as tacos or tequila. And Guadalajara, Mexico's second city, is their spiritual home.
In late August or early September every year, Guadalajara celebrates this traditional Mexican music with a mariachi festival and competition. If you like mariachi music, you can hear groups from around the world. But mariachis aren't all you'll hear (and see) at this festival. Mexican charros (horsemen or cowboys) from around the country will also compete for championship honors in horseback-riding, cattle roping, and other ranching skills. It's a chance to see some of the essence of Mexican culture.
Guanajuato: The International Cervantes Festival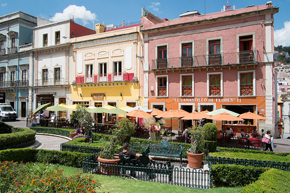 Every October this small capital city in the Colonial Highlands hosts one of the largest and most prestigious performing-arts festivals in Latin America.
Now in its 43rd year, the Cervantino attracts top-notch talent from around the world. Every year several foreign countries and one or two Mexican states are guests of honor, and they bring talented artists to represent their local culture. (This year Chile, Colombia, and Peru were the guest countries, and Morelos the guest state.)
Many performances sell out months in advance…but there's plenty of free performance art right in the streets if you can't snag tickets.
Oaxaca: Guelaguetza
Every July the city of Oaxaca celebrates its regional culture and indigenous roots. Dancers from the state of Oaxaca's seven regions come to perform, dressed in their traditional costumes. Indigenous Zapotec legends are acted out, and a local, chosen to represent the God of Corn, leads a procession.
After all the music and color comes the food…and Oaxaca is famous for its food. Try the tlayudas (think of a Mexican-style, thin-crusted calzone filled with beans, meats, and cheese) or a quesadilla, filled with white mozzarella-type cheese. (In the rest of Mexico it's known as "Oaxaca cheese." Here it's just, well, "cheese.") Or try chicken with a mole sauce—there are seven types of mole made in Oaxaca, and all are complex, tastebud-tingling sauces. Finish off your meal with chocolate or a fruit sorbet (both are Oaxaca specialties).
A visit to any of these three festivals is a great excuse to spend some time in Mexico's Colonial Highlands, which has plenty of other Spanish-colonial cities to visit, too. There's San Miguel de Allende, of course, just a short drive from Guanajuato. But there's also austere Morelia, the busy city of Zacatecas (its cool climate could be the perfect antidote in summer), and a host of others.
Get Your Free Mexico Report Here:
Learn more about Mexico and other countries in our daily postcard e-letter. Simply enter your email address below and we'll send you a free special report – Why Millions of Americans Are Moving to Mexico.
This special guide covers real estate, retirement and more in Mexico and is yours free when you sign up for our postcards below.

Get Your Free Report Here