"A $500,000 condo will be available for $250,000 to $300,000…"
As I told RETA members in their monthly issue yesterday, in a crisis you sell what you can. That's why even gold prices fell at the start of this crisis—and at the beginning of the last crisis too. Gold sellers aren't betting on prices falling. They just need the cash.
Likewise, a businessman or lawyer from Buenos Aires will sell his vacation condo in Punta del Este, Uruguay if he needs the cash to shore things up back home.
We can help him out of a bind and snag a great deal for ourselves.
Every day after I've done my morning's writing, and my colleagues in Ireland sign off for the evening (they are seven hours ahead of me in Cabo), I pick up the phone and talk to my contacts and insiders all over the world, taking the temperature of this crisis.
Usually it's a WhatsApp conversation. Debt, sell-offs, bailouts, shutdowns, and reopenings…the story varies everywhere. And so too do the opportunities for savvy real estate investors.
When you've worked closely with someone for over a decade and have already been through a crisis together, you don't have to spell things out.
That's why my contact in Uruguay gets straight to the point when I check in: "A $500,000 condo will be available for $250,000 to $300,000," he tells me.
I'm all ears…
In Uruguay, a new, very proactive and pro-business administration took office on March 1. It acted decisively and swiftly. The day the first coronavirus cases were announced, it ordered the immediate closure of schools and most non-essential public spaces.
Contagion is low, with only 12 deaths to date. And because of his handling of the crisis, the president, Luis Lacalle Pou, has the highest approval rating in Latin America.
The response in Uruguay has been cautious but measured. Food producing industries have stayed open (Uruguay is a top exporter of beef and soybeans). The construction industry resumed work after three weeks. And some rural schools have reopened, while others have moved online—every public school child has access to a laptop.
Uruguay's sensible approach is exactly the kind of crisis management that doesn't make global headlines. And that's the way I hope it stays…
For decades now, Uruguay has been a beacon of dependability. No disasters, no coups, no tear-gas throwing riot police. Rarely any political drama. Just easy, uncomplicated, and stable government with low taxes, proper banking privacy, and a warm welcome for foreign investors like us.
It's one of only two countries in Latin America defined as "high income" by the United Nations. It's the least corrupt country in Latin America according to Transparency International. It's ahead of the U.S. in their 2019 Corruption Index—71 out of 100. The U.S. scores 69.
It's a place with free Wi-Fi in plazas and on public buses. A little country that minds its own business, keeps its yard tidy, and doesn't argue with its neighbors.
To put it briefly, Uruguay is a safe haven. A place where smart investors can park money during uncertain times.
And also a place where many will want to park themselves once the dust has settled…
As the New York Times described in an article last year: "This small country has a laidback vibe…plus some of the best beaches in South America to boot."
Across Uruguay, you'll find colonial towns lined with quaint cobbled streets, vineyards dotted along the coastal regions, hot spring resorts, and plenty of outdoor living—from horseback riding and kitesurfing, to hot air ballooning over vineyards.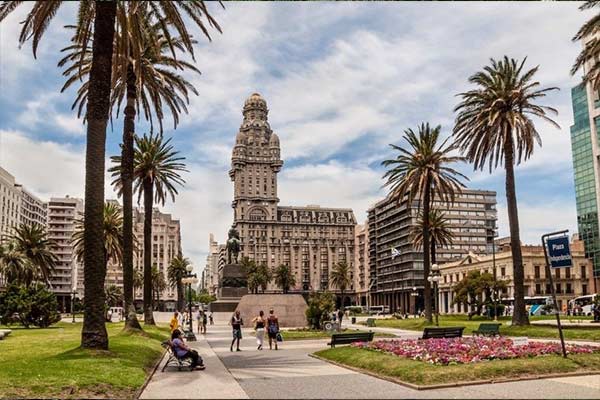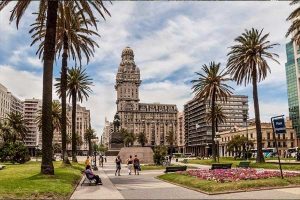 Uruguay has long been a popular destination for wealthy Brazilians and Argentines, but for most North Americans it is still a new discovery.
My own exploration of Uruguay started in Punta del Este, which is known as the St. Tropez of South America. You'll see sleek yachts in the harbor and Ferraris on the streets. Royalty, celebrities and discreet but super-rich businessmen. The jet-setters who go to Punta respect the low-key vibe. It's part of the appeal. A place to relax, dress down, and blend in.
The popularity of Uruguay for wealthy Brazilians and Argentinians adds to the investment appeal. It offers a very stable way to play its larger neighbors, without being exposed to the same level of volatility.
While Argentina jumps from one economic crisis to the next, in stark contrast, Uruguay has shown remarkable levels of economic growth. Since 2003, the Uruguayan economic growth rate averaged an impressive 4.1%.
Nowadays, Uruguay's main trading partners are China (26%) and the E.U., accounting for 26% and 18% of exports respectively—with 22% of all China's beef imports coming from Uruguay. I see three opportunities…
The first is tied closely to this last point. Like I say, Uruguay, is a major agricultural exporter. Meat, in particular, takes a vast amount of agricultural inputs to produce…land, feed, and water. And Uruguay has them all in abundance.
With increasing pressure on food production worldwide as the world population is forecast to grow by over a third by 2050, owning farmland in a country as fertile and secure as Uruguay becomes a no-brainer.
The second opportunity is to buy condos in Punta del Este at a big discount. Like I said earlier, when the wealthy businessmen from Buenos Aires need to free up cash, the first thing they're likely to sell is their second home on Uruguay's ritzy coast.
This is an opportunity to own a condo that would normally set you back half-a-million with as much as a 50% discount.
The wealthy have been coming to Punta for decades and they're not going to stop anytime soon. There are the beautiful beaches…the simple but seriously expensive homes…the glamour and the style. Every high season, the streets get busier and busier…
Catching this dip could set you up for incredible rental yields or give you your own warm weather destination to escape to once travel is back on the agenda.
I'm waiting for the deals to come. RETA members can stay tuned…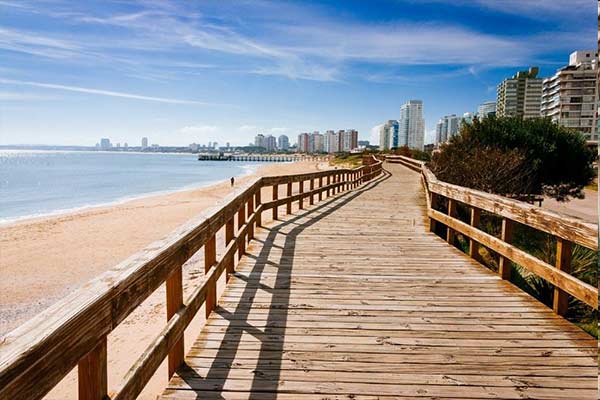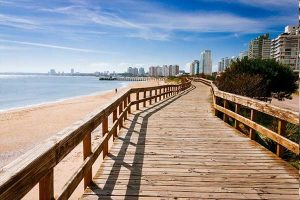 Finally, I see a third opportunity ahead of a Path of Progress moving east from Punta del Este. Because Punta has grown so popular, the jet-set have ventured farther along the coast, in search of privacy and exclusivity. They followed new infrastructure which opened up La Barra and then Jose Ignacio, but prices in these locations have already soared.
The next stop on the eastward-bound Path of Progress is Rocha. However, until recently natural lagoons acted as a barrier to development. That was until the $11.6-million bridge over Laguna Garzón cut the drive time from Montevideo and Punta to Rocha.
With the new bridge, Rocha is now a place that locals and tourists can get to easily…and its beaches and beach towns are on the lips of the "who's who" of real estate in Uruguay.
Here we can lock down lots ahead of the Path of Progress in a best-in-class community in Rocha. Our opportunity is in a community that's close to everything: surrounded by serene countryside, less than a mile from a huge national park, and just a short walk to a gorgeous beach.
Lots here normally retail at $37,778. Our RETA price is from just $31,356. Plus, there's interest-free developer finance on the table. RETA members can buy with a manageable down payment, followed by monthly payments of $490.
Once the current crisis passes and the world gets back to a new normal over the next few years, I expect these $31,356 lot will be worth $50,000.
I'll be telling you more about this opportunity later this week, so stay tuned…
Wishing you good real estate investing!
Get Your Free Real Estate Report Now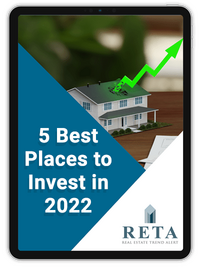 Sign up for our free daily Postcard e-letter and get a valuable free report on the The 5 Best Places to Buy Real Estate In 2022.
Related Articles
The 10 Best Places to Invest in Real Estate
The First Wave of Deals is Upon Us
Get Ready for the Second Wave of Crisis Deals