Baseball great Yogi Berra said, "It's like déjà vu all over again." That's exactly how I feel when I see Facebook posts from "newbie" transplants to Medellín, Colombia. The newcomers get caught up in the wonder and newness of living in the city, and they all start posting the same pictures, on Facebook and Instagram. I can usually predict what will come next.
First of all, you must understand that Facebook is the way everyone communicates in Colombia. Both expats and locals use the social media tool for much more than just cute selfies. There are many groups to join where you can ask the local community everything from "where can I find organic coconut oil?" to best recommendations for English-speaking attorneys, dentists, and accountants, and everything in between. You will also find out what´s going on for meetups, concerts and other social events. So, if you are going to live in Colombia, get on Facebook.
Now, it doesn't take Sherlock Holmes-level detective skills to spot a newcomer. There are three classic Facebook posts which are dead giveaways that the expat is a recent arrival.
1. Scenery shots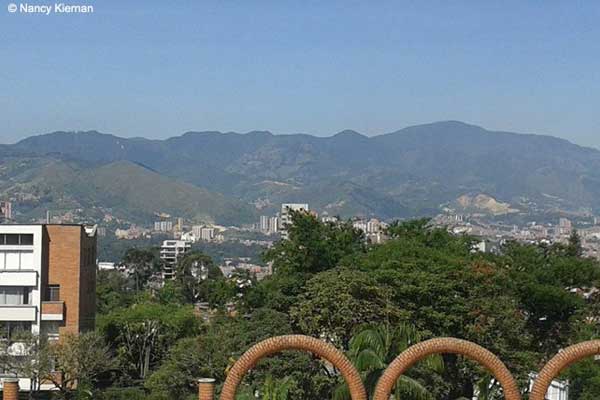 Expats who have relocated from the Northeast or Midwest of the U.S. derive great pleasure from posting photos of the lush, green mountain views, gurgling brooks running through the city, and vibrant, blooming trees in February, so their friends and family back in the States can be jealous.
I am from New England, so I did just that in response to posts from my Massachusetts and Maine friends depicting snow drifts, dangling icicles, and screenshots of their weather apps showing below zero temperatures. Besides giving your friends a comical jab, it also reinforces your good decision to move overseas to Medellín.
2. Flower and fruit vendors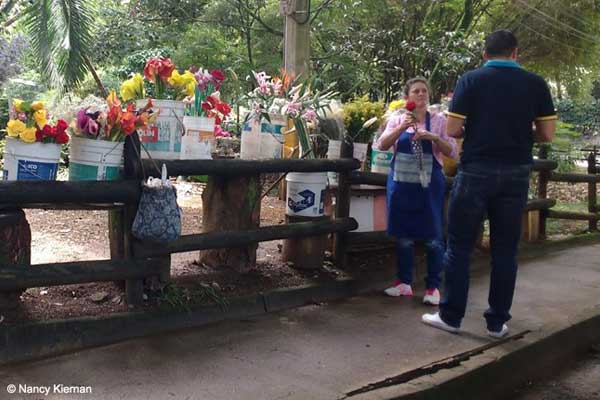 On any given street corner near your home, you will find locals selling freshly cut flowers, or exotic, delicious fresh fruit. The longer you live in the neighborhood, these vendors become friends. You greet each other by name, and exchange pleasantries.
Newcomers are so taken with the friendliness of the vendor, and the quality and variety of the items, that they inevitably post pictures to Facebook introducing the vendor as "my flower lady," or "my fruit guy."
3. Look what we have here!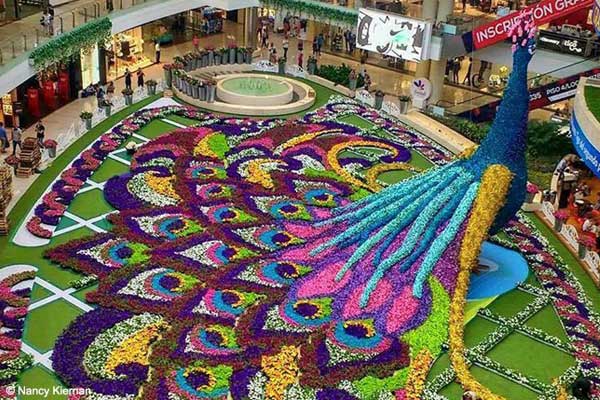 I think of this as the year of "firsts." The first time someone goes to one of the malls and discovers it contains an amusement park for kids, or an ice skating rink, or bonsai displays, they post pictures on Facebook with a caption, "we don´t have this back home."
I really delight in watching the reaction to the inaugural festival experiences. Each August, Facebook is inundated with pictures from the Feria de las Flores (Flower Festival). Newcomers create albums brimming with shots of parades, orchid exhibits, and closeups of brilliantly colored petals and stems. And at Christmastime these same newcomers light up their pages with photos of the alumbrados (light displays). The posts are filled with the words: amazing, impressive, outstanding, and awesome.
I've been living full-time in Medellín since May 2012, and all these wonderful aspects about the city are now second nature to me. I don't marvel at them like I did when I first arrived, so it is good for my soul to be reminded on Facebook of all the many great things that first attracted me to this amazing city in the Andes Mountains.
My issue now is reverse culture shock when I go back to the U.S. for visits. I am taken aback by the rushed pace of daily life, the stress etched on the faces of family and friends, and, most of all, how ridiculously expensive it is.
On my last visit back to New England, in September 2017, I met up with friends at a mid-range-priced restaurant I used to frequent a few times per month. My eyes widened, and my mouth dropped open at the price for the prime rib entrée. $30? You´ve got to be kidding me.! I pay $30 for an entire dinner (appetizer, entrée, dessert), including a glass of wine and tip, for two people in Medellín.
The low cost of living in Medellín is an undercurrent in almost every expat's daily conversations, whether a newcomer or long-time resident. At first you are pleasantly shocked by how inexpensive many things are in this city. And later on, after years of living here, you are comforted by how little you have to spend to live. Costs for utilities, property taxes, taxi rides, salon services, restaurants, fresh produce, handyman services, and maids are incredibly low.
Related Articles
Interesting Facts About Colombia
Cost of Living in Cartagena, Colombia