Sure, there are plenty of luxury and jet-set destinations in the Caribbean. Islands where bohemian chic, trust funds, and luxury shopping and dining combine to form the ultimate getaway for the ultra-wealthy. But there's another side to the Caribbean as well—the more traditional side. Where life is lived much as it has been for decades, if not centuries, and with low prices to match.
These are the parts of the Caribbean where you can feel the breeze on your face, enjoy a dip in warm waters any day of the year, relax in a hammock strung between two palm trees, and sink your toes into the sand as you sip a cold beer and dig in to a tangy, seafood-filled ceviche…and all without breaking the bank.
These are safe and secure places with beautiful scenery, modern services, and affordable real estate. And of course, the island vibe is in full effect.
1. Bocas del Toro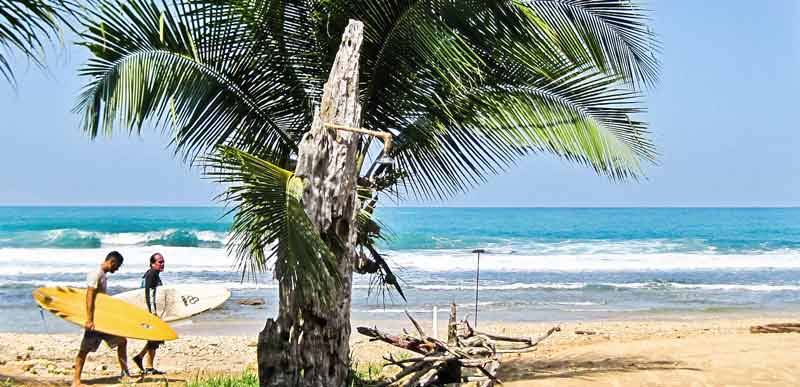 Not many people know that Panama has its own tropical archipelago. Set on the Caribbean coast, close to the border with Costa Rica, Bocas del Toro is a group of nine main islands and a few hundred smaller cayos and islets, dotting calm turquoise waters.
The main hub is bustling Bocas Town, on the large island of Isla Colon. It's a ramshackle seaside town of brightly painted buildings—many on stilts over the water. It's the home base for most visitors and where the majority of expats live.
You get to the outlying islands or isolated sections of the larger ones by boat, referred to as water taxis. Many of the islands are uninhabited or perhaps home to just a tiny village or small hotel. Much of the island group is protected by national park.
2. Roatán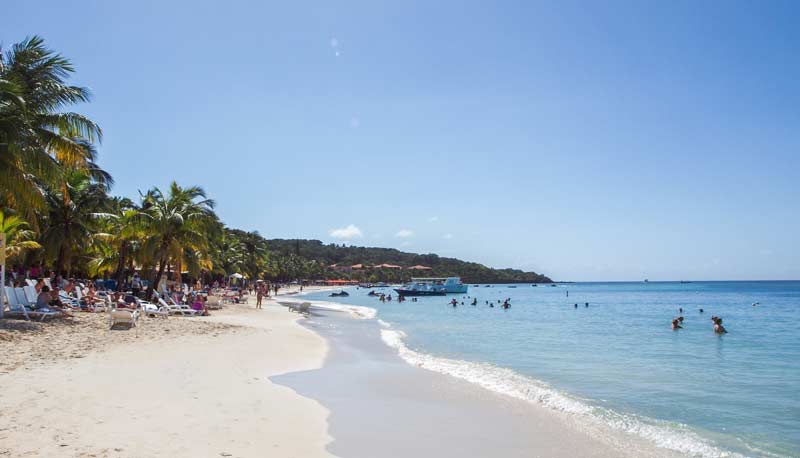 With a current population of around 80,000, once sleepy Roatán has grown quite a bit in recent years. But fortunately, development is small scale and it hasn't been overwhelmed with industry, so the laidback feel remains. And the small but tight-knit expat community has found a pleasant way of life with days at the beach, sunset drinks, boating, and more. It's a world-class scuba diving destination thanks to the Mesoamerican Reef just offshore.
If you want to be "in the mix," with shops, restaurants, and, most importantly, beach bars all around you and probably in walking distance, you'll want to check out the western tip of the island, specifically the communities of West Bay, West End, and Sandy Bay. For a quieter existence, head east to communities like Port Royal, which are less developed with small, traditional fishing villages. There are even off-grid homes here where you can truly escape from it all.
And as an added bonus, Roatán is English-speaking, meaning that you can live in paradise, and not have to learn a new language.
3. Corn Islands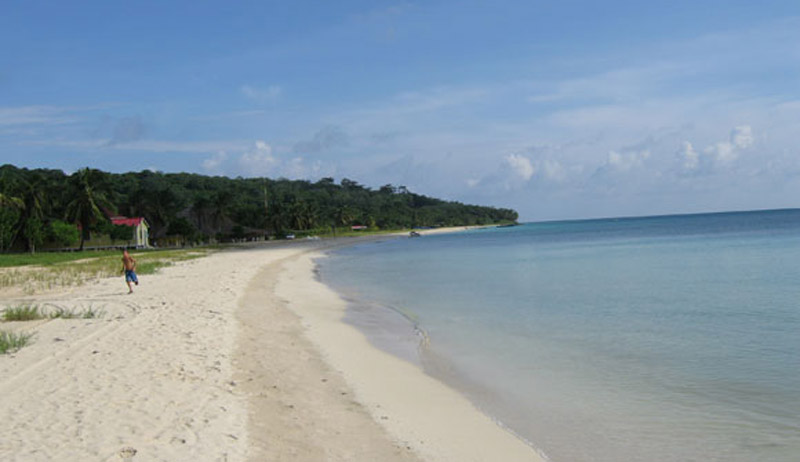 Nicaragua's Caribbean coast is sparsely populated, and isolated from much of the country. But 43 miles offshore are two islands that are well worth a visit…and perhaps a permanent vacation: Little Corn and Big Corn.
As opposed to the rest of Nicaragua, the Corn Islands are English-speaking. The setting here is so relaxed you feel as if you've stepped back in time amongst open-air restaurants serving fresh fish and just-caught lobster, and simple beach shacks. Many say it's like the Bahamas or Grand Cayman 30 or 40 years ago.
Watersports are popular here, with a focus on scuba diving and snorkeling. There are also no motorized vehicles allowed on Little Corn, which may initially seem like a drawback, but with an area of one square mile, everything is within walking distance.
4. Dominican Republic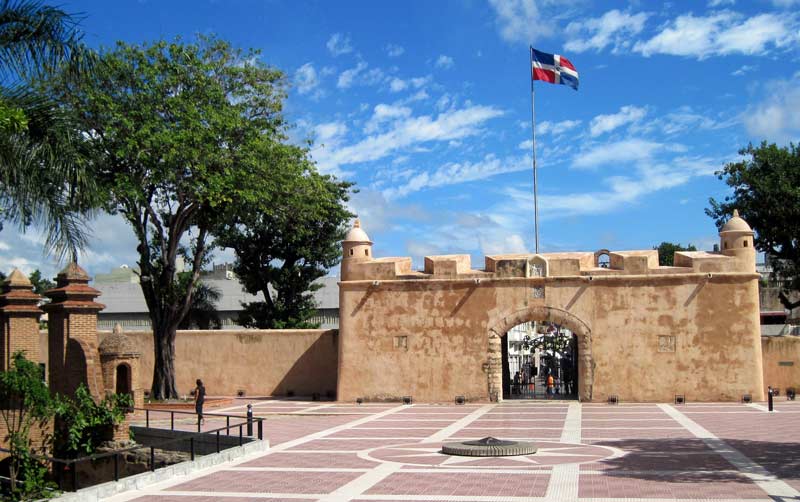 Taking up the eastern half of the massive island of Hispaniola, the Dominican Republic is a vibrant country that dances to the syncopated rhythms of salsa and merengue. As a major tourism destination for Americans, Canadians, and Europeans, it features several resort areas with plenty of modern comforts. And that's where most expats tend to live—in gated communities and condo developments near the beach.
In places like Punta Cana and Barva, on what's known as the Coconut Coast, you'll find championship golf courses, nice restaurants, shops with imported goods, and more. Las Terrenas, on the Samana Peninsula to the west, offers more of a traditional village atmosphere, with a beautiful beach and great restaurants thanks to the many French and Italian expats who've settled there.
The Dominican Republic produces fine cigars and excellent rum—the perfect ingredients for a night with friends.
5. Isla Mujeres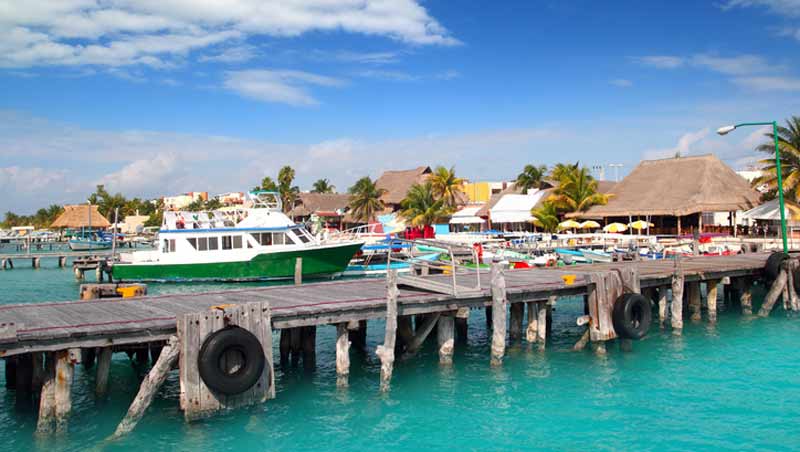 Although the super-busy, tourism-heavy Riviera Maya is just eight miles and a quick ferry ride away, Isla Mujeres off Mexico's Yucatán Peninsula is world's apart. Crushed coral, alabaster beaches. Clear Caribbean waters. The lights of Cancún and its mega resorts twinkling in the distance after dark.
It's quiet and peaceful, especially in late afternoon and evening when the day-trippers have gone home. Most people get around by golf cart or scooter. If you plan to move between the more densely-populated north end (where you can easily walk everywhere) to the south end, you might want to rent transport, although there are taxis too.
The only appointment you have to keep? Happy Hour in one of the palapa (open-air hut with a thatch roof) beach restaurants, where you can enjoy a cold drink with your toes in the sand. And if you're an nature lover (or thrill-seeker, depending on your point of view), you can take a boat out at certain times of year to swim with whale sharks—the world's largest fish. Don't worry; they only eat plankton.
Get Your Free Report on the World's Best Places to Retire:
Learn more about the best places in the world to retire in our daily postcard e-letter.
Simply enter your email address below to sign up for our free daily postcards and we'll also send you a FREE report on The World's Top 10 Retirement Havens.
Get Your Free Report Here
Related Posts