Costa Rica is a great place for retirees for many reasons. Think warm weather year-round, bargain real estate (foreigners have the same property rights as locals), friendly people, the Pura Vida (life is good) vibe, and low-cost but high-quality health care.
Plus, it's easy to qualify for residence as a retiree with the pensionado program. All you need is $1,000 per month per couple from Social Security, disability, or a pension. The main benefit of membership is that it gives you access to the government-run health care system known as Caja for a low monthly fee.
And don't forget that established and active expat communities throughout Costa Rica mean you can have a busy social life and indulge in many of your favorite hobbies with new friends.
Overall, Costa Rica is an ideal destination. But there are certain communities that have drawn retirees because of unique advantages, especially a low cost of living. Expats in these areas report being able to live on $2,000 (or less) per month, including housing, transportation, and medical costs. Below are five places in Costa Rica where you can retire on your Social Security.
1. San Ramon, Central Valley
The Central Valley has long been a focal point for retirees looking at Costa Rica for their Golden Years. In fact, AARP named it one of the top places in the world to retire several years ago. And for good reason. The region offers one of the best climates in the world—it's temperate year-round.
And because most tourist bypass this area, it's not crowded with visitors…and you'll pay "local" prices. Also, because the Valley surrounds the capital, San José, you have quick access to the main international airport, the best shopping in the country, and the best medical care in both the government-run and private systems. All that and you can be on the beach in less than an hour.
There are many towns in this region that have become expat hotspots in recent years. But one that has remained somewhat under-the-radar but is still well worth a look is San Ramon. With 60,000 people, it's a bustling town with its own hospital, a campus of the University of Costa Rica, and a thriving city center. There's also a large feria, or weekly farmers' market. That's a great way to save money—a couple could have enough fresh fruits and veggies, as well herbs, meat, fish, chicken, eggs…for a week for $25. And local restaurants known as sodas offer filling and nutritious—and tasty—meals for $4.
Another huge savings is real estate. Because San Ramon is home to only a small number of expats, the market—for sale and for rentals—hasn't yet risen as it has in other Central Valley locations. A two-bedroom home recently listed for $187,000. It comes with North American styling and views of the Central Valley and distant Gulf of Nicoya. For more information, see here. And rentals can go for as little as $500 for a three-bedroom home, furnished, with those same views.
2. The Southern Zone: Dominical, Uvita, and Ojochal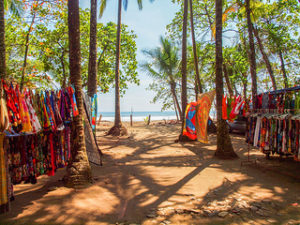 In Costa Rica's far southern Pacific coast, down near the border with Panama, is a trio of towns that have become quite an expat haven in recent years. These are Dominical, Uvita, and Ojochal. The climate in this area is tropical. The landscape of tree-covered mountains drop dramatically to the sea among virtually empty beaches—with little seaside development. But improved access to the region, known officially as the Southern Zone, has made it easier to get to and that has spread interest in retirees and other expats who come to live in a beautiful tropical setting for less.
Those who move to this area find a welcoming community of retirees, with several clubs, activities, and volunteer opportunities offering a way to integrate into social life. Thanks to an influx of gourmet-minded expats in Ojochal in particular, there is a variety of restaurant options with cuisines from around the world. And several culinary festivals each year are also organized by local restaurateurs. It's no wonder that some expats joke they retired to the Southern Zone for the food.
A large national park that runs several miles up the coast here restricts any oceanfront development. While the Southern Zone is facing an increase in visitors and long-term residents, it's all relative. Actual numbers are still low, and the development is not overpowering the views. Services, amenities, and infrastructure, however, are much improved.
Real estate, even though it's a beach area, remains a good value. A two-bedroom condo, furnished, with an ocean-view rents for $1,000 a month. A three-bedroom home surrounded by nature with a deck and pool and tropical landscaping will run you $199,000.
3. Cahuita, Caribbean Coast
If you're looking for the simple life lived cheaply, you couldn't do much better than Cahuita. This small fishing village adjacent to a national park is a stronghold of Costa Rica's Afro-Caribbean culture. The community moves to the rhythm of calypso and reggae. White sand beaches line impossibly blue water (great for snorkeling) and the surrounding jungle is filled with two- and three-toed sloths, howler monkeys, toucans, and more.
The government never paid much attention to this region. So there was a distinct lack of development in the tourism industry here. And infrastructure was sorely lacking until recent years. A legacy of that is there are no large hotels, no big developments, no chain restaurants, no large-scale anything on this coast. Instead, you find low-key mom-and-pop shops and small businesses run by locals and expats.
A narrow two-lane road serves as the link between seaside communities from the port of Limon in the north down to the border with Panama to the south. Many people get around by bike.
A three-bedroom home in the jungle, steps from the beach, is $149,000. See here for more details. Long-term rentals are available but not usually listed online. Your best bet is to ask around and scan bulletin board listings when you visit.
4. Arenal, Northern Highlands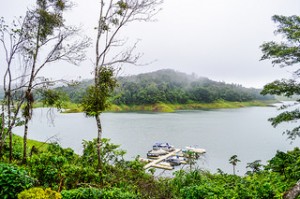 The Arenal region has been a favorite of tourists for many years. Most are there to check out the Arenal volcano—a cone shaped peak that used to put on quite a lava light show at night but has been quiet since 2011. And there are rainforests at Arenal's base which are great for hiking, as well as a plethora of mineral hot springs heated naturally by volcanic activity.
Arenal has become an expat hotspot in recent years, mostly for retirees. These long-term foreign residents are concentrated around the 33-square-mile Lake Arenal, which extends northwest of the volcano. It's not hard to see why it's such a popular location. As well as the low cost of living that comes with being in a rural area, there is hardly any development on the lakeshore—and no large hotels or condos. Any building melds gracefully into the scenery of green pastures and forest rising gradually from the water's edge. A few small villages dot the lakeshore, with Nuevo Arenal being one of the main places where expats go for groceries, gas, medication, doctor's visits, and other services. In fact, most live on either side of the town, which is located in the center on the northern shore.
The lake is quiet, with hardly any boat traffic. And you can be sure there are rarely any motors or Jetskis to disturb the peace.
Arenal has an active retiree community. Numerous clubs for gardening, card playing, and other activities meet regularly. Nights out for dinner at restaurants like Gingerbread are also popular. And many also gather at the homes of friends for impromptu parties, as well as celebrations for holidays like Thanksgiving and Christmas. In fact, many expats design their homes with large outdoor areas for entertaining and enjoying their view of the lake.
Real estate is also reasonable on the lake. A four-bedroom home with a lake view is available for $139,000. And a two-bedroom home, fully-furnished, within a quick walk of Nuevo Arenal rents for $850 a month.
5. Jaco, Central Pacific Coast
As it is the closest beach area to the Central Valley, home to about 70% of the Costa Rican population, the Central Pacific coast has a long history as a vacation spot for Ticos. And it's also been a long-time destination for expat retirees. You have beautiful beaches, great weather, and a plenty of services, including shopping and medical care. Plus, San José and its suburbs is just an hour or so away.
The beach resort town of Jaco is particularly popular. You have a lively beachfront of hotels and condos, as well as plenty of great restaurants, boutiques, art galleries, and shops. There's even a movie theater showing films in English. There's no shortage of things to do night or day in Jaco.
There is also a huge variety of options as far as housing, whether you want to buy or rent. A two-bedroom condo in a gated community, a short walk to the beach and restaurants, recently listed for $65,000. A two-bedroom condo in the same development rents for $900 a month.
Get Your Free Costa Rica Report Now
Learn more about Costa Rica and other countries in our daily postcard e-letter. Simply enter your email address below and we'll send you a FREE REPORT – Why Are Americans Still Flocking to Costa Rica. 
This special guide covers real estate, retirement and more in Costa Rica and is yours free when you sign up for our IL postcards below.
Get Your Free Report Here