When many people think of Mexico, they think of the beach. But one of Mexico's most popular areas for expat living is the Colonial Highlands, a region a few hours north of Mexico City…and there's nary a beach in sight.
So what makes the Colonial Highlands so special? Here are five reasons why expats love the Highlands…and why you might, too.
1. Fabulous, Romantic, Spanish-Colonial Cities
This region has Mexico's largest concentration of Spanish-colonial cities…and most of them are very well preserved. Do you dream of living surrounded by historic splendor? In the Colonial Highlands, you can. You can even buy or rent a Spanish-colonial home, and many expats do.
The expat haven of San Miguel de Allende is probably the best-known Spanish-colonial town in this region. But the city of Guanajuato, just over an hour away, is also popular among expats. And the Lake Chapala area, which has arguably Mexico's largest expat community, has a charming village atmosphere. In these cities, you can stroll cobbled streets and passageways, and live in colonial homes with tiled floors and cool patios. Within a few hours of you are other magnificent, historic cities to explore, including Querétaro, Dolores Hidalgo, San Luis Potosí, Zacatecas…even Mexico City itself.
2. Lots of History and Culture
The cities of the Colonial Highlands are rich in history and culture. Mexico's independence movement from Spain began here, for instance. From historic monuments to museums, you'll find plenty of Mexican history in cities like San Miguel, Guanajuato, and nearby Querétaro.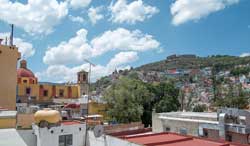 You'll also find plenty of modern culture, as well. High-quality arts and crafts are created in this region, and expat havens like San Miguel and Lake Chapala attract not only local artisans but plenty of artsy expats, too. You'll find expats running art galleries and shops, writers seeking inspiration, and plenty of restaurants and cafés for whiling away your time before a gallery opening or concert.
3. A Pleasant, Temperate Climate
Many expats say that this region's great climate is one of its most underrated pluses. Most days are sunny; daytime temperatures are in the 70s F and 80s F, cooling off at night. Spring, before the rainy season begins, is the hottest time of year. Winters are short, with nighttime temperatures that can drop into the low 40s F, but rise to pleasantly warm levels by day.
Because of the temperate weather, the Highlands are extremely popular with snowbirds fleeing cold winters. But it's also popular among sweet birds: those from Southern U.S. states who flee to cool-weather locales in summer.
4. Low Cost of Living
The Colonial Highlands is one of Mexico's most First-World regions, with a sizable middle class and plenty of industry. Yet, like the rest of Mexico, it enjoys a relatively low cost of living.
Here you can shop in local, traditional markets where local produce, fruit, and meats cost a fraction of what they would in the U.S. or Canada. Or you can go to upscale supermarket chains like Mega Comercial, or warehouse stores like Costco, and get all the convenient items you know from home. You'll pay more for U.S.-style shopping…but it's available if you want it.
A taxi from one side to the other of small cities like San Miguel will cost you just a few dollars. Tickets to cultural events like concerts and plays can cost under $10 each…even under $5. And if you're at least 60 years old and have a valid residence visa in Mexico, you can get a retiree's card, which gives you discounts off even these low prices.
Depending on your lifestyle and where you choose to live, a single person can live comfortably in the Highlands from about $1,700 a month, including rent. A couple can live from about $2,000.
5. Easy Access from the Rest of North America
The Colonial Highlands are easy to reach from the rest of North America. San Miguel, for instance, is only about a 10 hours' drive from the U.S. border.
It's also easy to get there and away by air. Guadalajara's international airport is one of Mexico's largest. But the El Bajío Airport (in León, Guanajuato) and the Querétaro Intercontinental Airport also have direct flights to the U.S. through major carriers, as well as inexpensive flights throughout Mexico on discount airlines.