1. Technology Advancements
Technology in the real estate industry has been changing rapidly. Companies like Redfin, Zillow, Trulia and Homesnap have been changing the way sellers and buyers perceive the market and it is crucial for investors looking to buy properties to understand the difference between price and value.
2. New Buying Patterns
The baby boomers who once purchased all the traditional two-story homes are now ready to downsize. But they don't just want less space, they are also looking for ranch-style homes, so they don't have to navigate stairs as they age. What does that mean? Single-story homes will increase in value as demand rises.
Millennials are finally ready to purchase their first homes despite headlines saying they "can't afford them." But because they are largely seeking affordability and quality of life, they are having to trade in the urban life they crave and head out to the suburbs. In 2017, the undeniable shortage of affordable entry-level properties created a real barrier for this group, the nation's largest buyer segment.
During the Great Recession, more than 10 million Americans were forced into foreclosure—and their 10 years of waiting to purchase another property (due to foreclosure law) is over. According to the National Center for Policy Analysis, approximately 1.5 million Americans will become eligible to re-enter the housing market this year. While some might still be licking their wounds, many are sick of renting and itching to own again.
3. Continued Dive in Retail Assets
We all know online sales are killing some malls, but we've seen few attempts at repurposing these empty properties. Many of these struggling retail locations have excellent economics for multifamily redevelopment. I'm shocked we haven't seen more mall-to-multifamily conversions.
4. Steady Stream of New Construction
The top trend I've seen so far has been a steady stream of new construction, which is kept rent prices mostly in check for 2018. Where I live in Arizona, you can't drive down any street without seeing some sort of new construction happening. A stable pipeline of new buildings means we'll see the impact of lower rent growth but still above long-term averages when it comes to rent across the U.S.
5. Low Available Inventory
After the real estate bubble burst in 2008, and foreclosure properties were abundant, inventory wasn't a concern. Fast forward 10 years, and the economy back to a comfortable level, inventory levels are back to pre-2008 numbers.
6. Rise of The Single-Family Rental Asset Class
A total of 3.6 million single-family rental homes (SFR) have been added from 2006-2016. The SFR industry has risen to the challenge to escape a "mom-and-pop" dominated market. As the demand from more sophisticated renters who choose not to rent increases, so does the demand from the sophisticated investor requiring a higher level of service.
So, if you're looking into becoming a real estate investor, 2019 could be a great time to do so. Investing in single-family rental properties may deliver strong returns. How do you begin? Do your research and read everything you can—this will automatically increase your financial literacy. Learn how to invest using other people's money in order to minimize your risk. Then, act, so that you can lead the rich life you absolutely deserve.
Get Your Free Real Estate Report Now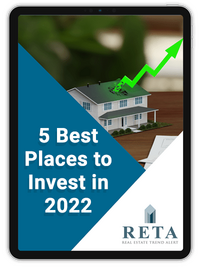 Sign up for our free daily Postcard e-letter and get a valuable free report on the The 5 Best Places to Buy Real Estate In 2022.
Related Articles
The Best Neighborhoods To Live (And Buy) In Medellín
Colonial Homes In Colombia From $50,000
The 10 Best Places to Invest in Real Estate
Upcoming Conferences
Live Better, Spend Less, Retire Sooner
IL's Retire Overseas Bootcamp
October 21-23, 2022 in Atlanta, GA

In safe, warm, welcoming communities abroad, as little as $1,700 a month can bankroll a good life... this fall, our experts will show you where—and how.
Early Bird DISCOUNT—Save $100 When You Register by Sep. 29
Details Here IL's Retire Overseas Bootcamp
---
Registration Now Open for the Best of Europe Private Screening

In the Right Spots in Europe, You Can Retire in Style—in an Historic, Sun-Drenched Locale—for as Little as $2,300 a Month or Less—Especially Now With the Dollar and Euro at Parity for the First Time in Two Decades.
And We'll Show You How, October 1-2, During the Special All-Online Best of Europe Private Screening.
---
The Income Revolution Forum
What if You Had the Freedom to Enjoy the Good Life Anywhere in the World You Wanted to Be...and Get Paid While You're There?
We'll show you how—with hands-on guidance—you could beat inflation...secure your retirement...ditch your commute...and turn a skill you already have into a portable side income of $300, $600, even $3,000 or more a month.