The stunning architecture, broad boulevards and inviting sidewalk cafés you'll find in Buenos Aires remind me of days spent wandering neighborhoods in Paris.
Of course, the Italian influence is equally apparent–from the faces of the porteños (Buenos Aires natives), to their expressive hand signals, and abundant espresso, gelato, and pizza joints. In fact, two-thirds of Argentines are of Italian descent.
Two weeks in this vibrant, cosmopolitan city goes by quickly. There's so much to do that it can be difficult to prioritize. So here's a "hit list" of my top activities in Buenos Aires, most of which are free.
Explore the City's Stunning Neighborhoods
Be sure to bring comfortable walking shoes. Buenos Aires is a city best explored on foot—to absorb the charm of each barrio (neighborhood). With each step we were treated to French architecture, Italian ambiance, lush parks, Banksy-inspired street art, street cafés, traditional parillas, and diverse cultural offerings.
Our favorite barrios to explore were Palermo Viejo, Palermo Soho, Palermo Hollywood, and the Recoleta. And after burning up calories hoofing it you can feel justified to drop in at one of the local gelaterias for a traditional dulce de leche gelato.
Enjoy Argentine Beef and Traditional Foods
Omnivores appreciate Argentina's famous grass fed beef, which is surprisingly inexpensive in local parillas. You can often get a large, high-quality filet mignon or rib eye steak for under $12.
However, if you're looking for a crash course in Argentine culture and food, you can't go wrong with The Argentine Experience. This closed door restaurant provides a unique culinary experience, although not cheap, at $85 per person. But it's as much about entertainment as food. The steaks were exceptional, perfectly cooked, and accompanied by quality wines. We learned to make empanadas from the energetic young waiters—who amused us with tales of Argentine culture and porteño hand signals.
Take Tango Classes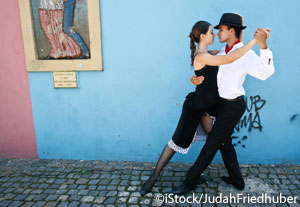 The easiest, least expensive way to experience the tango culture is to visit Caminito Street, in La Boca. This colorful, raucous Italian barrio is where tango was born, in the bordellos.
You can spend an hour or two sipping an espresso or a glass of Malbec in an outdoor café while sensuous tango dancers perform on a street stage, or opt for a major tango show, such as La Ventana (which starts at $115), or Tango Porteño ($45 without dinner).
Or take private tango classes, as we chose to do. Christian, owner of Tango Piola, charges $25 per hour for a couple. After a few classes we were ready to hit the milonga dances (the cover charge is about $5 to $7 per person). You can practice your tango moves, but also watch seasoned local dancers glide across the floor, each with their own unique tango style.
Attend the Sunday Barrio Ferias (Fairs)
San Telmo, Recoleta and the Palermo Soho barrios hold open-air fairs on Sundays. The ferias provide a perfect place to meander, enjoy the sights, and pick up a few quality artisan products. You'll find gorgeous rose-colored rhodochrosite jewelry and hand crafted and painted leather purses and belts, as well as many other crafts.
San Telmo was our favorite feria. The streets were alive, bustling with people, live music, artists, dancers, mimes, puppeteers, street food, and crafts. While having lunch at Pétanque, a French sidewalk bistro, we watched the flow of people passing by…a broad slice of Argentine life was on display.
Visit the Plaza de Mayo, Casa Rosada, and the Obelisk
The historic heart of Buenos Aires, the Plaza de Mayo, is where rallies, protests and ceremonies take place. Almost daily you'll find an event or demonstration underway. On the plaza's east side is the gorgeous rose-colored Casa Rosada, housing the executive offices of the president. Look up and you'll see the presidential podium where Evita and Juan Peron gave their emotionally charged speeches to adoring crowds.
On the north side is the Catedral Metropolitana, where Pope Francis once held Mass. Walk down the Ave. Pres. Roque Saenz Pena northwest and you'll arrive at the Obelisk. Each of its four sides represents a defining moment in Buenos Aires' history. The Obelisk is a definitive Buenos Aires rallying point.
Tour the Eva Peron Museum
This small, well designed museum highlights a significant modern era in Argentina's political history. Spending a few hours in this museum provides a better understanding of why the controversial Evita is still a beloved character for most Argentines. After touring the museum, stop for lunch at the attached garden café. The food is creative, delicious, and well-priced for the quality. The inviting garden setting is popular with locals. The menu del dia is the best deal. A three-course meal, with a generous glass of wine, costs less than $10. Entrance is under $5 per person.
Wander the Recoleta Cemetery
The Recoleta is considered to be one of the world's most beautiful cemeteries. Entry was free. The marble crypts are all located above ground, many adorned with exquisite statues with styles ranging from baroque to art deco. Argentina's past presidents, military heroes, elite, and Nobel laureates are buried here. The cemetery is located in the heart of the Recoleta district.
If you make it through this list you'll have a good feel for Buenos Aires, the porteño history and lifestyle. Be sure to stay in one of the popular barrios (such as Palermo or Recoleta) where everything is within easy reach and safety is not a concern.
Get Your Free Argentina Report Now
Learn more about Argentina and other countries in our daily postcard e-letter. Simply enter your email address below and we'll send you a FREE REPORT – What Nobody will Tell You About Argentina.
This special guide covers real estate, retirement and more in Argentina and is yours free when you sign up for our IL postcards below.

Get Your Free Report Here