Switch on any TV show that talks about buying or selling property and one of the buzzwords that will keep popping up is comps. A comp is a sales comparable, a way to compare the price of the property you want to buy (or sell) with similar homes nearby.
I always run comps on any potential property I come across—to see if it is really a steal or an over-priced rip off.
It's something that's very easily done in North America and parts of Europe, thanks to sites like Zillow, online registry information showing sold prices, and multiple listing services.
But when you're buying overseas you won't have access to that kind of information. There's no Zillow. Sold prices are private between the seller, buyer, and notary. There's usually no MLS. So, how can you run your comps?
It takes a little more legwork but it's still easy to do. Here are my top tips.
#1. Start with research. Spend time on local property websites and real estate agents' sites. Don't stick to sites in English, either. Get a local to help…and see if there is a difference in prices quoted in the local language or currency.
Check out the classifieds section in local newspapers. Ask everyone you come across about the real estate market…your barman, your tour guide, your taxi driver.
A local attorney can help, too. If they're interested in real estate and regularly handle real estate transactions, they should have a good handle on ballpark prices in the area you're looking at.
It's worth talking to local banks as well. They'll usually have a ceiling, a maximum that's they'll lend per square foot, for different neighborhoods. Ask if that value has gone up or down significantly in recent years. That will give you an idea if the market is on its way up or down. Note, you don't have to take out a mortgage to do this…just have a chat with a mortgage officer at the bank who can give you the information that you need.
#2. Look at as many properties as possible. You won't get a feel for the market or a gauge for values if you only tour a handful of homes. Look at as many as you possibly can. Sometimes sellers over-price their home—because they don't have any idea how much it is worth…or they're hoping a sucker will show up and over pay. And overseas real estate agents often don't push sellers on fair market value…they'll just run with whatever price the seller comes up with.
Remember, the list price isn't the bottom line. Ask the agents how low the seller will go, to give you more accurate comps.
#3. Use more than one real estate agent. In most of Latin America there isn't an MLS. Two agents covering the same district will often have completely different listings. It's worth hooking up with more than one agent to get a broader range of comps.
#4. Compare apples with apples. You need meaningful comps. There's a world of difference between a 10-year-old condo with a tired kitchen and a glimpse of the sea and a brand-new condo with panoramic ocean views and a gourmet kitchen. Compare pre-construction with pre-construction, condos with condos, ocean-view houses with other ocean-view houses. Compare the amenities (swimming pools, gyms) and running costs, too.
#5. Find a motivated seller. I've lost track of the number of "outliers" I've seen overseas… properties listed way over their true market value by owners who don't really want or need to sell. But if you roll up and hand over the money, they'll take it, thank you very much…
A motivated seller needs out. They might want cash to pump into another property or a business venture. They may simply want to move to another home. They're more likely to price their property realistically. They want to sell as quickly as possible. They're also much more likely to negotiate to close the sale.
#6. Don't take sales data at face value. If the seller tells you that the identical home next door sold for $50,000 more than he's asking three months back, ask for hard evidence. Sometimes it's true, sometimes not.
Even if he can provide proof, check that an actual sale took place rather than an option. With options, a buyer promises to purchase the property at a later date for more than the current market value. Often very small sums secure the option, as little as $5,000. The sale may never close. An inflated option "value" isn't necessarily the current fair market value.
#7. Use a local real estate agent. I'm often approached by real estate agents offering their services overseas even though they're living in New York or Miami. I prefer to work with agents with a strong local connection. If your agent was born in the area, married a local, or has lived there for a long time, he will usually have more in-depth knowledge of local market history, dynamics, and pricing. That local knowledge is crucial.
Doing your homework on comps really pays off. It can make all the difference between paying a great price for your dream home or paying way more than it's worth.
Get Your Free Real Estate Report Now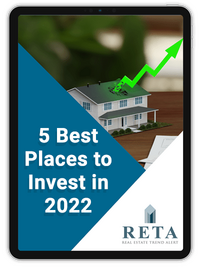 Sign up for our free daily Postcard e-letter and get a valuable free report on the The 5 Best Places to Buy Real Estate In 2022.
Related Articles
The Best Neighborhoods To Live (And Buy) In Medellín
New Condos From $30,000 In Coffee Country, Colombia
Colonial Homes In Colombia From $50,000
Upcoming Conferences
Live Better, Spend Less, Retire Sooner
IL's Retire Overseas Bootcamp
October 21-23, 2022 in Atlanta, GA

In safe, warm, welcoming communities abroad, as little as $1,700 a month can bankroll a good life... this fall, our experts will show you where—and how.
Early Bird DISCOUNT—Save $200 When You Register by Sep. 29
Details Here IL's Retire Overseas Bootcamp
---
Registration Now Open for the Best of Europe Private Screening

In the Right Spots in Europe, You Can Retire in Style—in an Historic, Sun-Drenched Locale—for as Little as $2,300 a Month or Less—Especially Now With the Dollar and Euro at Parity for the First Time in Two Decades.
And We'll Show You How, October 1-2, During the Special All-Online Best of Europe Private Screening.
---
The Income Revolution Forum
What if You Had the Freedom to Enjoy the Good Life Anywhere in the World You Wanted to Be...and Get Paid While You're There?
We'll show you how—with hands-on guidance—you could beat inflation...secure your retirement...ditch your commute...and turn a skill you already have into a portable side income of $300, $600, even $3,000 or more a month.