There are several categories of residence for those seeking to live and/or retire in Costa Rica. Although it can seem quite bureaucratic, the process to obtain your cedula (the Costa Rican "green card") is actually pretty straightforward. As long as you have the correct documentation and follow the rules, you're all set.
Most expats who retire to Costa Rica and live here full time choose pensionado (retiree) status. All you need is $1,000 coming in per month from Social Security or a government guaranteed pension. That's per couple, with one spouse as the applicant and the other as the dependent.
There is no longer a requirement that you stay in Costa Rica a certain amount of time per year. You cannot work for a Costa Rican company, but you can own and manage a bricks-and-mortar business in Costa Rica or work online.
Other residence categories include rentista, and inversionista, which are both temporary categories like pensionado, requiring renewal every two years.
You can't work under these categories either. Rentista caters to those with regular income from investments—at least $2,500 per month for at least two years—guaranteed by a banking institution or a $60,000 deposit in a Costa Rican bank. In the case of investionista you must invest in a business or commercial or residential property in Costa Rica—at least $200,000. The residential property can be your home.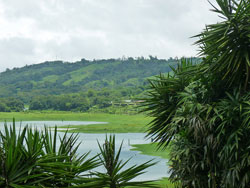 Other forms of temporary residence cater to missionaries, those with specialized skills who come to work in Costa Rica (often corporate executives), students, scientists, and journalists.
Permanent residence can be secured by having a first-degree relative who is Costa Rican. That can be a spouse or a child. You can also apply for permanent status after three years as a temporary resident. Permanent residents are entitled to work for Costa Rican companies.
The Process of Securing Residence in Costa Rica
It is possible to go through the residence process on your own. But it is recommended that you hire a reputable Costa Rican attorney to guide you through the process, especially if you don't speak Spanish. Most of the government officials you will interact with do not speak English. Plus, attorneys are familiar with the process and will help you avoid unnecessary delays due to missing documents or other issues.
The cost of hiring a lawyer is between $600 to $2,000 per person. Cheaper is not always better. And be leery of non-lawyer "fixers" who offer to shepherd you through the process for a fee. But lawyers are not just translators. They'll take you to the right government offices to turn in the documents to the right people. In sprawling government complexes with lines everywhere, this can be a big plus. Attorneys even have a special window at the immigration office with no wait.
Doing it on your own costs around $400 per applicant for filing fees, payments to translators and lawyers (who still have to certify certain documents) and such.
Whether or not you hire a lawyer, patience is key. Immigration offices are crowded and officials overworked. There are long wait times. Whenever visiting a government office be sure to get there early. And bring a book to read.
Required Documents
It's important that you gather all the required documents before you leave the U.S. Many will be difficult to obtain from abroad by mail. Here is the list for pensionado residence:
A letter explaining why you are seeking residence, as well as personal details like nationality, occupation, age, and marital status. (Even if applying on your own, ask a lawyer for a template you can fill in).
An application form available from the immigration office.
A receipt showing that you have deposited money for your application in the government account at the Banco de Costa Rica. The amount will be $50 if applying from outside the country and $250 if you apply while here on a tourist visa.
Two passport photos (bring at least eight though just in case).
Proof of fingerprinting by the Ministereo de Seguridad Publica (Ministry of Public Safety).
Proof of registration with your country's embassy in Costa Rica.
Birth certificate, with apostille. An apostille is a special stamp, usually from your home state's State Department that certifies the document is valid. Contact the State Department where your documents were issued for details on sending in your document to be stamped. Canada doesn't issue apostilles. So Canadians must have their documents authenticated by the government, specifically the department of Foreign Affairs.
Police record, with apostille (if you don't have a clean criminal record, your application could be rejected).
Certified document showing you receive at least $1,000 from Social Security or other government guaranteed pension
Having all these documents before you leave your home country for Costa Rica will help the process go smoothly.
The list for the other categories is similar. You can review requirements here for all types of residence at the official government immigration office website here (the website is in Spanish, but it's the only official list).
There are many sites in English, run by expat "experts," without the complete requirements. Only two sites in English come close to having the right information: the U.S. embassy and the Association of Residents of Costa Rica. The ARCR also maintains a list of recommended attorneys and will even help you through the application process for a fee. Your home country's embassy will not help with the residence process.
Also, be sure to check out the law firm of Petersen and Philps. These are two English-speaking attorneys based in Costa Rica who specialize in expat matters and speak at International Living events. You can find them here: www.plawcr.com.
If you have any questions call the immigration hotline in Costa Rica: 1311—an easy one to remember! They are very helpful.
Once you have applied, your attorney will keep track of the status, but you can also check on your application online at the immigration department website. Approval can take anywhere from four months to a year, depending on the type of application and how busy the immigration department is at that time.
While waiting you can return to your home country, or you can stay in Costa Rica without having to leave every 90 days to renew your tourist visa. Having a pending residence application eliminates that requirement. However, your foreign driver's license is only valid for 90 days at a time. If you drive in Costa Rica, you'll need to exit and re-enter the country every 90 days to renew your permission to drive on your foreign license. Once you are a resident you can apply for a Costa Rican driver's license.
Get Your Free Costa Rica Report Here:
Learn more about Costa Rica and other countries in our daily postcard e-letter. Simply enter your email address below and we'll send you a FREE REPORT – Why Are Americans Still Flocking to Costa Rica. 
This special guide covers real estate, retirement and more in Costa Rica and is yours free when you sign up for our IL postcards below.
Get Your Free Report Here