A typical day for Louise and Gary Mullins includes breakfast by the ocean, a walk on the beach, some Spanish study, and then whatever the couple feels like doing. There is no schedule to keep in Ecuador.
"Visitors stop by or we go out; many times my friends and I decide to escape to a new place and explore. Most afternoons we take a few dips in the pool, lunch in or out, and a little late afternoon reading or Judge Judy. We have Slingbox (a device that enables you to access U.S. programming overseas) set up in Houston," says Louise.
Louise was raised in Kansas and, from the first time she saw a world map, she could envision herself traveling the globe. That didn't happen. She married Gary and her big adventure was a move to Texas, where they lived for over 30 years. But she never forgot that map.
Gary lost his job as a producer selling commercial printing after 30 years with the same company. Louise says, "It was terrifying; we went from a very livable income to nothing in a matter of minutes." Fortunately, as a stay-at-home mom, Louise had set up a lighting business several years before Gary's job loss. "Gary joined me and we expanded my little business into a very lucrative lighting business. We designed and manufactured the most wonderful, whimsical lighting."
However, business dwindled, and when seven of their biggest customers filed for bankruptcy, they were left holding the receivables. Louise had never forgotten that map, and with their dwindling business and income, the prospect of moving overseas became a real option.
They briefly considered Mexico but decided that the heat was too much for them. "Texas was hot enough; the last year there we felt like crispy critters," says Louise. During the summer of 2011, their son-in-law suggested they check out Ecuador, and finally Louise's map had a pinpoint. She explains, "We are about as boring as they come and are not spur-of-the-moment people, but by November 2011, we had sold our home, closed our business, sold a bunch of our belongings, and we took off to Ecuador. Flying overseas and obtaining a passport was all new to me and I was raring to go."
They arrived in Manta for a two-month stay having done their homework: they had a checklist and were on the hunt for a new home. Manta is a prosperous port city and has emerged as a major cargo port and beach resort in recent years. With a vibrant nightlife, beautiful beach, and great local restaurants, this area had it all, Louise felt. "I had always wanted to live at the beach, so looking at other areas was not of interest to us."
With their trip quickly coming to an end, they drove to the fishing village of Crucita.
"We were driving down the malecón and, lo and behold, there was a big 'for sale' sign and an expat yelling 'Come on in and I'll show you around.' I fell in love with the condo!"
The interior was not finished, but they called the builder, did the purchase contract the next morning, and left the day after that. Their attorney did the walk-through several times for them, and every item they agreed to had been done.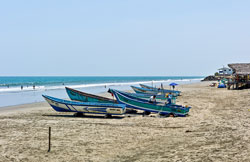 Louise didn't experience any "culture shock," she says. "I was in love with the town, the local people, my condo, the beach, and—believe it or not—the bus." They also knew they could afford to live here comfortably. "We could afford health care, groceries, dinner out as often as we liked, and gas for our car."
There is a Saturday market a short walk out of town. You can leave the market with a giant head of broccoli for 80 cents, a bag of apples for 50 cents, a freshly dressed, generously sized chicken for $7.50, fresh tomatoes for $1, and pineapples for 50 cents. "We purchase fresh corvina from a fisherman on the next corner for $4 a pound, huge langoustines for $5 per pound, and we can purchase cleaned crab for $6 to $7, depending on the time of year."
Community Feeling
Crucita has everything you could want in a community, the couple feels. On the street you can catch a bus going to Portoviejo or Manta, and from there you can go anywhere in the country. You can fly to the States from Guayaquil or fly from Manta to Quito. There are many shops, a pharmacy, several doctors, and a soon-to-be-built mini-hospital in the area. There are plenty of activities to keep you busy here, according to Louise. "The restaurants are abundant, a new gringo hangout has opened, you can paraglide or relax on the fantastic beaches, and we will be starting a non-denominational Christian church service soon."
Louise says that you can be as involved or as quiet as you like in Crucita. "Our group of friends is the kind you can call on if you need help, and they beat down the door to see who can get there first. We are starting a dining club, we have many card players, a women's group, and more."
Get Your Free Ecuador Report Here:
Learn more about Ecuador and other countries in our daily postcard e-letter.
Simply enter your email address below and we'll send you a FREE REPORT – Ecuador: Live Like Royalty on Your Social Security.
This special guide covers real estate, retirement and more in Ecuador and is yours free when you sign up for our postcards below.
Get Your Free Report Here