Envision a city set high in the mountains. On all sides are views of green-splashed hillsides and snow-capped peaks. In the city itself you'll find 2.5 million people enjoying art exhibits, museums, and musical events. On weekends couples share bottles of wine over gourmet seafood dinners and families kick around soccer balls in the many leafy parks.
This is Ecuador's capital city of Quito. In this vibrant, active city you can live in a condo just around the corner from major shopping centers, boutique cafes and restaurants, beautiful parks, and even a major sports arena…which is exactly what Bunny Alexander is doing.
A single woman of retirement age, Bunny is living life to the fullest in Quito. Her condo in the city's La Carolina area, just steps away from Quicentro—Quito's largest shopping mall—and La Carolina Park is not far off either which has access to walking and jogging trails, tennis courts, an arboretum, and sprawling grassy areas.
"I like city life and at heart I'm still a New Yorker," says Bunny, who has lived in big cities all her life. "But I decided I didn't want a car, and that's why I'm in this area of Quito. I can walk wherever I want to go and I have everything right here. I'm not missing a thing. And I prefer the weather here. I don't need air conditioning and I don't need heat so for me Quito is perfect."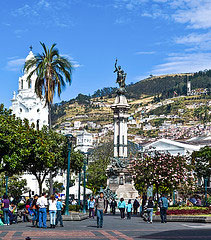 The condo that Bunny rents is in a secure building surrounded by banks, hotels, and plenty of shops and restaurants. Her rent comes in at just $600 per month for a one-bedroom, fully furnished condo. And the utilities are hard to beat as well. Her gas bill last month was $1.50 and her electric bill came in at just $25.
Bunny keeps occupied with all the city has to offer. "I like opera…classical music, and all types of music really and the Casa de la Musica always has a variety of things happening. Some of the shows are free, but the most expensive ticket is $10 or $15." Compare this to the cost of events in New York City which regularly cost upwards of $100.
Quito is a city with an eclectic group of expats and they come from all around the world. Some are retired, but others are young professionals here for work.
"I have friends that live all over the city and we get together many times for lunch," says Bunny. "I love Sher-E-Punjab for Indian food and we have a Chinese restaurant just steps from my apartment. We've been going there for three years and the food is good and fresh and inexpensive." With the great range of restaurants nearby lunches can cost anywhere from a few dollars to $15 depending on the restaurant.
"I also belong to expat groups that host different activities," says Bunny. Those activities include things like hiking, dance classes, and a cooking club.
And what about the language difference? Bunny says that while her Spanish is good enough to get by she has found that English has come in handy as well. "The Ecuadorian people I've become friendly with want to speak more English than Spanish so they can practice their language skills."
Get Your Free Ecuador Report Here:
Learn more about Ecuador and other countries in our daily postcard e-letter.
Simply enter your email address below and we'll send you a FREE REPORT – Ecuador: Live Like Royalty on Your Social Security.
This special guide covers real estate, retirement and more in Ecuador and is yours free when you sign up for our postcards below.
Get Your Free Report Here