"Won't you miss your family and friends if you move overseas?"
That's a question we at IL get asked a lot, and the answer is… "Of course you will." It's something my husband Dan and I have experience of.
We didn't think about it too much when we moved to Ecuador back in 2001. With the exception of Dan's mother, none of our family—my parents and our siblings—lived in the same city as we did. And with a son in college who hadn't lived with us but off and on during the previous years, we thought separation anxiety was far behind us.
Then came the night in November when we had to say goodbye and the tears flowed. The first week we spent in our new home in Quito was a bit of culture shock…not just because we were living in a foreign country, but because we were doing a lot of second-guessing. What had we done? We'd left a support network of very good friends behind (not to mention our son)…friends who, if we needed, would drop everything and rush to our sides.
Within a couple of weeks, though, as we caught our breath and caught up with some of the routine issues you need to deal with when you move anywhere—across the street or across the world, such as opening a bank account and changing utilities into our names and buying furniture and household supplies—our anxiety began to abate.
Our Ecuadorian friends and neighbors embraced us and made us feel welcome. We began to receive invitations from fellow expats to dinner parties and other social events. We weren't replacing our friends back home but we were augmenting them with new faces and people with pasts and experiences that were totally different than ours. They brought a fascinating new perspective to our lives.
By the end of that first year, our new friends in Ecuador had become like family to us. Just like our friends back home, we could count on them to drop everything and come running should we need them.
As for our son, he visited us in Ecuador twice that first year—during the Christmas holidays and again during his Spring break. He was a young man in the early stages of adulthood and he really was doing fine without us; he was thriving, in fact, and his eyes were opened to the benefits and opportunities of living overseas.
During the last decade, he has lived in both Mexico and Panama, where he met his wife. I'm happy to report that we now have a 6-month-old granddaughter who is a dual citizen of the U.S. and Panama.
And that brings an entirely new dimension to our lives. The pull of grandchildren is strong and we wish we lived closer and could spend more time together. But we're not at all sure that our kids will live forever in Arizona where they are now. In today's mobile society, they could end up in Denver or New York or Panama or Costa Rica for all we know.
The nice thing is that, with the money we save living here in Ecuador, we can afford to go back to the States for frequent visits…and our kids always have a free place to stay when they come visit us, which they do fairly often since the other set of grandparents are only a 90-minute flight from us in Panama City.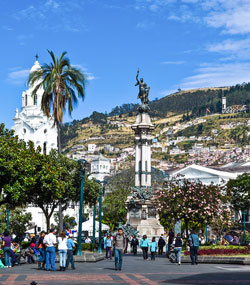 Importantly, the Internet has changed everything for the better. Thirteen years ago, when we first moved to Quito, there was no such thing as Skype. Every other day now, we can video-chat with our granddaughter. We can see and hear her in real time and, in turn, she can hear our silly cooing and see the goofy faces we make to entice a smile or laugh from her.
With them living in Arizona, we're certainly as much a part of her life as if we were still in Nebraska.
So the short answer is yes, you will miss your family and friends when you move overseas. But you never know what life has in store for you. Because it's possible these days to work over the Internet and it's relatively easy to start a business (at least in Panama and Ecuador), our kids may end up living in Latin America again some day.
As for our friends? We have a really wonderful and close-knit "friend family" here in Ecuador, all of us brought together by the shared experience of being expats. We support and uplift each other.
And in the apartment across the hall from us…lives a friend we met 15 years ago in Nebraska. They're following us, it seems…
Free Report:
There are still numerous countries around the world where unspoiled natural beauty, secluded beaches, friendly people, and a relaxed way of life are waiting for you. Sign up for IL's free daily postcard e-letter below to find out more. You'll also receive a free report: Find Your Perfect Place to Live Overseas.
Get Your Free Report Here