Mexico's Caribbean coast ticks all the boxes when it comes to real estate opportunity. It's on an upward trajectory. Prices have risen strongly in recent years. But for now, there's still opportunity to buy well and watch the value of your real estate rise.
I've had my eye on one area—known as the Riviera Maya—for several years, and I've watched it grow and develop as more tourists and property buyers arrive every year.
The Riviera Maya is on a tear. A few decades ago, most of the Riviera Maya south of Cancún was just tiny fishing villages, virgin jungle, and thickets of scrub.
But the Mexican government wanted to replicate the success it had in Cancún. In the 1970s, it turned what was once a spit of undeveloped land into a tourist hotspot. From very rustic beginnings, it grew Cancún into one of the world's busiest tourist locations.
On the back of that success, Mexico's tourism body, Fonatur, turned its attention to what lay beyond Cancún. It wanted to draw millions of tourists each year.
Their hard work has paid off. As you drive the modern highway from Cancún to farther down the coast, you can see how quickly development has come here. Places like Playa del Carmen, which were once fishing villages, have been transformed into charming, laidback cities. Farther down the coast, the little beach town of Tulúm draws both celebrities and backpackers. The Riviera Maya feels vibrant, busy, and alive with opportunity.
The Riviera Maya is one of the best real estate opportunities on my beat—a beat that spans the globe. And one particular development has proven to be very lucrative to me—and to readers of my Real Estate Trend Alert (RETA) service.
Two years ago, I told members of Real Estate Trend Alert about A-nah Tulúm. I was so excited about this opportunity, I bought one of these town homes for myself. The RETA members-only price was $215,000. Now the project is becoming a reality and as I write to you, I'm planning to furnish my place. This will be a cool place to spend time. But I also have a rental opportunity in mind. I predict I could rent out my town home when I'm not using it for up to $150 per night.
Those town homes now list for $287,370. That's an incredible paper gain in two years.
In the main, the early-in moment in this community has passed but there are still two standout condos to buy.
One is a massive penthouse available at $250,000. I've seen these penthouses for myself. They're high-end, luxurious, and built to North American tastes. If you're in the market for a property you could rent out to vacationers, you could do very well from this penthouse.
It has two bedrooms and two-and-a-half bathrooms, interior space of almost 1,000 square feet and a substantial terrace of 855 square feet—perfect for relaxing with a glass of wine or cold beer. It overlooks the community swimming pool—all things a vacationer will enjoy.
But the design is clever. It adds another angle to your potential rental yield. This penthouse has a lock-off. What this means is that you can choose to use or rent the condo as one single property. Or, you lock off two halves of the condo, allowing one party to use one of the bedrooms and one entrance door, and another party to do the same.
So you could rent out one side of your penthouse and use the other…or rent out the two sides to different renters. The angle you take is up to you.
That's just one of the two stand-out opportunities I see at A-nah Tulúm right now.
About the author: Ronan McMahon is a director of Pathfinder, International Living's preferred real estate advertiser.
Get Your Free Real Estate Report Now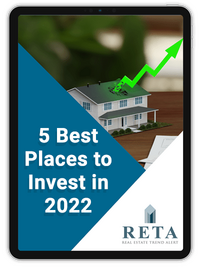 Sign up for our free daily Postcard e-letter and get a valuable free report on the The 5 Best Places to Buy Real Estate In 2022.