In the Loire Valley, the so-called "Valley of the Kings," every day ends with a glass of affordable, delicious local wine. The mornings and afternoons are rich—full of leisurely cycle rides along the beautiful and famous Loire River, past verdant vineyards, visiting sprawling chateaux with their ancient towers and lush gardens, and strolling through historic, well-kept towns.
The weather is mild and pleasant. And the cost of living is decidedly affordable. For Stuart and Elizabeth Byrom, this isn't just a daydream. It's their day-to-day life.
Stuart and Elizabeth have been living in France since 2008. The Loire Valley, with its lush landscapes and chateau-dotted hills, captured their hearts.
Stuart and Elizabeth bought their home in the town of Amboise in 2010. They spent 2011 renovating and improving the space, and then moved in permanently at the end of that year. Five years later, the Byroms have not tired of the Loire's charms.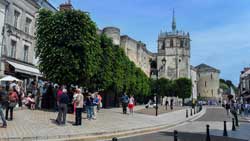 "It's a really nice place to cycle, because they've got so many back roads and dedicated cycling paths, and it's just beautiful following the Loire River by bike," says Elizabeth. "Much of it is wine country, so you're always going through vineyards, and you stop to visit the chateaus and wineries along the way.
"And the food is excellent," she says. "This part of France is called 'the garden of France,' and it really is. Amboise has two outdoor markets—a small market featuring fresh local food on Fridays, and a Sunday market that's enormous, full of food, furniture, gardening equipment, beds, everything.
"Plus, the weather is great. We spent most of our adult lives in Virginia and North Carolina, so we are used to hot, humid summers and sometimes deep snow in the winter. Here we will maybe have five or 10 days in the 90s F in summer and five or 10 days in the teens in the winter—and that's it. We are really happy here.
"It's great to live where world-class wines are produced. It's yet another incentive for our friends and family to come visit us here. It's great to show them our favorite vineyards and to sample the wines onsite. Vouvray, perhaps the most prestigious of the Loire Valley white wines, is about 10 miles from Amboise, making it easy to visit wineries and stock up on good wines. We also enjoy medium-body reds from Chinon and Saint-Nicolas-de-Bourgueil."
The couple has also found the time and inspiration for their creative projects in the Loire Valley. Elizabeth is a budding textile artist and spends happy hours in her studio (formerly the master bedroom of their home) dyeing fabric, sewing, and torching. Stuart is similarly occupied with his woodworking workshop and his photography, which results in a daily photo blog.
With such a charmed lifestyle, you'd think the price tag of living in the Loire would be high. Not so: According to the Byroms, France hasn't broken the bank. "In the States, we'd pay well over $100 per month for TV," says Stuart. "And that's without the premium channels. And our phone and internet were separate. Here, for a package of telephone, cell phone, internet, and basic TV, we pay about $42 per month. And the phone is internet-based, so we can call the U.S. for free."
Related Articles