I'm sitting at a pub eating proper U.K.-style fish and chips, sipping a local microbrew, and watching the beautiful people (and cars) go by. This is Panama City, so it's lovely and warm. It was clear skies all afternoon so, as soon as the clock hit 5 p.m., I headed out for a bit of sun and social time.
Panama is the world's greatest "little big town." It's a cosmopolitan world capital, but I run into people I know all the time. My usual waitress at the pub, Carol, always takes the time to chat with me a bit. I try to arrive before happy hour ends, so an excellent $5 blanche is just $3.
There are people who will call this city "expensive"…but if you sit down and make a serious comparison, it's near impossible to beat. We have a mild climate and we're on the ocean, with enviably easy access to pristine beaches. A 20-minute flight gets me to Contadora Island…a 30-minute ferry to Taboga Island…and it's just an hour's drive to the beach hub of Coronado.
Try to have my lifestyle…on my budget…somewhere like California. My monthly expenses usually total about $2,300, including rent. I've been writing about Panama for over 10 years, but as a freelancer working for companies outside Panama, I'm not liable for income tax here. The only tax I pay is sales tax at local shops…7% on most goods and 10% on wine, which is incredibly affordable. We get great malbecs from Argentina, tempranillos from Spain, you name it. Good wines start at around $6 a bottle. My favorite, an organic red from Chile, is $8 at an upscale supermarket.
Savings aside, it's such an exciting time to be here. This isn't a city that's staid and set in its ways. PTY, as it's known to locals, is the quintessential burgeoning city. The art scene, the nascent film industry, music and the performing arts…I'm watching everything bud and blossom. There's a vibrant energy about the place. Locals are welcoming, and eager to learn and practice English. It's a land of opportunity and people who work hard go far.
I have a tendency to get restless, so Panama City is a perfect fit. On any given weekend there are many cool events and activities. I like pretty much any type of music, from opera to classic rock. I enjoy plays and dance recitals…and there are always fun fitness events, here, as well. But that's just me.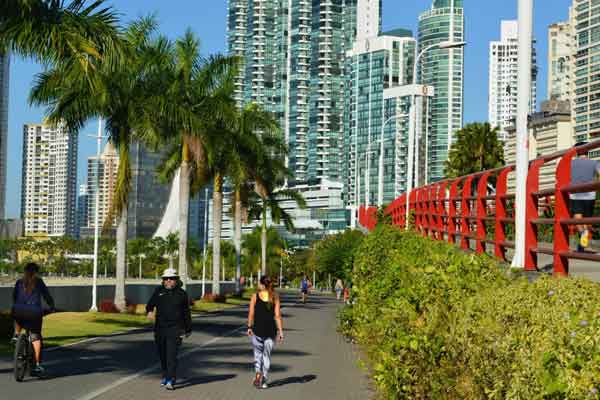 Whatever you're interested in, you're likely to find it here. Golf, tennis, baseball, and soccer are big, as are a myriad other sporting events. (Our women's flag football team is the current world champion.) Jazz has taken off and we have a big festival every January. The final concert is held outdoors and is free. Founder and jazz great Danilo Perez is always in attendance, and we've had the likes of Herbie Hancock come and play as well.
I also love Panama City because it's so international. I am Indian and I was glad to find a large Indian community that hosts events every year. Not to mention Indian restaurants—I couldn't survive without them. I'm an equal-opportunity foodie, though, so I was happy to find every other type of ethnic cuisine on offer, as well. Whether I'm in the mood for Greek, Thai, Spanish Tapas, Japanese, down home American, or virtually anything else, Panama City delivers.
Yes Panama is exciting, to say the least. At the same time, this is Latin America…where people still prioritize family and wellness. Cero estrés (zero stress) is a common refrain. It's used in a variety of contexts. Don't sweat the small stuff. Don't walk on eggshells. Do what makes you happy. It's an attitude I'm glad I adopted. I rarely feel stressed anymore, and I've never felt happier.
Spend $160,000 to $200,000 on a nice apartment in the central El Cangrejo area and you could make it your "zero stress" home too. I saw a 930-square-foot apartment in the central El Cangrejo area in a building with a pool for $162,000. Two bedrooms, two-and-a-half bathrooms, and it comes with a few years' property tax exemption.
There's a one-bedroom, two-bathroom apartment in San Francisco with a city view for just $166,000. And the building has a rooftop pool…with a panoramic view of Omar Park.
Or how about an ocean-view, three-bedroom, three-bathroom apartment in Paitilla. At about 1,450 square feet—including the balcony—it's listed to sell for $225,000…or rent for $1,500. The building has all the amenities…pools, gym, and a doorman.
Get Your Free Your Overseas Dream Home Report Now

Sign up for the FREE Your Overseas Dream Home e-letter and get a valuable report (free for a limited time) on the The Global Real Estate Boom of 2021: 15 Places Where You Can Profit.
Related Articles
Panama Real Estate: Double the Luxury for Half the Price
Some Helpful Facts About Panama
Panama City: Three Areas to Love and One to Leave