One of my absolute favorite destinations in the world is Guanajuato, a city in Mexico's Colonial Highlands. It's a place where every interest is catered for. Every time I return I throw myself into the wealth of cultural activities it offers: concerts, exhibitions, theater, food festivals, book fairs…
Even Guanajuato's street scene is lively. Walk down to the Jardin (Garden) area any given night, and you'll see strolling locals and expats, bustling outdoor cafes, student troubadours, and mariachi groups making music, and more.
There's actually so much choice for things to do that, truth be told, it sometimes stresses me! I worry that, if I go to a symphony concert at the Teatro Principal one night, I may miss a great gallery opening that same evening. Or if I attend that lecture at the Cervantes Institute, I'll have to pass on a wine tasting or a restaurant outing.
Whenever I feel myself getting stressed like that, I remind myself that there's always something (or several somethings) going on in Guanajuato, so it's not the end of the world if I miss something; I can afford to be blasé.
As elsewhere in Mexico, it's all very affordable. Most tickets to cultural events are only $5 to $7—when there's a fee at all. Other prices are equally low. A comida corrida—Mexico's lunch special—typically runs $3.50 to $7. $20 or so a person gets you dinner, with several courses and wine, in Guanajuato's finest restaurants.
For such a relatively small city (central Guanajuato has a population of about 70,000), there's plenty to do and see. And for big-city shopping, warehouse stores, outlets, and top-notch hospitals, the city of Leon (population about 1.6 million) is just an hour's drive away—and the Leon international airport, El Bajio, is less than half an hour.
For special treats, I have the rest of Mexico to explore. When I'm in the mood for beach fun and some of the country's finest dining, I can head to expat destinations like Puerto Vallarta or Cancun. I can go for culture in Guadalajara and for the famous bargain shopping in Tlaquepaque, the little town on its outskirts. I head to handcrafts towns like Oaxaca and San Cristobal de las Casas whenever I want to see or buy something artisan and one-of-a-kind.
Mexico is rich in interesting, colorful, historic towns and cities.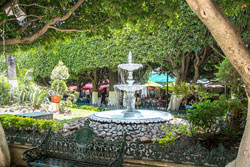 It's especially rich in small cities like Guanajuato—places with populations around 100,000 that offer small-town comfort and big-city goodies. Each has their own flavor (which I'll tell you more about in person at the Ultimate Retire Overseas Conference this June). A favorite with expats is San Miguel de Allende, only 90 minutes from Guanajuato. It's been drawing artists and creative people—particularly Americans—since just after the Second World War.
Other expats flock to the Lake Chapala area, for relaxed living in beautiful surroundings. Little towns dot all along the lake's north shore, giving you a wealth of options for a place to live. Prefer to be by the beach? Then head to the Riviera Maya, south of Cancun, to lively tourist favorites, like Playa de Carmen and Tulum.
You can see why I feel so spoiled for choice in Mexico. And because my life in this diverse country is so affordable, I have the extra money to visit all of the places I told you about above…and more.
It's a common theme among expats who live here. Not only do we enjoy a relaxed, comfortable, more affordable life than we had back home, we have a big, beautiful, complex, and exciting country to explore. That fact enriches our lives in ways I think none of us fully expected before we came.
So whenever I feel a niggle of stress over my many choices in Mexico, I remind myself how lucky I am that my biggest problem is choosing how best to enjoy myself tonight…
Get Your Free Mexico Report Here:
Learn more about Mexico and other countries in our daily postcard e-letter. Simply enter your email address below and we'll send you a free special report – Why Millions of Americans Are Moving to Mexico.
This special guide covers real estate, retirement and more in Mexico and is yours free when you sign up for our postcards below.
Get Your Free Report Here