One of the reasons I moved to Medellín, Colombia is because I hate winter. I hate everything about it (except the holidays). I hate driving in snow and ice, having cold feet for six months, scraping my windshield, praying I will make it home, and not end up in a ditch. You get the picture.
Another reason I moved here was because I was stressed out, overwhelmed by GMO foods, and tired of the U.S. rat race. I would count the days until vacation time, so I could get away to a better place.
Finally, it occurred to me; why not live in a better place?
I've found my better place in Medellín and I love it here for many reasons…but here's my top five:
1. It's a cosmopolitan city: There are so many things to do and places to go. Bars and restaurants abound, but if you prefer to quietly enjoy nature, you'll find parks everywhere. I enjoy meeting friends for coffee at a quaint cafe where a fancy iced cappuccino costs less than $2, or catching happy hour and paying $1.25 for a beer or $4 for 2-for-1 cocktails. We also have museums, theater, opera, concerts, children's activities, and plenty of shopping in large, beautiful, clean malls, or in sophisticated boutiques owned by local designers. I want for nothing here.
2. The weather is perfect: The temperature doesn't drop below 60 F. We have rainy seasons, but that's what keeps the city so green. I love to watch the storms spill over the mountains and hear the thunder echo through the valley. I smile when I look at photos of my friends back in Illinois, all bundled up against the cold and snow. I don't even own a winter coat anymore.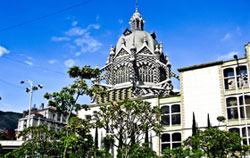 3. The organic food is plentiful and inexpensive: Because Medellín has a year-round growing season, fresh produce is always available. I shop at the weekly farmer's market, or I order organics on-line, for next day delivery. A week's worth of fresh, GMO- and chemical-free produce costs around $20. Each week we enjoy broccoli, beans, carrots, tomatoes, onions, pineapple, beets, eggs, bananas, cauliflower, mushrooms, Brussel sprouts (when we can find them), kale, spinach, potatoes and sometimes lettuce. There are also three organic food stores, and several vegetarian restaurants within a few blocks of my home.
4. Transportation is easy and cheap: I don't need a car, because I walk almost everywhere, or I can take a bus or train for 60 cents per ride. For door-to-door service, a taxi ride or Uber service may cost $4 or $5. All taxis are metered and there is no tipping, so payment is straightforward. Also, since my neighborhood is hilly, I have lost weight and toned up since moving here.
5. The locals: They are among the friendliest people in the world. Since I am far from fluent in Spanish, I have had communication challenges. Just yesterday I was at the pool in my apartment complex when a neighbor stopped to talk. After a few confused moments, and some pantomime about driving a car, I realized he was asking if I would rent one of my parking spaces to him. I plan to have my Spanish teacher call him back to make arrangements on my behalf.
The people are incredibly patient and helpful, and strangers are quick to assist. Medellín has come so far, in a short amount of time. They are absolutely thrilled that expats are visiting and moving here.
So if you ask me why I moved here, the short answer is easy. I came to Medellín for the weather, but I stayed for the people and the laidback way of life.
Get Your Free Colombia Report Here:
Learn more about Colombia and other countries in our daily postcard e-letter. Simply enter your email address below and we'll send you a FREE REPORT: Beautiful, Diverse and Safe – Take Another Look at Colombia.
This special guide covers real estate, retirement and more in Colombia and is yours free when you sign up for our IL postcards below.
Get Your Free Report Here