"I can easily afford to indulge myself whenever I want," says expat Rob Schneider. "Between breakfast, renting a catamaran, and dinner for two, I came away with change out of the $25 I had in my pocket this morning. What would I have back home? The best I can imagine is a small apartment far from the beach and a nine-to-five job or—now that I'm in my late 60s—a pension that would barely cover my basic expenses."
Cambodia, where Rob lives, offers a truly fantastic retirement experience, whether you're thirsting for adventure or just want laidback beach living. Lush rainforests teem with exotic animal life. There's no shortage of resplendent temples to see. And you have some of the best beaches in the world.
"The cost of living here is so low that my bills only total around $1,200 a month, without having to budget," says Brett Dvoretz, who lives in Sihanoukville, one of Cambodia's most popular beach towns.
Steven King has lived in Phnom Penh, Cambodia's capital, since 2006, after being attracted by the country's exotic charms as well as by its fantastically low cost of living.
"I had spent over a year traveling in the region and was used to living on a budget. But I was shocked at how cheap this place proved to be. Not only did I discover that the people are incredibly friendly and welcoming to foreign visitors, but it amazed me that, even compared to other affordable countries in the area, the cost of daily living was incredibly low.
"I know many retired expats who moved here because their Social Security can more than cover their monthly expenses. And though many came to the country due to its affordability, they have stayed because of the warm culture of hospitality among the local people.
"My first rental was a one-bedroom apartment with a spacious living room and picturesque balcony, located in the most sought-after part of the capital city. It cost me less than $200 a month, while my basic utilities were extremely affordable. Cable TV set me back only $5 a month, the water bill was $10, and regular garbage pickups just $2. Over nine years later, these prices haven't risen at all.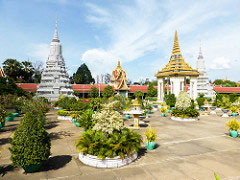 "This is a country that has a lot in terms of food, and it doesn't take long to figure out that, if a restaurant is popular with locals, then likely it is offering good-quality food at very reasonable prices. My favorite meal of the day is a breakfast of fried pork with steamed rice and pickled vegetables, plus an iced coffee, which all together costs less than $2."
"Luxuries that I'd never allow myself at home are easily affordable," says Lina Goldberg. "I can have a pair of leather shoes made to order for $22, a dress tailored for not much more than that, and a weekly manicure for $6. For transport I take tuk-tuks, which get me anywhere in the city for between $1 and $3."
"Most expats can live comfortably on a budget of around $1,250 to $1,500 a month," says Ellie Dyer, who also calls Phnom Penh home.
"It's easy to tailor life to your means, whether that involves eating street food on a shoe-string budget or living the high life at luxury hotels. Eating out is very affordable and many expats frequent restaurants daily. A good local barbecue meal can cost less than $5 per person. World cuisines, especially French fare, are well represented here, with meals costing from $5 to $15."
"It's hard to complain when you can rent an air-conditioned, one-bedroom apartment for $250 a month, or a Western-style, furnished studio apartment with a fan for as little as $120 a month," says Rob Schneider. "After you've been here a little while, you'll be able to find even better deals through your new local and expat friends."
Get Your Free Report on the World's Best Places to Retire
Learn more about the best places in the world to retire in our daily postcard e-letter.
Simply enter your email address below to sign up for our free daily postcards and we'll also send you a FREE report on The World's Top 10 Retirement Havens.
Get Your Free Report Here