There is a joke in Costa Rica that if you want something to grow, just stick it in the ground.
When Jack and Janet Taylor moved their family of five from Lake Tahoe to Costa Rica's Central Valley, they decided to put that saying to the test.
The family had wanted to start a garden while they were living in Nevada, but the short growing season didn't allow for it. However, there were plenty of organic options available to them at grocery stores. The opposite was true in Costa Rica; there were fewer organic options, but the climate was perfect for growing crops year around.
Once they moved to Costa Rica the couple's eldest son, Jaxson, chose to create an organic, non-GMO garden in the family's backyard for a school project. He enlisted the help of a local farm owner and together they designed and planted the garden plot. The farmer provided many of the seedlings to get the garden started and the family supplemented these with heirloom seeds they had shipped in from the U.S.
The Taylors recently celebrated one year in the country and one year of having a garden. While the first year of growing was a good one, there was also a learning curve like learning how to prevent plants from being washed away during rainy season. Still, they were impressed how quickly vegetation grows in Costa Rica's fertile volcanic soil.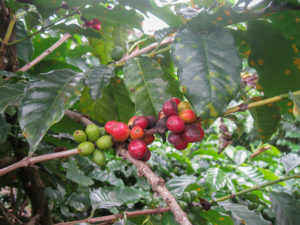 Janet says, "Our goal is to eventually produce enough for our family and to be able to give some to friends. The first year provided about 10% of what our family eats."
The garden produces a wide variety of food. Vegetables and herbs grown include: carrots, spinach, okra, sweet and hot peppers, lettuce, green beans, radish, cucumber, tomatoes, squash, rosemary, thyme, mint, and oregano.
In addition to the food already growing, the family has planted avocado and banana trees as well as watermelon, and is just waiting for them to mature and fruit.
Janet continues, "We had some friends in town recently, and it was amazing, just to walk outside, pick an okra, and eat it. Knowing it was something we grew."
Even with the success of the garden project, there are still a few items they have to buy at the weekly farmers' market. They have yet to figure out how to grow eggplant and asparagus, so those are purchased at the market, as are oranges, apples, and grapes that do not grow well in Costa Rica and must be imported.
Two years ago, the family started eating more fruits and vegetables for health reasons. Now having their own home garden helps everyone be more aware of what they are eating and where it comes from. Not only are they putting good food on the table, they are putting good food in their bodies.
Janet says, "Our health has completely improved. In the past two years, Jack has lost 90 pounds—half of that has been since we moved here. For me, I am on my fourth dress size down since we moved to Costa Rica."

Related Articles
A Peaceful Retirement in Atenas Costa Rica
There is More to Tamarindo Than a Perfect Climate