In late March of this year, I was sitting at the dining table at a friend's house in Glasgow, Scotland, where I was visiting for a couple of weeks after leaving Costa Rica and enjoying a short four-day stop-over in London.
I was working away on a piece of sales copy for a guitar client, when I got a message on Facebook from a friend, asking me what I was doing next week. She was flying into Paris, France from the U.S. for a week…and asked if I wanted to join her.
Being a freelance copywriter, the choice was easy. I asked her where else in Europe she wanted to explore and within an hour, my flight to Paris was booked for three nights and our flights to Pisa, Tuscany were booked as well.
This was my first time to Paris. Driving into the city from the airport, I was greeted with the sight of the cafés and the romance of Paris. My friend had arranged for a professional photo shoot for herself and as soon as I arrived, we were off to the Eiffel Tower. A few hours later, with pictures taken at the Notre Dame and along the river, we were finished.
Over the next two days, we explored Paris with all of its charm, architectural beauty, cafés, cuisine, and French wines. It's no wonder people fall in love with Paris.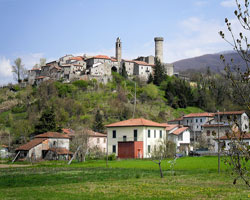 The time flew by, next thing I knew, we were on a plane to Tuscany, Italy, headed back to what I call my la dolce vita—an organic olive farm B&B, high in the Tuscan hills, 20 minutes from the medieval city of Lucca. This was my fifth trip in two years.
On the way to the farm, we stopped for local cheeses, meats, and Tuscan wines…dinner was going to be outside, under the Tuscan sunset, enjoying every last morsel, and relaxing with wine under the stars later. The days were drizzled with walks, taking photos, exploring Lucca, and eating superb Italian cuisine. In between times, I wrote sales copy for one client and mentored other clients on copywriting in Australia, Canada, and London.
The highlight in Tuscany was a private wine tour (public tours are not available) with Laura, the vintner and owner of one of the most famous wineries in all of Tuscany, where the grapes are crushed by foot. Not only does Laura produce wines, she produces sausages, salami, prosciutto, honey, olive oil, and cheeses. The feast of food and wines made for a postcard-perfect day under the Tuscan sun.
The decision to fly to Paris and Tuscany on a whim has been made possible by becoming a freelance copywriter. I didn't hesitate. Copywriting gives you the freedom and the income to travel anywhere in the world that has a good Internet connection…and these days, that covers a lot of places.
Free Fund Your Life Overseas Report:
Sign up for IL's Fund Your Life Overseas e-letter today and we'll also send you a FREE report about ways to earn money abroad. Simply enter your email in the box below and we'll send you this free report: Fund Your New Life Overseas With These 6 Portable Careers.
Get Your Free Report Here