I came across this old building in Albufeira on a walk a few days ago.
It's got a plaque high up on the left that says Chalet Santa Rita 1938.
It's a beautiful building, but it's empty, a ghost of the past. It's sandwiched awkwardly between two big hotels, and its history seems to be connected to one of them, the Inatel.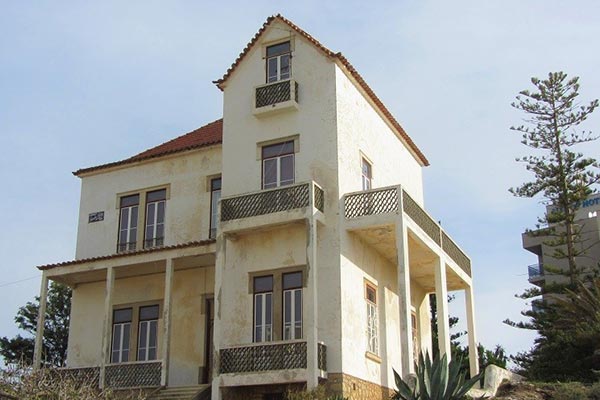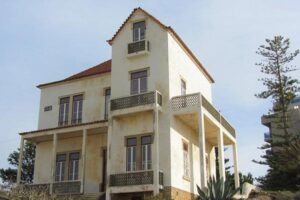 The Inatel brand didn't start as a commercial enterprise. It was part of a government-sponsored ideal—the right of all workers to enjoy a vacation, but one with the government firmly in charge.
Inatel started as FNAT, the National Foundation for Happiness at Work. It was modeled on programs created by Hitler in Germany and Mussolini in Italy.
The government at the time had very fixed ideas about what constituted a vacation. It did not involve getting drunk, eating too much, or lying on the beach all day. Workers weren't trusted to come up their own idea of fun in the sun. Instead, they got a curated vacation. One that offered free movies (carefully selected, of course, by the powers that be, to promote their own agenda). Team games were also on the menu to bolster morale, although they did not prove popular.
Like most grand schemes, reality never quite matches the promise. Rumor has it that while ordinary workers stayed in the Inatel, the higher ups got to stay in Chalet Santa Rita, right next door. If walls could talk, this house could tell quite a story…
I'm on Portugal's Algarve coast, in the town of Albufeira. It's my first time in Portugal. I don't speak the language. I don't have friends or family here. I'm technically homeless. I'm in search of a new base in southern Europe. It's an adventure and a voyage of discovery rolled into one.
In the background, I can hear the noise of a crane, working on a condo complex close by. The condos retail for north of a million euros. They look swish, high end, with huge expanses of glass facing the ocean. Every day, workers swarm over the site. But, a bit like Chalet Santa Rita, you don't have to look too far to find a ghost of the past.
Next to this fancy condo complex, there's a huge abandoned project. It's fenced off, the lettering on the fence faded away. A hoarding, barely legible, promises ocean view homes. The website and phone numbers listed are no longer active.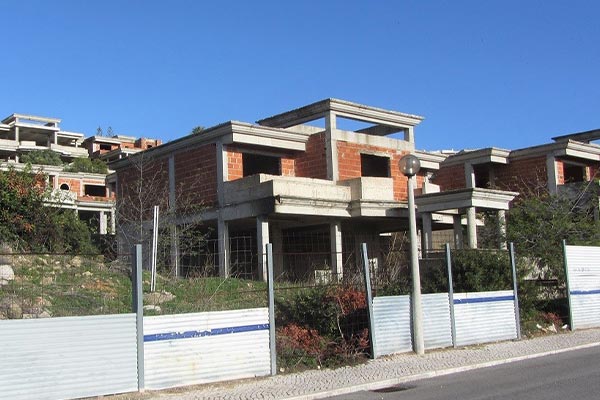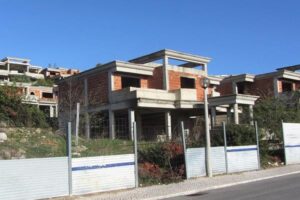 The project's failure looks like it dates back to the last great economic crisis of 2008. It's the worst kind of failure—only partly built. The kind of project that few want to buy. Unlike finished homes, you can't sell each unit individually. You need an investor or developer. And, sensible developers don't want to take on foundations and walls done by someone else, or foundations and walls exposed to the weather for more than a decade. Any problems would be their responsibility to put right. It's much easier to start with an empty site, where you control the standard of construction and the materials used.
This failed project flags up one of the basics of buying pre-construction property: Know your developer.
I've come across countless wannabe developers in my 15 years doing this job. In fast-moving markets, when real estate prices skyrocket, everyone wants a slice of the pie. People with no background in construction, engineering, or project management decide to become real estate developers. I've met folks who have built a couple of single-family homes back in the U.S. and think it qualifies them to do a high-rise block in Latin America. I've met others who have run from failures in other countries and are raking in cash from a fresh round of naïve buyers who don't do their research.
There are no guarantees in real estate, but you can cut the risk. One way is to go with an established developer, with a strong track record of delivering quality product, and a slew of happy customers.
And, because pre-construction comes with a higher risk than a finished home, make sure you're getting a reward for that risk by paying below market value for the property.
When I write next, it will be from Lagos in the western Algarve. This is the spot that Ronan thought I'd like best…a place that has charm, old buildings, fabulous beaches and even a marina. But how will it stack up as a potential base? Find out soon.
Get Your Free Real Estate Report Now
Sign up for our free daily Postcard e-letter and get a valuable free report on the The 5 Best Places to Buy Real Estate In 2023.
Related Articles
Escape to Your Own Overseas Playground
Homes With History for Less Than You Think