Would you become healthier if you lived in France? Maybe.
France is one of the healthiest nations on earth, if average life expectancy is any indication. According to the most recent data from the World Health Organization (2013), France comes in at #9, with an average age life expectancy of 81.6 years. This puts the country well ahead the United States, which ranked #34, with a life expectancy of 79.
That the French are so healthy isn't surprising. But at the same time…it is.
The French aren't exactly known for eating light. French cuisine generally features a variety of artery-blocking foods, from fatty meats to creamy sauces to butter-laden pastries. On top of this, French people drink wine. Lots and lots of wine.
Nonetheless, the French are half as likely to have heart disease than Americans and are far less likely to be obese. This "French paradox" has stymied scientific researchers for years, but from my thoroughly non-scientific view, purely based on my 15 years of living in France, it kind of makes sense.
First, and perhaps best of all, the French have great healthcare (France ranked number one for the best healthcare in Europe in International Living's 2016 Global Retirement Index). Because healthcare is universal and costs are relatively low, the French don't hesitate to visit the doctor to address potential problems or avail of medical treatments.
A visit to a general practitioner usually costs about $30 to $40, and you can even have a doctor come to your home for $50 to $60. Most prescriptions are entirely covered by state insurance plus top-up insurance. But even in the rare instance that they're not, medications aren't very expensive. For example, my asthma medication costs only $15 out-of-pocket in France. In the U.S., the exact same medication costs $65.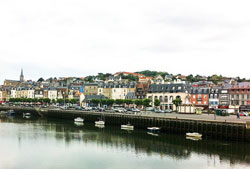 The French also tend to be active. Walking, whether just to get from place to place or a pleasure stroll, is part of the French lifestyle. And while jogging isn't such a big thing here, it's more and more common to see people of all ages hitting the gym…in Paris, anyway.
When it comes to their famous culinary delights, the French eat less. You'll notice at most French restaurants or French homes that the serving portions are decidedly smaller than you'd find in the U.S. What's more, the French rarely snack between meals, but if they do, they tend to go for healthy options, such as fruit or nuts.
The French also eat slowly. France is famous for having two-hour lunches, even during the workday. That's sometimes interpreted as a form of laziness, but really it's about appreciating food. In France, meals are meant to be savored, preferably with family, friends or even colleagues, not shoveled in as fast as possible. As science shows, the slower you eat, the more time your brain has to recognize that you're full. So by eating slowly, they're also eating less.
Next up: they eat less processed foods. Throughout France, it's a cultural tradition to buy the highest quality food available, and prepare those meals at home. Homemade meals mean you can control the amount of sugar, salt, or fat that goes into them. Thanks to the abundance of France's famed markets, it's very easy to make your own healthy, delicious meals.
So, what do you think: if you lived here, would you become healthier? If you adopt these French habits…the chances are pretty good.
Get Your Free France Report Here:
Learn more about France and other countries in our daily postcard e-letter. Simply enter your email address below and we'll send you a FREE REPORT: A Taste of France: All the Ingredients for the Good Life.
This special guide covers real estate, retirement and more in France and is yours free when you sign up for our free daily IL postcards below.

Get Your Free Report Here