I love historic homes. My idea of heaven would involve remodeling a historic house, restoring it to its original glory, and filling it with antique furniture.
I live in Panama City's historic district, Casco Antiguo, in an Art Deco building. In fact, I'm surrounded by colonial, French, and Art Deco homes. So why haven't I taken on a project here?
The short answer is: the price. Investors started pouring into this market in the early 2000s. I'd missed the boat by the time I moved here in 2007.
Most of the smaller buildings in Casco were snapped up years back. Mid-size ones were converted into apartments. Larger ones became hotels.
There's not much on the market, either. Casco is incredibly small. Many owners sit on property; they're in no rush to sell.
This is what a cool $4.5 million will buy you in Casco Antiguo: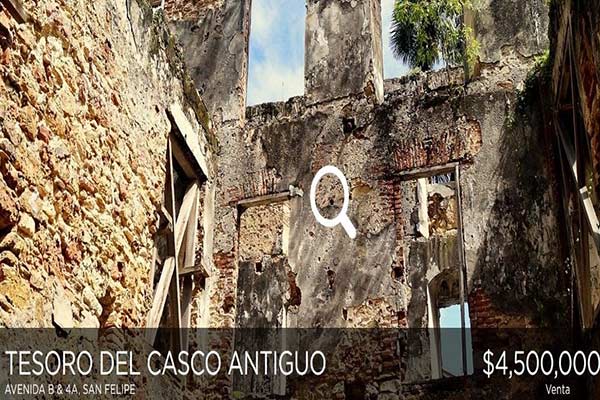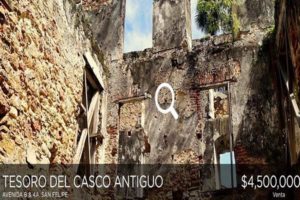 It's a total wreck. No roof, no windows, no doors, no plumbing, no wiring.
It covers 8,600 square feet on the ground floor, and you can build up to 21,500 square feet in total. The construction cost could run up to $200 per square foot. That's almost the same as the purchase price.
This is a project only for those with incredibly deep pockets.
Now, compare it to the property below. It's in the historic district of Ecuador's capital, Quito. The picture is taken from the mirador on the top floor. You can just make out the statue of La Virgen de El Panecillo on the hill in the background: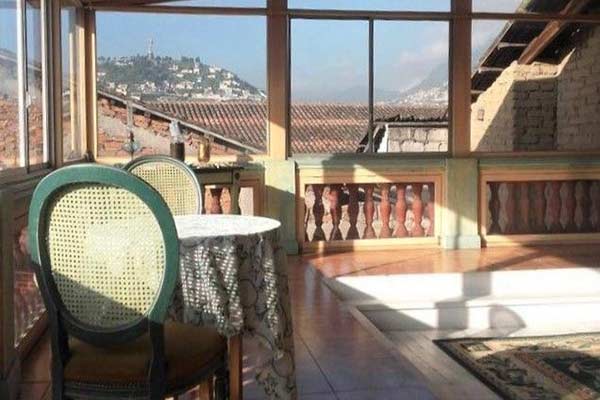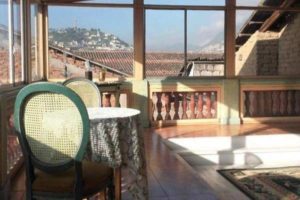 This is an impressive historic home. It's huge, with almost 14,000 square feet of construction. It boasts an internal courtyard with a fountain, rooms over four floors, and this mirador.
Its list price is $430,000. That's a ridiculously low $31 per square foot. Especially considering its location…
Quito has one of the most extensive and best-preserved historic centers in Spanish America. The city is a UNESCO World Heritage Site and is packed with colonial monuments and architectural treasures. The historic center is home to large open plazas, 16th century churches, boutique restaurants, cafés, bars, ice-cream parlors, and gourmet chocolate shops. You'll find plenty of spots doing lunch for a couple of bucks, too. But don't expect it to be entirely polished. There are many more shops selling floor tiles and bathroom fittings, football shirts, sewing fabrics, and wool.
With this historic home, you're close to it all. And you can live in it as it is right now, but you'll want to do some work. The house needs lots of tender loving care. That's probably an understatement. I reckon the wiring is shot. There's no hot water. Some of the ceilings are damaged. Some of the floors are the kind where you can only tiptoe around the edge of the room, carefully, one person at a time. The bathrooms (three plus a powder room) and kitchens (two) are total gut jobs.
The current owner hasn't invested any time or money in maintenance and upkeep. That's essential with any property, and even more so with a historic one. The agent I toured with was shocked at how much the home had deteriorated in the couple of years since it was first listed for sale.
Admittedly, when first listed, the sticker price was $780,000. Now, it's $430,000. The seller wants out, so there's likely still wiggle room in that price.
There are advantages to doing a historic remodel in Quito…
First, labor costs are low. Second, there are still plenty of craftsmen who can repair ornate plasterwork, carved wood, and other traditional features, at a reasonable price.
I asked the agent how much it would cost to remodel one of the bathrooms. The easiest way to do this is not to move any of the fixtures. This saves on relocating plumbing which can quickly rack up costs. Leaving the toilet, sink and shower in the same position, and replacing them (and the tiles) with locally sourced products would set you back $1,000 or so.
With a bit of creative flair, you could make this house a stunning home on a relatively small budget.
To be clear, you're not going to get into this project for the profit.
Quito's historic district has been touted as the next big thing a few times over the last decade. It seems that gentrification is about to kick off—only to stall before it even gets off the starting blocks.
The market for this type of property isn't very liquid. Locals, as in many countries in the region, prefer new and shiny homes with all the latest finishes and off-street parking. Foreigners aren't (yet) beating down the doors to buy here, either. You wouldn't want to end up in a situation where you need to sell in a hurry.
You could create some rental suites from the rooms on the lower floors. That would bring in some cash. Nice suites on Airbnb in this zone list for around $65 a night. Hotel occupancy in the historic center runs from 20% to 60%, depending on the time of year. There are already two commercial spaces on the ground floor of the house. They're currently rented at $400 and $425 a month.
But this isn't a money maker. It's what I call a passion project. It's for someone who loves historic homes. Done right, this could be the type of place that would make your friends and family green with envy.
Get Your Free Real Estate Report Now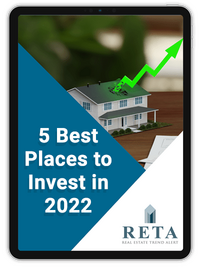 Sign up for our free daily Postcard e-letter and get a valuable free report on the The 5 Best Places to Buy Real Estate In 2022.
Related Articles
The 10 Best Places to Invest in Real Estate
You Can't Get Closer to a Beach Than This…
The "Goldilocks" City—Not Too Big, Not Too Small