Searching for, and buying a new home overseas is as exciting, challenging, and rewarding as buying a home in your own country. When we started investigating our overseas retirement options we knew we wanted to live in the tropics…but not in a hurricane zone, which is why we decided on Panama.
We wanted to live near the beach but be close enough to Panama City, mountain towns, and everything in between, so we could take vacations from our retirement. And we wanted to feel part of a community. This is the main reason my wife, Abbe, and I purchased a small 1,000-square-foot home on half an acre just on the fringe of the little fishing village of Pedasí. We moved here full time in August, 2016, from Florida, U.S. and never regretted it.
Our two-bedroom, two-bathroom house was built by Americans to North American standards and spec, three years before we bought it. We love the quality of the workmnship that has gone into its construction, particularly the cedar wood ceiling. One of our favorite features is the large covered rear patio, where we spend a lot of our time during the day.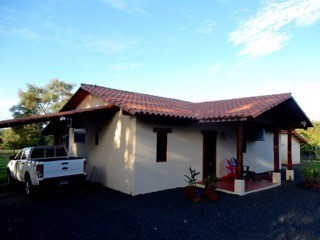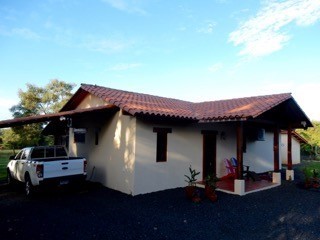 There's a real sense of community here in Pedasí. If you need a ride to the doctors or the next town, people will take you. If your car is broken on the side of the road, people will stop to help. The locals have welcomed us and in turn the expats have gotten involved with the community. We paint homes, help with spay and neuter clinics, volunteer at the senior center, teach English at the local schools, as well as other opportunities.
When you buy a home, you are transplanted into the community that surrounds it. I believe choosing the right community is just as important as finding the right home.
Along with our fellow expats here, we are becoming so intertwined with the fabric of our new community that for the first time ever, the village invited us all to participate in the Mil Polleras (a parade named for the "thousand" traditional dresses and dances on display). This was a great honor. Locals coached the expat men, women, and children in the proper dance steps and clothed them in traditional attire. A three-piece Panamanian band provided the dance music. More than 20 colorfully decorated carts and dozens of cowboys on horseback participated in the parade, and we were also invited to dance in the last night of Carnival.
If we were still living in the U.S., we would still both be working. I would be traveling as a consultant and hardly ever home. Abbe would be busy with her business of helping seniors. Many expats who have moved to Panama have also been able to enjoy an early retirement or a reduced work schedule.
Expats in Pedasi value their improved quality of life. Beautiful empty beaches, enough nice restaurants, not too much traffic, the small-town feel, and the goodwill and helpfulness of locals and expats all combine to create a lifestyle we all greatly appreciate every day.
Get Your Your Own Home Overseas Report Now

Sign up for Your Own Home Overseas free e-letter and receive a special report "The Top 10 Locations to Own a Home Near the Water for $150,000—or Less!"
This special report covers the 10 things you must know before buying property overseas as well as pointing you to some of the best places in the world to buy real estate…and it's yours free when you sign up for Your Own Home Overseas e-letter below.
Get Your Free Report Here
Find Out More About Buying Real Estate Overseas Here
Related Articles
Looking for Beachfront Property? Check out Panama
Coronado: A Popular Beach Town for Expats in Panama