Some time ago, driving to Cancún from the Gulf of Mexico, I stayed overnight in Valladolid. This charming Mexican town is almost exactly midway between Mérida, on the Gulf side of the Yucatán Peninsula, and Cancún.
Tranquil Valladolid always reminds me of what the Yucatán must have been like decades ago. Its center is Spanish colonial, with many houses painted in bright colors, and each historic barrio has its own church and distinct feel.
Time moves slowly here. There are a few restaurants and cafés around Valladolid's main square, and a cenote—those limestone sinkholes that fill with fresh rainwater—that you can swim in if you like.
It doesn't have much nightlife…but you can stroll the streets on warm, tropical evenings in perfect safety. It's a good place to stop for a meal or to break up a journey overnight.
A few expats have settled here, but mostly it's a traditional Yucatecan town…friendly and low key, with a strong Maya presence. It's a place I've always liked.
On that particular trip, I wanted to have dinner in the courtyard of the old-fashioned Mesón del Marqúes, right on the square in Valladolid. And I wanted to stop by Dutzi Design, a boutique shop in a colonial building not far from the main square, to pick up a few of its bags. I was piqued by the idea of a high-end designer workshop in the middle of the Yucatán…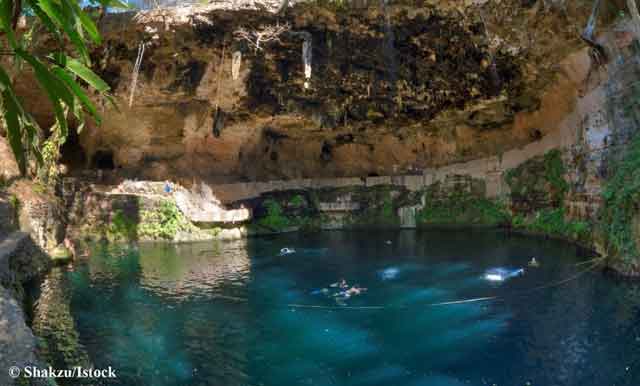 For years, Valladolid was little more than a pit stop for most people. It's the closest real town to the Maya ruins of Chichén Itzá, and it's where you get the highway that angles down the Peninsula to Tulúm. Then, some years back, Tulúm became the hot new destination…and Valladolid became the refuge of young designers and others who preferred the more tranquil (and less pricey) surroundings of Valladolid. One of the transplants was German-born Ariane Dutzi, whose workshop now employs nearly two dozen local Maya woman…and turns out chic, high-quality (and eco-friendly) bags, totes, and clutches that sell in shops worldwide.
But while shops like Dutzi Design bring more money to locals, they seem to cause nary a ripple in the smooth flow of daily life here. This isn't—and may never be—a trendy destination like Tulúm. But if you're an outdoorsy type…if you enjoy being surrounded by nature…if you like having Maya culture all around you…if you want to sample traditional Yucatecán life…then Valladolid may be for you. Likewise, if you want to restore a colonial property or run a ranch on the outskirts of town (perhaps on property with its own cenote), then this is a place to check out.
I've reluctantly decided that, for me personally, it's a bit too far off the beaten path. Even so, every time I'm in the area, I can't resist checking out property.
Right now, for instance, a two-bedroom, one-bathroom house with 1,200 square feet of construction is for sale in Valladolid's San Juan neighborhood, right in town. It sits on a lot of nearly 2,200 square feet, so there's room to build onto it if you choose. It's on offer for just $72,000. For just $70,000, you can buy a large lot (over 15,000 square feet) and build your own in-town estate.
If the idea of a small homestead of your own appeals, there's a large property just a couple of miles outside town. Construction of a house has already begun (two bedrooms and a bathroom so far), and the property—over half an acre—is filled with fruit trees of all kinds…avocado, orange, guanábana, mamey, and more… It's selling for just $55,000.
Get Your Free Roving Real Estate Investor Report Now

Sign up for the FREE Roving Real Estate Investor e-letter and get a valuable report (free for a limited time) on The Exact Location of Where to Make the Most Real Estate Profits This Year (Plus 4 More Places to Build Your Fortune in Latin America and Europe).
Related Articles
Lifestyle on the Riviera Maya, Mexico
How to Own and Purchase Real Estate in Mexico
In Mexico, You Can Afford to Indulge – Cost of Living in Mexico