This Thursday, Real Estate Trend Alert (RETA) members will have the chance to buy steps from the beach from $174,800 and lock-in immediate gains. We're taking our second-ever virtual Members-Only Scouting Trip where—if you are a RETA member—you can see for yourself what a stunning deal we have at Santamar in Akumal on the Riviera Maya.
I bought a condo in Santamar along with RETA members back in October and I didn't expect us to have another opportunity…we're already sitting on paper gains, the biggest on the penthouses where I've seen retail pricing that's $125,200 more than the price RETA members paid.
Then the crisis came, travels plans suspended, and the developer's retail sales plan stalled.
Which gave me a chance…
I've handpicked 11 condos in this stunning community and arranged for a virtual Members-Only Scouting Trip this Thursday. The original RETA pricing and terms will be honored.
It's simply unheard of to get a community of this quality this close to the beach for RETA-only pricing from $174,800 on the Riviera Maya. It's hard to find any property so close to the beach…and there's no price comparable. There's simply nothing of this quality so close to the beach, at such a low price.
As you know, the Riviera Maya is in the midst of a multi-decade transformation. A juggernaut Path of Progress has handed huge profits to savvy real estate investors and opened up 80 miles of stunning Caribbean coast. Millions of vacationers visit each year. There were 25.4 million passengers through Cancún Airport last year. And they come from all over the world. Mexico was the sixth most-visited country in the world last year and the Riviera Maya is its top destination.
The crisis is a short pause on all this, and it's creating space for us to wield the awesome group buying power we have with Real Estate Trend Alert.
The Riviera Maya is going to bounce back from the crisis. Millions of vacationers will flood back. The crisis opens a brief buying moment for us…a short period when I can squeeze that little bit more from developers.
Our Santamar deal in the heart of the Riviera Maya is the kind of two-step play I love…
Step 1 of the two-step play is rapid and stellar appreciation and that's already happening. Like I say, in October I bought a condo in Santamar, with the first wave of RETA buyers. When the developer went retail, prices soared. In some cases I've seen six-figure paper gains. Originally, I had predicted the condos we can buy for $174,800 would be worth $260,000 within five years. That's already starting to look super-conservative.
Step 2 of the two-step play is enormous income potential… There's a critical shortage of rentals around Akumal and when millions of vacationers flood back to the Riviera Maya in the wake of the global shutdown, it's going to explode.
In fact, the crisis will accelerate trends that mean our rental potential in Santamar is even stronger than when RETA members and I bought there in October.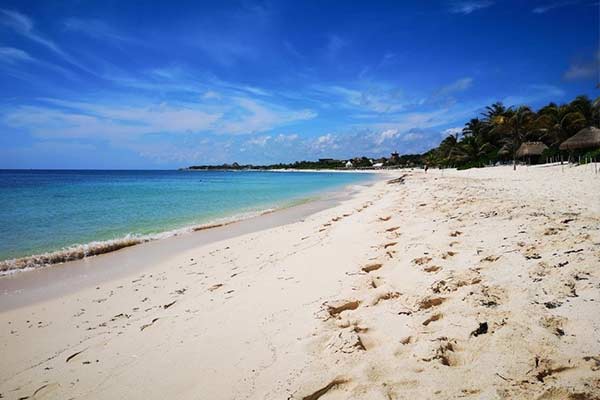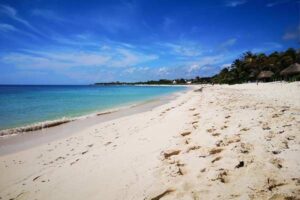 There's a lack of developable land. Akumal's beachfront was locked down way back by big all-inclusive resorts and wealthy folks who built oceanfront mansions. I doubt that raw land this close to be beach can be found by any new developer and certainly not at a price that would enable them to give us a price like we have…luxury two-bed condos from just $174,800.
Many of the millions of vacationers coming to the Riviera Maya don't want to stay in the all-inclusive resorts that line parts of the coast, nor are they willing to pay thousands of dollars a night for a luxury villa in Akumal. They want a nice condo in a stunning community a short stroll to the beach…and Santamar is steps from one of the nicest Caribbean beaches you'll ever see…
I figure very conservatively that you could see gross income of $22,500 a year once the community is built out…quite likely more. I'm estimating you rent for 150 nights a year at an average of $150 a night…you'll have plenty of time to enjoy your condo yourself…and plenty of scope to increase your returns.
And increase the returns you can…
The growing market of longer-term stays is going to explode.
Let's look at some pre-COVID-19 numbers:
According to a study by Global Workplace Analytics, in one year (from 2016 to 2017), remote work grew 7.9% in the U.S.
From 2015 to 2020 it grew 44% and over the previous 10 years it grew 91%.
Between 2005 to 2017, there was a 159% increase in remote work.
Right before the current pandemic took hold, it's estimated that 3.4% of the U.S. population worked remotely.
This is just in the U.S…and it's before companies worldwide sent their employees to work from home.
A month ago, if someone had suggested to every CEO, government department, school and university they send everyone to work from home they would have been considered crazy.
Now it seems the entire world is managing their work and lives online.
So, here's the thing…
Who's going back to the office?
The fact is that "work from anywhere" is here to stay for millions of people.
If millions of folks can work from anywhere, how many of them will want a quiet, classy condo close to everything and steps from a Caribbean beach with snorkeling, paddle boarding…turtles nesting right on the sand…
They can rent in Santamar right in a millionaire's backyard and have access to a wellness center, pools, and cool beach club. Their cost of living will be lower, the weather better, plus, they are just a short drive from Playa del Carmen and Tulum and a couple of hours on a plane back to family and friends in the States.
The Riviera Maya was already drawing mobile professionals in big numbers. It's so easy to travel back home to the U.S., Canada, Latin America, or Europe from the Riviera Maya. There are hundreds of direct flights and Cancún's airport is modern and efficient.
I am one of the mobile people that keeps going back to the Riviera Maya. And I love Akumal…
If you're a RETA member, stay tuned…Thursday 1 p.m. ET I'll bring you our last chance on this deal when we go on our virtual Members-Only Scouting Trip to Santamar.
The Italian Tourism Bailout Begins
In Italy, tourism is a "too big to fail" industry. The sector makes up some 13% of national GDP. According to one study by the Intesa Sanpaolo group, it accounts for almost 13% of Italian jobs.
Needless to say, the current crisis is wreaking havoc on the industry. And in Italy's southern regions, traditionally less well-off than the industrial north, it is hitting hardest.
In Sicily, it's been reported that losses to the tourism industry exceed $1.09 billion since March 10. A massive blow to the economy.
Taking measures to speed-up the recovery, the regional government has created a €50 million scheme to lure back tourists and boost the local economy once the lockdown has ended.
Their plan is to discount half the price of plane tickets and pay for one of every three nights tourists stay in hotels. The offer will also include free entry to museums and archaeological sites.
The scheme echoes Sicily's "free home" offers, which began in the hill-town of Gangi, before spreading to other towns throughout Italy's south.
In an effort to re-energize depopulated hill-towns, local mayors began offering free or €1 homes to anyone willing to commit to renovating within five years.
I visited the opportunity in Gangi in 2014. I must admit, I was quite skeptical when I first heard about the plan and I expected the hill-town to be abandoned and the homes dilapidated…but I found myself utterly charmed by this place.
Most of the homes were in better structural shape than I anticipated. And the hill-town itself was far from dead. On my first night, I joined local residents for a street party. It was vibrant and buzzing.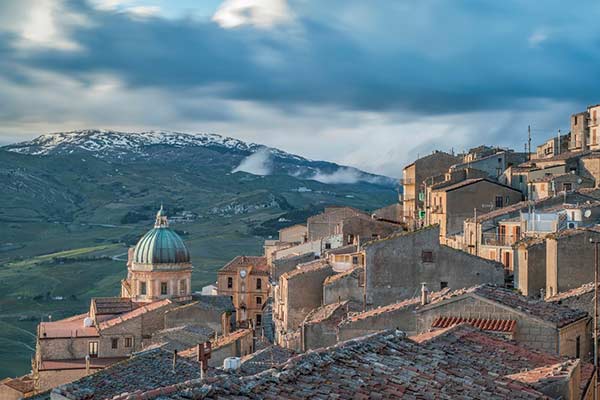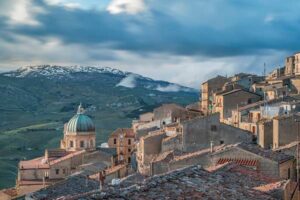 Along with the scheme to boost tourism, I suspect that there will be a new surge in the free house trend. But this time around, as rural Italy roils from one crisis to another, I see the trend moving beyond Italy's south and into the more affluent northern region.
When it does, I'll be on the ground again looking for opportunity…
One of my big ideas for a while has been to get a whole town for free and bring it back to life. I'm going to get serious about this and RETA members will get in at the ground floor of anything I find.
In the meantime, I suspect we'll see more schemes rolled out to boost the tourism. Like I say, it's an industry that's "too big to fail" in Italy. In the medium- to long-term I have no doubt that it will bounce back. Rome is still Rome…Florence is still Florence. Italy is still the cradle of the Renaissance, the birthplace of opera, the country that gave the world Italian food…and will soon see its city streets flooded with millions of visitors from around the world.
But in the short term, I'm watching for more opportunities to benefit from Italy's big tourism "bailout."
Property Pick: Languedoc, France
If your idea of France is fairy-tale castles perched on rugged mountain peaks and medieval villages where the food is amazing and the wine is local, then you'll find everything you want in the Languedoc.
The Languedoc's Mediterranean coast is part of France's sun-belt and its long, sandy beaches are still fairly uncrowded. Inland, you'll find wild mountain ranges, dramatic gorges, and stunning hill-towns that many Francophiles will tell you are more authentically French than what you'll find in over-touristed and over-priced Provence.
Once known as the "poor man's Provence" the Languedoc region of southern France is slowly arriving as a destination. For the past decade, tourism numbers have been rising steadily.
I scouted the region last year, searching for a profitable property to use for a few months of the year out of high season, when the weather's still warm.
Buy the right village home in the Languedoc, market it the right way, and you could lock-in 6% gross yields. That's not the double-digit return we consider a RETA deal, but it is a way of owning a romantic getaway in France that pays. Mortgage finance is available from under 2%, although the criteria are less flexible than what I have found in Portugal and Spain.
I've been keeping a close eye on property there and one of my research team recently found a three-bedroom house that would make a tidy, turn-key bolthole and a perfect base to explore southern France.
It's in Paraza, a quiet little canal-side village with a few cafés, restaurants, and a wine bar, about 40 minutes from the stunning medieval citadel of Carcassonne.
The asking price was €119,999 ($129,914). But it's now reduced to €93,000 ($100,684).
You can check out the listing for yourself right here. This isn't a RETA "double your money" deal but it could make a nice little short-term rental. I haven't done my due diligence or visited but it's a property I'd be interested in visiting when I get back to Europe.
Just a short drive away is the Narbonnaise Natural Regional Park on the Mediterranean coast, which has over 300 square miles of protected vineyards, lagoons, islands, and 30 miles of fine sand beaches.
The entire stretch of coastline just south of Paraza has be called "France's Secret Riviera." It's the South of France, but not overcrowded or overpriced. Most of the vacationers in this area are French.
The 1,033-square-foot house is basic but looks in pretty good shape. It has exposed timber beams and terracotta style floor tiles throughout, and a 93-square-foot terrace. It opens onto a quiet pedestrian street.
Wishing you good real estate investing!
Get Your Free Real Estate Report Now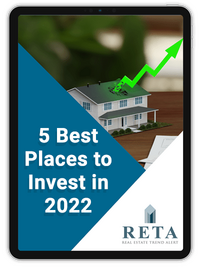 Sign up for our free daily Postcard e-letter and get a valuable free report on the The 5 Best Places to Buy Real Estate In 2022.
Related Articles
The 10 Best Places to Invest in Real Estate
3 European Homes from as Little as $46K
The Best Hedge Against Stocks You Can Make