Santa Catalina is not one of those cute little towns you're likely to stumble across as you explore Panama. That's because it's literally at the end of the road where the pavement meets the sand of the Pacific shoreline. From Santiago, the capital of Veraguas Province, it's about a two-hour drive to get to the town of Santa Catalina. But why would you want to go? I visited there myself recently to answer that question.
A few decades ago some intrepid surf bums found the breaks off Santa Catalina's shore and the surfing community has been coming here ever since. Young men and women walking along the streets carrying their boards are a common sight. A few surf shops and surf camps now provide basic services and accommodation and the town is small enough to get around on foot.
Scuba divers and snorkelers will definitely have reason to come to Santa Catalina. This is prime diving territory, considered to be among the top 10 dive destinations in the world. The hot spot is Coiba Island, the largest island in all of Central America and an unspoiled marine environment teeming with life. Santa Catalina is the jumping-off point for the island, about an hour offshore by small power boat. A small diving industry has grown up in the town, with a PADI school, a few dive shops, and a number of boats for hire and guides to show you the way.
I met a group of sport fishermen from Pennsylvania while I was in Santa Catalina. Panama has long been popular with fishermen from all over the globe, with excellent fishing locations all along the Pacific coastline. Just beyond Coiba Island lies the Hannibal Bank and the entire area is dotted with islets and reefs, an angler's paradise. A tremendous variety of game and edible fish live in these waters and the action runs all year-round, bringing groups like the one from Pennsylvania to try their luck.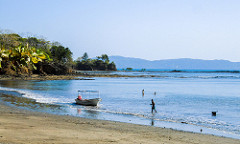 Santa Catalina is small and consists of just two main roads. Where they meet is the commercial center, with a grocery store, dive shop, and small hotel. You'll find a good range of choices for accommodation, including basic hostels, small B&Bs, and comfortable inns. I was surprised by the number of restaurants, from local outdoor eateries to places that cater more to tourist's tastes. Fish and shrimp are typical menu items along with pizza, burgers, bakery goods, Mexican fare, and vegetarian dishes.
Despite its tiny size and location, some adventurous expats have settled in Santa Catalina, some retired, others running businesses. With few stores and services here they go to the larger town of Sona (about an hour's drive) or on to the city of Santiago (another hour) for shopping, business needs, healthcare, and entertainment. While it's not necessary to own a vehicle since buses are frequent, it's certainly more convenient.
You can find rentals available in and around Santa Catalina starting at $500 a month, usually with utilities included. A couple can expect to spend around $1,200 to $1,500 a month for routine expenses. There is no real estate agent in town so you'll have to rely on word-of-mouth to find a place, but everyone knows who to ask and where to look.
The properties for sale that I checked out included a newly built, two-bedroom, two-bathroom home on the main road, with a back patio that listed for $219,000. Building lots are on offer from $40,000 and up, and larger parcels outside of town are not hard to find.
Even if you're not as energetic as a young surfer, or as determined as a die-hard angler, Santa Catalina is a delightful place for those who want to be near the water. The beach is open and easy to reach all the time. There are no high-rises or huge resorts here, just the sand, the sea, the rocks, and all that nature provides. I love being on the shore, hearing the surf and the birds calling, feeling the soft breeze and smelling the salty tang…it's about as relaxing as it gets, and Santa Catalina is a perfect setting.
Get Your Free Panama Report Here:
Learn more about Panama and other countries in our daily postcard e-letter. Simply enter your email address below and we'll send you a FREE REPORT — Panama: First World Convenience at Third World Prices. 
This special guide covers insider advice on real estate, retirement and more in Panama. It's yours free when you sign up for our IL postcards below.
Get Your Free Report Here