Doug and Diane Jones' retirement dream had been a small organic farm in the Oregon wilderness… So it came as a surprise when, nearing retirement, they realized that they were tired of working sun-up to sundown on the farm and a new and unexpected retirement dream—of living in sunny, rural, authentic southern Italy—had taken its place.
"We worked most of our lives because we didn't come from money and we had to work for it. We always spent our vacations visiting family—you know, the guilt-trip thing. We never took trips abroad. We were too poor in both vacation time and money.
"Then, in 2005, we took our first trip to Italy and we were charmed, especially by southern Italy, which is Old-World Italy—still very, very Italian. It knocked our socks off with charm… Our trip was in 2005 and over the next couple years, we decided that's where we wanted to retire. We bought a 15,000-square-foot home in the village of Santa Domenica Talao for about $123,000 and spent a year restoring it. And we moved in 2010." The cost of restoration was around $291,000.
Four years later, Diane says their life is very different, full of the slow and steady progress of their Italian language skills, long walks to the piazza, along the beach, or up the nearby mountains, early morning cups of wonderful Italian espresso and international newspapers, daily coffees by the sea with local friends, and a buzzing social life.
And all of it is shockingly cheap.
"I still can't get over how much less we spend here. A beautiful cup of coffee is less than a dollar. You can go out for a beautiful multi-course meal for $35. For healthcare, we pay $236 a year to cover everything."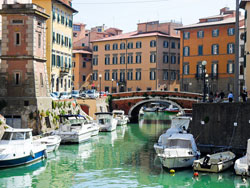 "And some things are even free. Every person in town has a plot where they grow things, and they come and knock on your door and give you tomatoes and things—whatever is in season. I buy figs at the local market and my neighbor is shocked that I would ever buy figs."
Then there's the scenery.
"Every time I walk out on my terrace, I have a gorgeous view of the mountains, the sea, and the beautiful villages," says Diane. "It's wonderful for the eye here. If you are from a city, you'll be blown away."
And there's just something about the people here. "Most people have this openheartedness that's hard to describe," says Diane. "It's as if they feel more like smiling and thinking of the good things in life and enjoying their lives than dwelling on grievances. Happiness is more important here."
Get Your Free Italy Report Here
Learn more about Italy and other countries in our daily postcard e-letter.
Simply enter your email address below and we'll send you a FREE report – Italy: Europe's Most Seductive Country.
This special guide covers real estate, retirement and more in Italy and is yours free when you sign up for our postcards below.
Get Your Free Report Here