"Growing up in California, my parents took us to Mexico all the time," says Kendall Inman. "I remember eating lobster tacos on Rosarita Beach in Baja California. I fell in love with the culture."
By the 1990s, Kendall had married and found herself visiting Mexico's Caribbean Coast—what's now known as the Riviera Maya. She and her then-husband bought land and built a villa in the seaside village of Akumal, which she and her family used as a vacation home.
For years, Kendell had a thriving yoga business in Dallas. But when her son left for college, she became an empty nester and felt it was time to try something different. It seemed natural to return to the Caribbean seaside and figure out her next steps.
"I'd been bringing people to the Riviera Maya on yoga retreats for years. I even lived in Playa del Carmen for a couple of years when my son was in middle school. So why not make the move once again?" she says. "I sold my apartment, my business, and my belongings in Dallas to head to Mexico."
Those early days in Playa were relaxing, says Kendall. "I'd wake up, go to yoga or spin class, meet up with friends for coffee, and check my email. Friends would come to visit, and I'd take them to hidden gems. I loved playing a concierge: taking them to out of the way beach clubs or finding the best tacos for them to enjoy.
"One day, I was sitting on the beach and decided to open a little B&B with mini yoga retreats. I'd live on the property and have a handful of guests. That was the idea."
It soon grew into more.
She found a piece of land in the jungle near Tulum. But the size of the project led her to put it on the back burner. "The land was completely off the grid and electricity, water, and everything had to be connected," says Kendell.
Then, one day, she met a builder and they clicked. He introduced her to his architect and soon the trio were spending time planning her next enterprise. "They pushed me to make it a real business. Now I own an exquisite, luxury boutique hotel called Jungle Keva Tulum."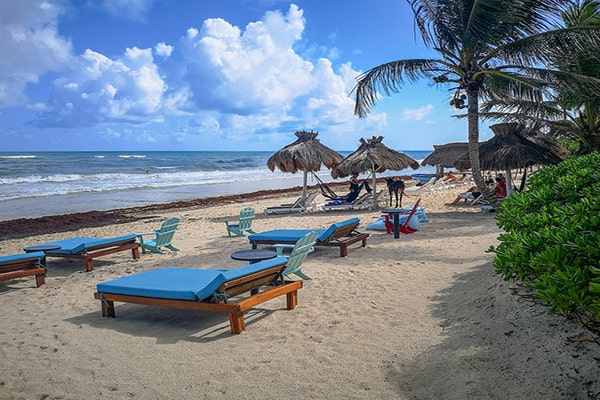 Kendall doesn't live on site at the hotel as she planned at one time. Instead, she rents a two-bedroom, one-bathroom apartment in the heart of Tulum for $950 a month, close to her hotel. "It's a prime location," she says. And it's very cost effective. "I can eat a delicious tamale with a fresh fruit drink for about $2.50. I buy fruits and vegetables at the local stands where the Mexicans shop. It's much cheaper than the supermarkets."
Kendall teaches yoga at her hotel most days of the week. "I call it yoga for the brain. We do a lot of breath work and help people relieve stress and feel more energetic." They also offer retreat space for others. "We have a woman coming to do a writing retreat. We also offer healthy cooking classes, and excursions."
Kendall is delighted with the decision she made to move to the Riviera Maya full-time. "I don't have a single regret and I don't want to go back. If you like adventures and you want to go somewhere where you'll meet people from around the world, there's no better place. Everyone has a different story and it's awesome."
Need a Way to Fund a New, Better Life?

Join our Savvy Retiree Daily e-letter today and you'll hear from us daily, telling you about ways you can gain the freedom to live where you want, travel when you like and create a life you love. We'll also send you a FREE Report Fund A New, Better Life With These 6 Portable Careers...
Related Articles
Moving From Corporate Slog To Freelance Bliss In Mexico
Finding Opportunity In San Miguel De Allende