"Florida was nice but boring," Maryann Risley says of her retirement to Orlando with husband, Steve.
After all, "you can only visit Disney World so many times."
The couple craved some excitement and some new adventure, so they began to research retirement abroad.
"I found IL magazine and started to read about the benefits of retiring in Panama," Maryann says.
High on that list of benefits Maryann liked was Panama's great retirement program and its welcoming attitude towards foreign retirees.
So the couple decided to make an exploratory trip and fell in love with Panama City.
"The people were warm, kind, and friendly," Maryann says, and "it was easy to get around the city without a car." (Taxis are widely available and cost between $2 and $7 to most parts of the city.) "The amenities in Panama City really are First World and everything we could need or want is in Panama City. By seeing for ourselves what Panama City had available, it was the only choice."
The couple's urge to explore is well catered for in the city, which boasts a wonderful architectural mix. You'll find a perfectly preserved colonial quarter close to towering high-rises with stunning ocean views.
"The architecture of the old buildings is fascinating," Maryann says, "and I get dizzy from looking up at the shiny, modern, and spectacular skyscrapers. In fact the views throughout the city are gorgeous."
Maryann particular likes traveling the Amador Causeway—a road connecting Panama City to four small Pacific islands—and the Cinta Costera (the "Coastal Strip"), both of which offer several miles of unobstructed ocean, mountain, and city views.
"The distant views of the Panama Canal are quite nice too, especially when the ships are lined up in a waiting line way out into the ocean," she says.
Currently, they live in the Trump Ocean Club in the new Punta Pacifica neighborhood, which is filled with modern architecture. Their building shares a tree-filled park with seven other buildings. Residents enjoy reading newspapers on the benches while their dogs gambol about.
"I like to describe it like a cruise ship," says Maryann. "Everything we need is right here. There are on-call doctors available in the building, 24 hours a day. There's a new casino, as well as restaurants, stores, bars, ice cream vendors, several pools, a business center, a gym… The staff is available to help with anything and the concierge staff speaks English."
For their top-of-the-range, fully furnished apartment, the couple pays $2,600 a month, a splurge they're happy to make.
"There are much less expensive apartments in the city," says Maryann, "but we didn't move to Panama City to save money—we wanted a better lifestyle for our money. We are really enjoying this new lifestyle that we could never afford in the U.S."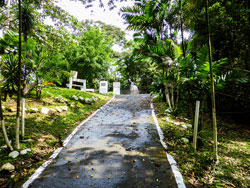 "A dinner for two averages $25, including a drink, at a moderately priced American restaurant like Ruby Tuesday or a typical Panamanian restaurant like Tantalos. If you have the pensionado (retirees) visa, you can save 20% off at restaurants."
The pensionado discount saves the couple money in many ways beyond dinners out. For example, retirees get big reductions on flights to visit back home. Steve saved $175 off a ticket purchased recently from Copa, an airline that offers a 25% discount to retirees. Hotels, doctors, dentists, and pharmacies all offer discounts, too—20% is typical. Even utilities are discounted, as are museums and movies.
"The best thing about living in Panama though is the people," says Maryann. "Most are happy, kind, and very friendly. All ages, religions, and races get along beautifully."
In this international city, Venezuelans, Colombians, Brazilians, Europeans, South Africans, and North Americans all rub elbows.
The Risleys enjoy meeting people from around the world and Maryann notes that there are organizations such as the American Society of Panama for those expats who like to meet regularly with other North Americans.
Panama City still has the power to surprise. Maryann loves how it can present unexpected fun. She arrived at the grocery store one day to find a mariachi band playing in celebration of the 100th anniversary of the Panama Canal.
Says Maryann: "We wonder what we miss when we don't go grocery shopping!"
Get Your Free Panama Report Here:
Learn more about Panama and other countries in our daily postcard e-letter. Simply enter your email address below and we'll send you a FREE REPORT — Panama: First World Convenience at Third World Prices. 
This special guide covers insider advice on real estate, retirement and more in Panama. It's yours free when you sign up for our IL postcards below.
Get Your Free Report Here