Today an estimated 20,000 Americans live in Costa Rica either full- or part-time, and it's easy to see why. Costa Rica is a stable, affordable and beautiful country with a rich culture and admirable values.
The healthcare here is top-notch. The facilities are excellent, the doctors are well-trained and many healthcare professionals speak English, especially in the private practices. And a universal medical system that gives everybody access to decent medical treatment regardless of income bracket really speaks volumes about a country.
While Costa Rica might not be as cheap as some other Latin American countries, it's still possible to live a lifestyle you could only dream of in the States. Live in an idyllic location, eat great food, have help around the home and still have an active social life for a fraction of what it would cost back home.
You often hear Costa Rica described as a "paradise" which isn't too far from the truth. The tropical climate varies from region to region. So if you're looking for sun, sea and sand or cooling mountain breezes, Costa Rica's got it all. No matter when you go, or where you visit in this country, you'll find one thing is constant… beautiful scenery, friendly people, and ecological awareness.
Click on the infographic below for full view.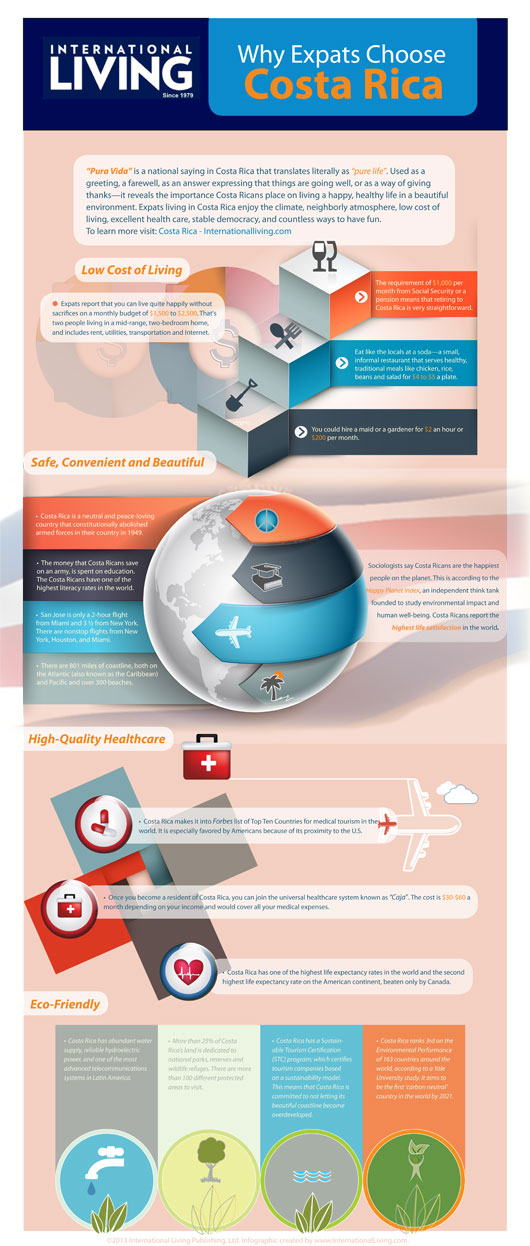 Free Costa Rica Report
Learn more about Costa Rica and other countries in IL's daily postcard e-letter. Simply enter your email address below and we'll send you a FREE REPORT – Why Are Americans Still Flocking to Costa Rica.
This special guide covers real estate, retirement and more in Costa Rica and is yours free when you sign up for our IL postcards below.
Get Your Free Report Here
 Recommended Reading: