"I had only planned on living in Santa Marta for a year to improve my Spanish," explains Lisa Anderson, "but seven years and two daughters later I am loving my life here."
It's easy to understand why Lisa loves living in Colombia's up-and-coming Caribbean coastal city. Sandwiched between warm, blue water on one side and the snow-capped Sierra Nevada mountain on the other, Santa Marta is an eco-paradise. The weather and environment are a far cry from what this 40-year-old Seattle, Washington native was used to.
"Being able to go to the beach every day is a dream for me," she says. And Lisa enjoys spending time outside with her family. Whether it's hiking, kayaking, or snorkeling, there are plenty of things to keep yourself active. With daytime temperatures that can hit 90 F, Santa Marta is a haven for sun and sea worshipers.
"I originally came to teach English," Lisa says. "I worked for Colombia Sin Fronteras (a non-profit charity organization) for a year, but then I met my husband, Evan." Lisa and Evan now own two of the most popular hostels in Santa Marta, La Brisa Loca and La Brisa Tranquila. Both hostels attract a young traveler crowd that includes locals as well as foreigners. "This is a great place for foreigners to mix with locals," says Lisa.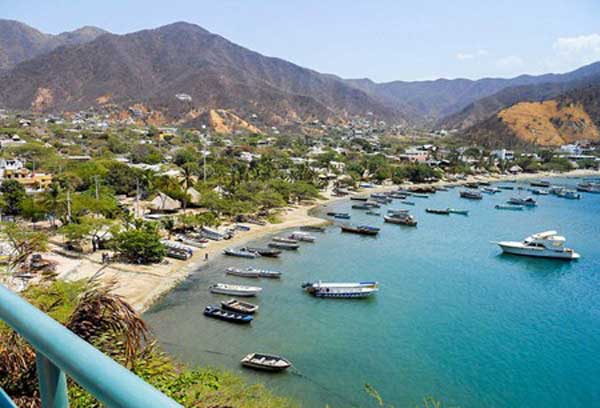 Santa Marta is a city that is now coming up on people's radar. Over the past several years, there has been a gradual influx of foreigners from all over the world. Striking out in a place where there aren't many expats is actually a benefit to building a business as costs tend to be lower.
"We bought the buildings for a fraction of what it would cost us back in the States," explains Lisa. "Also, labor and building costs are so much less expensive. I never tried to do open a hostel back home, but I'm sure I wouldn't be able to afford it."
Now she and Evan are building a boutique hotel on the beach next door to La Brisa Tranquila hostel. "We bought two acres of land right on the beach for $100,000," Lisa explains, "ultimately this will become our home too."
While taking care of her guests certainly keeps her occupied, Lisa still has plenty of time for fun. "Santa Marta is flat and easy to walk," she says, "I stroll around the shops and then meet my friends for lunch." Lisa takes yoga and Pilates classes a couple of times a week. "They are so inexpensive here, only $6 per hour long class."
Having someone come to your home and help with the chores and childcare isn't expensive either. "I have help eight hours a day, Monday through Saturday, for only $300 per month," Lisa says, "this lets me balance my work responsibilities at the hostels with my family commitments."
The low cost of living in Santa Marta is another major attraction for Lisa. "I would not eat out as much if I lived in the U.S.," she says, "I don't have to cook at home."
Lisa and her family rent a top-floor, three-bedroom, three-bathroom, 1,000 square-foot apartment for only $300 per month. The electric bill runs her only $133 per month, and that includes air-conditioning, an almost must-have in the warm, tropical climate of Santa Marta. The rest of her utilities are only $40 per month.
"I have the ability to live a much more luxurious life and not have to empty my bank account," says Lisa.

Need a Way to Fund a New, Better Life?

Join our Fund Your Life Daily e-letter today, and you'll hear from us five times a week, telling you about ways to earn income that lets you live anywhere, travel anytime… and give you the funds to make your dreams of a better life real. We'll also send you your FREE report Fund A New, Better Life With These 6 Portable Careers.
Related Articles
5 Tips For Safe and Fun Solo Travel
The Quickest Way to Make Money Online