A warm, clear blue-green sea lapping long, sandy beaches… Families eating and laughing together over slow, relaxed dinners with lashings of good food and even better wine…
If you've ever watched a movie set in the Mediterranean, you might believe the region is solely a playground for the rich—the romping ground of Hollywood starlets like Brigitte Bardot. Scratch the surface and you'll discover that is definitely not the case—an adventure in the Mediterranean could be yours for less than you might think.
With so many choices for Mediterranean destinations on offer, you won't just want to stay in one place.
Start off in Spain
With more than 1,000 miles of Mediterranean coastline, Spain is the perfect place to start your adventure in the Med. Once you arrive, you'll have a wealth of choices for locations to stay in—from cosmopolitan cities to charming seaside towns. Because Spain has such a long Mediterranean coast, your choice of places to spend a month or longer are endless. If you're a city lover, pick from cultured Barcelona, historic Malaga, or vacationer favorite Alicante.
In search of the best possible weather? Then Malaga—the birthplace of artist Picasso—enjoys some of Europe's warmest weather year-round.
To find a short-term rental, IL Editor Glynna Prentice recommends short-term vacation rentals over hotel stays—but negotiate to get the best deals.
Eating well but affordably in Spain is not just possible—it's downright easy to do. Throughout the country, restaurants offer a three-course "menu del dia" (menu of the day) with a drink at lunchtime, which is filling, tasty, and often available for €15 ($17) or less. A budget of $150 to $200 a week will feed a couple handsomely in Spain.
Total budget (accommodation, food, travel): $2,661
Exploring France's Mediterranean
The French Riviera with its high-cost towns and cities isn't all there is to France's Mediterranean region. Travel farther up the coast and you'll find a host of affordable destinations.
"While most people associate the Mediterranean with the French Riviera in the eastern part of the country, there's also several hundred miles of beautiful Mediterranean coastline that stretches west," IL France Correspondent Barbara Diggs explains.
The Languedoc-Roussillon is lesser known than the French Riviera, you can enjoy all of the best of the Mediterranean—at a fraction of the cost of better known areas. The region is known for its wine production and capital Montpellier is home to both a medieval quarter and close to several clean, well-maintained public beaches. It's a city Barbara highly recommends.
Montpellier bustles with an array of markets year-round—perfect for picking up a local Brie, seasonal fruit and vegetables, escargots (snails), and of course, the region's many wines. "The prices at most Mediterranean markets are quite reasonable and the food is of very high quality," Barbara says. Figure $200 to $250 a week to sample the best of those wines and French cuisine.
Total budget (accommodation, food, travel): $2,559
Quintessential Mediterranean in Italy
Perhaps the first location that comes to mind when one thinks of the Mediterranean is Italy—and for good reason. Italians have long since figured out the secret to living well (and longer) in the Med.
IL Roving Europe Editor Steenie Harvey says: "The farther south you go in Mediterranean Italy, the cheaper things get. Way down south, the region of Basilicata has some of the Mediterranean's most spectacular scenery. It's relatively unexplored by foreign visitors, but go and you'll find mountains sweeping down to the sea…white-sand beaches…black-sand beaches…even sea caves with stalagmites and stalactites."
Italian food has a deserved reputation for being among the best in the world and eating a hearty, filling meal of pasta or pizza will provide good fuel for exploring the region of Basilicata. Stop into one of the town's restaurants to dine for less than $35 a head.
Cook at home and dine out once a week and you'll eat well on $200 a week.
Total budget (accommodation, food, travel): $2,435
Finish up in Croatia…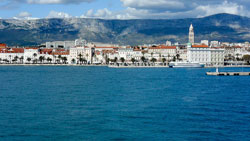 Croatia is one of Europe's lesser known gems—but one of its most beautiful. "Croatia is already so affordable (especially if you go outside the main tourist season) that you really don't need any tricks in order to live well on a budget," IL Europe Correspondent Gigi Griffis says.
"The area in and around Split is very affordable and full of charm," Gigi says. "Split itself is a large and bustling city with a truly ancient old town (with its UNESCO World Heritage Site palace), some really nice neighborhoods, waterfront views, and great prices."
You needn't watch the pennies to eat well in Split—you can fill your grocery cart or dine out regularly without going over $500 for a couple for a month.
Total budget (accommodation, food, travel): $2,005
Get Your Free European Report Here:
Learn more about Europe and other countries in our daily postcard e-letter.
Simply enter your email address below and we'll also send you a FREE report – All the Charm and Romance of Europe…at a Price You Can Afford.
This special guide covers real estate, retirement and more in Europe and is yours free when you sign up for our postcards below.
Get Your Free Report Here