When people ask me what's so good about Uruguay, I often talk about the various income opportunities, the natural beauty of the land, or the ability to live a simpler and less complicated life.
Just a while ago, I was trading notes about life in Uruguay with Karen Michele—a single mother from the U.S. who moved to Punta del Este, Uruguay with her 12-year-old daughter, Etanne.
Before coming to Uruguay, Karen was a portrait photographer. But she was concerned about her daughter's social life. With so many parents working long hours and keeping busy social schedules, many of Etanne's preteen peers were left to their own devises with unsupervised access to cable TV and the Internet.
So Karen decided to take a break from her photography business and relocate somewhere with a stronger family culture. "I did some research and came to believe Uruguay, especially Punta del Este with its plethora of transplants from many countries, would be right for us," says Karen.
But what about her options for earning a living to support herself and her daughter?
Karen planned carefully. Before coming, she trained to become an ESL (English as a Second Language) instructor. And, once she arrived in Punta del Este, she got a job teaching English in the private school Etanne attended.
Karen teaches her students English with activities, games, and role-playing that is proving to be effective. She has even started her own language school, teaching English to both children and adults. Private English schools are popular in Uruguay, and being a native English speaker gives you an advantage.
One of Karen's first students is a Uruguayan reconstructive surgeon seeking to improve her English in preparation for a one-year work program she will attend at Harvard Medical School.
With her income established, Karen is able to enjoy the benefits of the community in Punta del Este. "We are renting a house we love," she says. "We have more friends than we ever had. And most of all, I am so happy to see my daughter playing with the lovely children at her school.
"Families here make sure they have time together. It's why you work, so you can have a barbecue with your family and friends on the weekend," she says.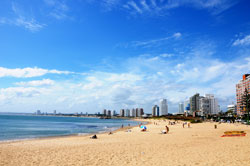 Many families in Uruguay stay up late enjoying leisurely dinners. They may go out for ice cream after midnight, just for the fun of it. There are lots of holidays in Uruguay. And folks take really long summer vacations.
"People here are less self-conscious, and able to have fun," observes Karen. "At the school's Mother's Day celebration, the children and the mothers were dancing together. And all the parents of the students communicate," says Karen.
"I had the students in my class divided into three teams competing against each other. But when any kid gets a question right, the kids of all three teams clap for him or her. When there is a birthday party, all the kids in the class are invited. No one is left out. There are no cliques. There is no meanness. The sweetness is remarkable."
I know what Karen means. The thing I miss most when I leave Uruguay is the culture of inclusiveness and warmth. Being treated with respect, feeling included, and knowing there are people who value spending time with you is a treasure. It's what I appreciate most when I return.
Need a Way to Fund a New, Better Life?

Join our Fund Your Life Daily e-letter today, and you'll hear from us five times a week, telling you about ways to earn income that lets you live anywhere, travel anytime… and give you the funds to make your dreams of a better life real. We'll also send you your FREE report Fund A New, Better Life With These 6 Portable Careers.
Related Articles
5 Tips For Safe and Fun Solo Travel
The Quickest Way to Make Money Online