"When I moved to Chiang Mai, I unearthed the rich and colorful life I thought was lost," says Pam Manning of her new life in Thailand. Chiang Mai is famous for being a town of artisans and Lanna (Northern Thai) culture. It's a place of flowers, temples, fruit, joyful festivals, and color is everywhere…velvety maroons, popping pinks…
Chiang Mai's 'Old City' is surrounded by a 15th-century moat with large majestic gates, evidence of the city's rich history. It's a university town, packed with cafés, international eateries, bookshops, and home to a large and happy mix of retired foreigners.
But that didn't stop Pam's family worrying when she announced her travel plans. "My daughter was concerned when I called her to say I was moving to Thailand," recalls Pam.
Pam admits there were initially obstacles due to the language barrier (she discovered that she was ordering breast milk in her tea for months before a Thai person was kind enough to correct her) but she says the experience has been worth it. "It takes a brave person to move to a country that does not operate on your own native tongue, but I've been learning the language and I think it is wonderful brain training." Fortunately, there is a very active and large expat community in Chiang Mai to support newcomers and they host regular meetings, breakfasts, and lunches.
Pam is enjoying her time with expats as a member of the welcoming committee. "My role is to welcome people, provide them with answers to the most commonly asked questions and assist them in building networks. We are very supportive of each other, and I have met so many interesting people."
Pam's lifestyle includes visits to restaurants, events in the many top hotels and other social functions. Even with that her monthly budget is only around $1,045. She says, "I spend a little less than $373 on bills per month; this includes strata fees, water, electricity, WiFi, and Pay TV."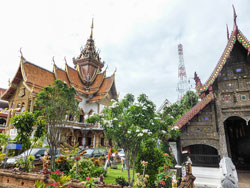 In the Thai language aroi is the word for delicious, and northern Thai food is just that. An average meal at the local restaurants costs $5 and these places, more often than not, also offer Western style food for the same price.
She often visits Lava Café Bar & Grill on the same strip as the Night Bazaar to eat a very authentic chicken Pad Thai, and says, "I took a Thai friend who agreed that this was one of the tastiest interpretations of this particular noodle dish." This meal costs her $3.40 and this restaurant also has beer 'on tap', at $2.25 per schooner.
Pam bought a studio apartment for $22,385. This, of course, was after many lessons learned about city life here. Her decision was also based on the airplane flight paths, proximity to a good selection of restaurants and shopping centers and the biggest lesson of all, the nightlife. She says, "You should visit the apartment during the day as well as night, as there are many 'pop up' restaurants and festivities that can play loud music until midnight.
Pam certainly has a respect for her Thai community and they for her in turn as they're a culture that greatly respects the elderly. She says, "This is a great country to 'age' in."
Get Your Free Thailand Report Here:
Learn more about Thailand and other countries in our daily postcard e-letter.
Simply enter your email address below to sign up for IL's free daily postcards and we'll also send you a Free Thailand Report – Thailand: Live Like Royalty in the Land of Smiles.
Get Your Free Report Here