English-speaking expats have a unique built-in skill that can travel with them anywhere. And location is irrelevant as long as you have a laptop and decent internet connection. You can choose your dream location first and be certain of finding an extra source of income, even while soaking up the rays on a white, sandy beach in the tropics. Teaching English as a second language (ESL) is big business and they want you.
Philana Rustin originally moved from Long Beach, California to Lima, Peru four years ago to teach French. "I taught French in the States and I came here to work with Alliance Francaise ([an international organization that aims to promote French language and culture around the world)] but their pay is really bad," she says. "My son was born here, so I started looking for work online and have been working for a Taiwanese ESL company for about four years. I actually work for two companies now. I just got hired by VIP Kid, which is based in Beijing." Through these companies, she can teach classes online to her own schedule, and from wherever she wants.
Philana says the pay varies from one company to the next as they are located in different parts of the world. Hourly rates range from $8 to $20 depending on the ESL site and your experience. "I generally work six days a week, but I love their flexibility. You pick your own schedule. If you need to take a day off, you just tell them a few hours ahead of time and you're good. I usually work four hours in the morning and three hours in the afternoon between 4:30 p.m. and 7:30 p.m."
Although Philana is teaching online as a full-time job, expats can choose to only work a few hours a week to supplement their savings or pension income. TEFL certification and a university degree are the best guarantees to obtaining a teaching position. Bubbling enthusiasm, a professional attitude, and good communication-skills will also get you a lot of mileage when it comes to finding a job.
Philana and her husband, Enrique, live in San Miguel, one of Lima's rapidly developing residential districts. Like other South American cities, Lima is slowly growing into a competitive, modern city, with new high-rises and family-oriented neighborhoods in constant development.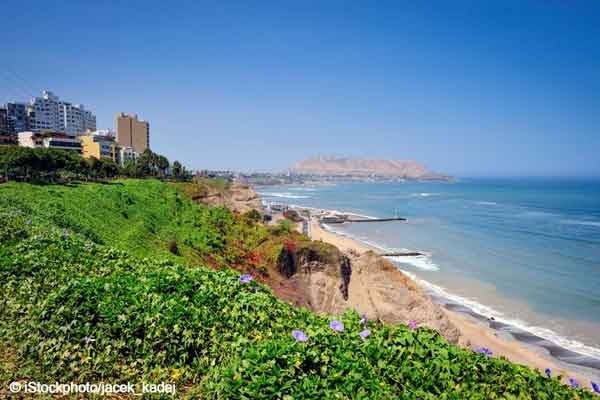 They currently pay $400 per month, plus a $30 condo fee, for their three-bedroom, two-bathroom unit, but she has recently purchased a new condo on the waterfront. It is still under construction but she is excited about moving into her new place by the end of the year.
"The San Miguel district is more of a middle-class residential area," says Philana. "Where there used to be lots of houses, they are being sold and replaced by big high-rises, like the one we are buying in.
"The condo we are purchasing is a two-bedroom, two-bathroom unit for $63,000. It is beachfront property and from the top floor of the building there is a view of the sea. It's a developing area, and in 10 years property here will be worth a lot more."
Philana says her family can easily live on her online teaching income and figures their total expenses are never more than about $1,200 per month. And other opportunities for work sometimes appear out of nowhere. She was recently part of a commercial for Inca Kola, Peru's most popular soft drink and national icon. Bottles of this unbelievably sweet bright yellow drink are a staple at every dinner table.
There is also a great selection of fresh food in her area. "I love the market here. It's just a block away from where we live. I love being able to go buy fresh fruit and vegetables, and have a chicken cut up right in front of me."
It doesn't sound like Philana and Enrique have any plans to move soon. They love the city; the low cost of living, inexpensive markets, and vibrant culture are more than enough to keep them happy.
Related Articles