My belly is full. My body is rested. I'm ready for an incredible 2021…
I've spent the last couple of days celebrating the New Year with my in-laws. They're Mexican-Japanese and their tradition is heavily set around food. They've been preparing for weeks, with scouting trips to Guadalajara in search of just the right ingredients.
Then, New Years Day kicks off with Hatsuhinode, the Japanese tradition of welcoming the first sunrise of the year.
It's thought to bring a year of good fortune…
I hope it does. But to tell you the truth, there are much better reasons to believe this is going to be an incredible year for us.
In fact, if you love real estate, if you want to own a property overseas, create a life of ease, travel, fun, and adventure…insulate yourself from the ups and downs of the stock market…and enjoy more financial and personal freedom…
Then I have news: 2021 is the year to do it.
The global crisis caused by Covid-19 has some way to go. And fortunes are made during uncertain times like this.
Members of my Real Estate Trend Alert have had some incredible buying moments in 2020. But frankly, we're only getting started.
Today, I want to give you a taste of what's coming up in just the first few months of 2021.
High-Yield Rentals in a Tropical Eden
Paradise is short on rentals…
And in January I am planning on bringing RETA members the chance to own a villa surrounded by lush natural beauty and tap into a surging demand from well-heeled vacationers in a stunning location.
To give you a number: I expect owning in this one-of-a-kind community, you'll command a gross annual yield of more than 13%…and lock in significant capital appreciation.
It's an opportunity close to the small up-and-coming town of Ojochal sandwiched between stunning national parks, close to the Pacific beaches of Costa Rica's most beautiful region.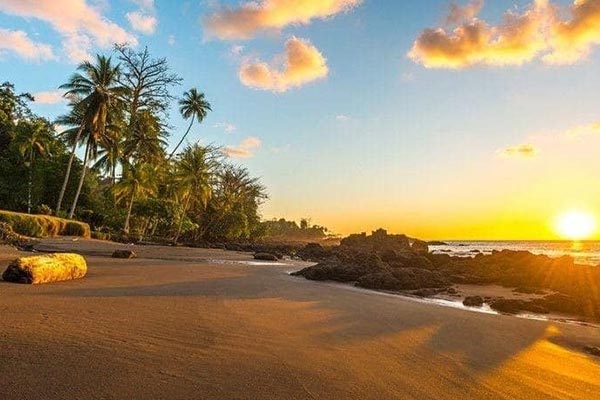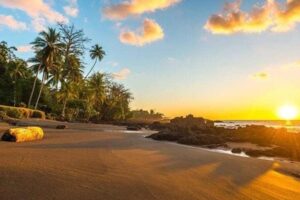 It is a total sweet spot. There's nothing else like it.
As more people discover the Southern Zone prices will climb. And already there is a critical shortage of rentals…
Once again, we're applying our RETA edge. We can buy before the local insiders, the brokers…before anyone else has a chance.
The Southern Zone is boutique, up-market and it's going to stay that way. Our opportunity is surrounded by primary forest, which can't be developed in Costa Rica. In fact, our opportunity is in the heart of Costa Rica's most unspoiled and ecologically diverse region.
To the south, the Corcovado National Park is home to jaguars, squirrel monkeys, and endless opportunities for wildlife spotting. If you're lucky, you'll see tapirs on the beach. To the north of our opportunity is Manuel Antonio, probably Costa Rica's most famous national park.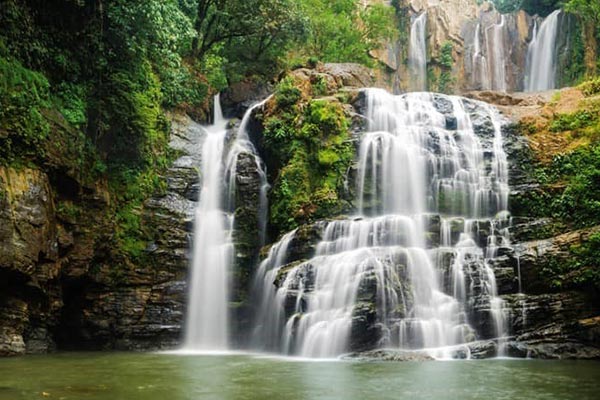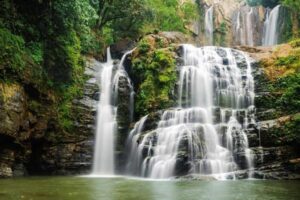 Costa Rica's natural beauty attracts millions of visitors each year and many are discovering the Southern Zone.
The people coming to the Southern Zone want to stay a few weeks…a couple of months. They want a house. But few options exist right now. The deal I'm working on is one where we can lock down exactly what they want at an incredibly low price.
It's a small community of tropical villas a short walk to everything a snowbirding expat or a European vacationer wants from the Southern Zone.
For a start, each villa comes with a small pool—a huge booster of rental income.
Each villa is tropical architecture at its best. Lush landscaping brings the outdoors indoors. You'll step from your kitchen to your terrace and into your pool…you'll dine outside with toucans gliding overhead and hummingbirds whizzing past.
The pool's a huge plus but what makes the deal superb is the location: Villas Ojochal is walking distance from the center of the small town of Ojochal.
When I first visited Ojochal, the main road was packed dirt and there wasn't much going on. Today you'll roll along a tarmacked road past new buildings and a couple of busy little commercial plazas. You can visit the weekly expat market. There's a pharmacy, bakery, cafés, stores, bars…everything a visitor wants is a walk away from our opportunity in Villas Ojochal.
The Southern Zone is facing a critical shortage of rentals. It's a challenge for members of my team and I when we visit…finding a place to stay is never easy. But hone in on the area around Ojochal and this shortage becomes especially acute.
The few folks renting close to town can charge serious prices. I came across one two-bed rental with a pool going for $265 a night. If you can find availability.
The potential for profit is enormous. I expect handsome capital appreciation but I'm most interested in the rental angle with these villas.
The premium three-bedroom homes look set to come with a RETA-members-only price of $233,000. I figure you will be able to gross $32,000 in annual income from one of these homes once the villas are into their second or third year of rentals. That's a gross yield of 13.7%.
It will be extremely difficult to ever replicate a community like this here. The barriers to entry are high and I believe only the developer we're dealing with could pull this off. And even she doesn't normally have anything so close to Ojochal nor does she usually sell turnkey properties like this.
That makes this opportunity extra special.
Virtual Scouting Trip to Portugal's Algarve
Last year, I put in an offer of €350,000 on a repossessed condo in one of the most prestigious communities on Portugal's Algarve.
With 300 days of sunshine a year, stunning beaches, and world-class golf, Portugal's Algarve attracts millions of tourists each year. The Algarve is in the south of the country facing the Atlantic, yet it boasts a perfect Mediterranean climate. It's a place of rich culture, great food…soaring cliffs, white-washed villages, secret coves…
Well, the bank got back with a counter offer of €410,000.
I'm all in…doing my due diligence now and expect to close soon.
That is €410,000 with no money down and a mortgage of 1.1%.
And I've seen a listing for the exact same unit type at €670,000!
My play is to polish up the condo, rent it out for a year to create an income stream, and sell it for a big profit.
I figure on monthly costs of about €1,500 to cover mortgage, HOA, and other costs. I will need some money down for closing costs, those cosmetic repairs and furnishing. I'm only furnishing because I plan to build the rental book to add value.
I figure there are more available homes in this community than the bankers let on. I'll be negotiating to get more homes here for Real Estate Trend Alert members.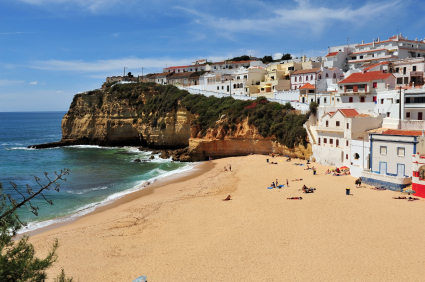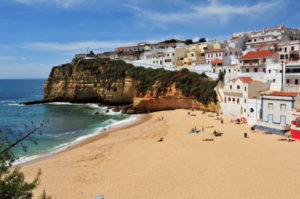 I'm also organizing our first-ever Virtual Members-Only Scouting Trip to the Algarve later this month for RETA members.
This is a major benefit of RETA…you sit back in the comfort of your home and my contacts on the ground will take you on walk-throughs of the hottest deals with everything you need to act on any deal you like the look of.
Members will also get contact details for the mortgage advisor I use on the Algarve. Using leverage supercharges all of our Portugal plays. Portuguese banks are lending to foreigners at incredibly low rates—as little as 1% to 1.5%—with sometimes as much as 80% loan to value. In the case of fire-sales, 100% is often available.
Whether you are looking for a bargain bolthole for €80,000 or a luxury villa for €800,000 in Portugal, you can use bank financing to your advantage.
Condos in the Convenient Caribbean
It can be hard to get your head around the incredible change on Mexico's Riviera Maya unless you've seen it with your own eyes.
The transformation has been astonishing. Cancun international airport now has four shiny terminals and saw 25 million visitors in 2019. A modern four-lane highway takes you all the way down the coast to Tulum…just an hour and 40 minutes in a car or air-conditioned bus. There are now plans for a sleek tourist train, too.
I first visited in 2004. Cancun was developed. Playa del Carmen still a quiet sleepy beach town. I continued south, took a one-lane road that turned to dirt then stopped when I saw turquoise water sparkle. I walked through an empty palapa restaurant. Then, my jaw hit the floor. Miles of the most pristine white sands I had seen opened up in either direction. It was empty. The beach. The restaurant…welcome to Tulum.
I've spent the 15 years since staying ahead of the juggernaut Path of Progress as it rolled south along the stunning Caribbean coast toward the tiny town of Tulum where I am working on a brand-new deal that I predict will see incredible gains.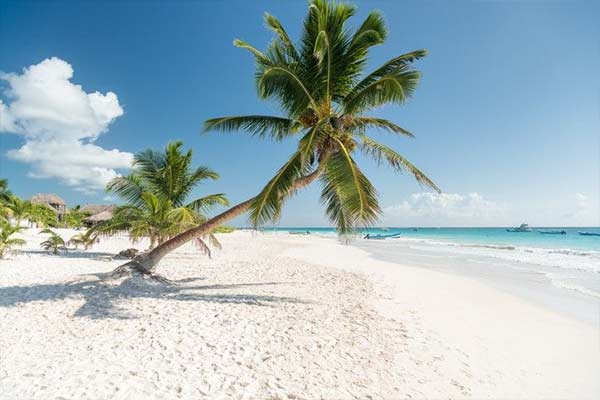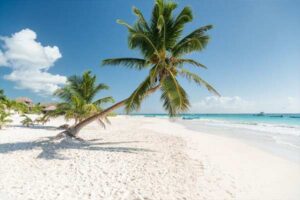 Tulum was always a favorite destination of mine. Its beach is simply stunning…
But getting deals there wasn't easy. I was content to wait though, because the right Tulum deal can be spectacular…
In 2017 RETA members (including me) rushed to lock down condos at our Tao Tulum opportunity. In a few hours every single condo was gone. Three months later, retail pricing was $60,000 higher, even more than $100,000 higher on premium condos. Those are the sort of gains we see in the best RETA deals. That's what happens when we buy into a best-in-class project at members-only pricing ahead of the Path of Progress.
And in Tulum the Path of Progress can go no farther…
It's truly the end of the line. Tulum is nestled next to over 1,000 square miles of UNESCO-protected biosphere called Sian Ka'an. Shimmering lagoons, deserted Caribbean beaches, wildlife-rich wetlands…all on your doorstep.
The Path of Progress ends in Tulum because of the biosphere. And in Tulum itself, you can't build near the archaeological ruins, while development on the beach will always be severely restricted.
The bottom line is that developable land is at a premium. It also means that Tulum will retain its boutique eco-chic feel. Buildings here are low-rise.
The Riviera Maya is excellent at compartmentalizing markets…and Tulum is the kind of place where folks can pay $400 or more to stay off the grid close to the beach and buy a pair of designer sunglasses for $1,000.
That doesn't mean the market isn't evolving as Tulum grows. For instance, this is the ideal location for the growing number of work-from-anywhere folks no longer tied to an office.
I was last in Tulum in December. It feels more and more like a small city. It's busy. And as an investor I love this because our focus is on the kind of best-in-class high-end communities that offer an oasis of tranquility and luxury.
As Tulum grows, owning real estate that is rare, discreet, and exclusive sets us up beautifully for explosive rental demand and for rapid potential for gains. The high-end fashion set that love Tulum will want your condo, and so will the growing number of folks coming longer-term.
At RETA we are connected with the old families of the Riviera Maya. These are the groups that came to Cancun to build and operate hotels in the '70s and '80s.
As Cancun developers, they landbanked around Playa del Carmen and Tulum. Back in the day they got this land almost for free.
I just got word that the grand dame of landbanking families is ready to turn one of their most prized areas into a new community. And, they want us to be a part of it. These will be some of the closest condos to Tulum's prized white sands. And, in a new previously untouched verdant area. I expect our entry price will be in the region of $169,000 for a luxury two-bed, two-bath condo.
I expect to have this deal in front of RETA members in the first months of 2021. I figure that three years after delivery these condos will be worth $250,000.
That's a whopping gain of $81,000.
Pacific Ocean Views in Cabo
Multi-million-dollar yachts moor in the deep blue waters of the Sea of Cortez. The hills sloping down to the shoreline are dotted with luxury homes. White sand beaches fringe a desert landscape, with the fingers of giant Cardon cacti (some of which are 500 years old) pointing to the bright blue sky overhead.
The desert is a place that feels primeval…unspoiled. Where you can get back to nature. At night, the glimmer of millions of stars lights up the dark skies, a magical experience.
Add in a layer of jet-set amenities like luxury hotels, posh spas, world-class golf courses, and great dining spots, and you can see why so many want to visit—or own a home—in Cabo.
Cabo has long been synonymous with the rich and famous. Hollywood stars first started to vacation here back in the 1940s. They put Cabo on the map and flagged it as a high-end destination.
The ordinary rich followed the famous and super-wealthy. They vacationed on Cabo's sun-drenched beaches, relaxed at the luxurious day spas, and played golf on Cabo's iconic courses. Many bought second homes here.
Cabo's proximity to some of the wealthiest cities in the U.S. is a major factor in its success. It's just a three-hour flight from Houston and San Francisco, two hours and 20 minutes from Los Angeles, and two hours from San Diego.
Those who couldn't afford a multi-million-dollar condo spent hundreds of thousands of dollars on a timeshare—the right to stay in Cabo a few weeks a year. That's a really good indicator of how desirable Cabo is. All this demand fueled development.
But, put all your eggs in one basket, and you're looking for trouble…
That's what happened in Cabo. The market was hugely dependent on North American buyers, prepared to shell out millions of dollars on a second home. When the economic crisis hit in 2008, the real estate market in Cabo stalled.
As recovery came so did a huge transformation. The biggest of its kind I've ever seen. I first visited Cabo at the end of 2014. I'd been hearing rumors about major investment and dozens of new resorts set to open Cabo up to a new upper middle-class market. What I found on the ground convinced me a big new era was coming.
Sleepy little Cabo was being hit by a deluge of $4 billion in investment. Massive new resorts were being built. Major highway upgrades put Cabo San Lucas just 35 minutes from the airport.
The number of hotel rooms in Cabo San Lucas began to rise…it's still rising. And more flights—direct especially—are having a transformative effect on Cabo.
That plays right into our opportunities all across Baja California Sur.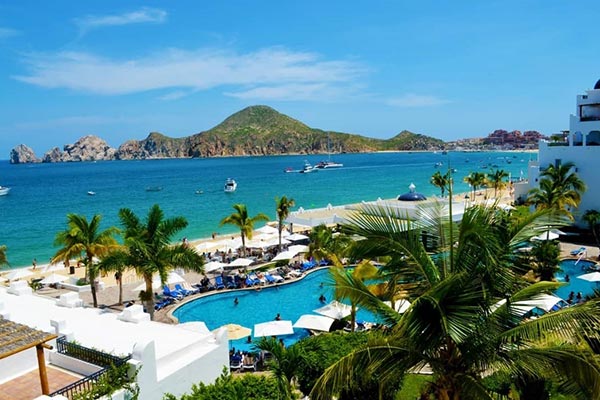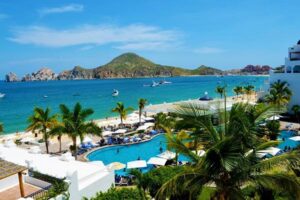 I worked fast to find deals for RETA amid this massive transformation. In 2015 along with fellow members, I bought in the Copala community in the 5-star Quivira Resort—billed as the "Pebble Beach of Mexico." Our RETA price in Copala at the time was $336,156. The retail price, or the price to the general public, at the time was $428,301. And last I checked, my capital appreciation is now well into six figures.
We've also seen strong paper gains from another Quivira community, Mavila. In June 2018, RETA members could lock down a two-bedroom, two-and-a-half-bathroom Mavila condo for just $259,800. In March 2019, the project was unveiled to the Cabo brokers' community. The retail price on similar remaining condos was from $357,000—a gain of $97,200.
The opportunity in Quivira is all but passed but I'm working on a brand-new deal…
We're nearly there…
I'm only waiting on one final piece of paper and RETA members will be the first to hear, and pay about $40,000, less than the local Cabo market that's also waiting.
Our condos will be perched on a hill just outside Cabo San Lucas with stunning views of the flat Azure waters of the sea of Cortes. Cabo San Lucas itself is only seven minutes away…and the pristine Cabo beach only three or four.
Two-bed, two-bath condos will have big terraces that make the most of these views. And come with an entry price of $198,000. The views from the community pool area are simply drop dead gorgeous.
I figure the Cabo condo we can buy for $198,000 will be worth $300,000 just three years after delivery.
Panama's Great Bailout
Already RETA members have saved nearly $13 million on killer deals in Panama thanks to "the Great Bailout."
I am working on a new deal which could see us do it again…
The Panamanian government is on a massive drive to boost tourism. They want more tourists to come to Panama. They want places for them to stay. And nowhere is better than the unique beachfront community of Playa Caracol on the country's Pacific Riviera.
So…the Panamanian government is effectively footing the bill for a vast chunk of the construction in a stunning beachfront community called Playa Caracol. I've negotiated with the developer to pass on his savings onto us by way of huge discounts.
I call this huge cash-injection by the Panamanian government to promote and develop tourism along the country's Pacific Riviera "the Great Bailout."
It's known only to a handful of high-level insiders and to us.
Thanks to our group buying power and insider connections we have locked in our slice of the bailout pie. And it means we have a chance to lock down stunning stroll-to-the-beach luxury condos for an insanely low price.
We've already had a killer run of such deals. In 2021, we're set to do it again.
Get Your Free Real Estate Report Now
Sign up for our free daily Postcard e-letter and get a valuable free report on the The 5 Best Places to Buy Real Estate In 2023.
Related Articles
Why I'm Not Buying in My Favorite Vacation Destination
A Winter Wonder Land From $46K