Placencia Village looks like a postcard. Jauntily colored wooden Caribbean homes, beach bars, and coffee shops abound, and little stores sell wood carvings and Mayan souvenirs. All the while, you can see the Maya Mountains on your right and the sparkling Caribbean Sea on your left. There are palm trees and endless beach.
Expats report that when they make the move to Belize, their lifestyle changes drastically.
Sue Vasquez, a seven-year resident in Placencia, says, "I no longer drive anywhere. I take my bike or just walk into the village for my shopping. I love to shop at the local farmers' markets instead of at a huge grocery store for produce."
Affordable costs also mean that Sue now eats out several times a week at the restaurants that specialize in authentic local foods. "My favorites in the village are Mim's for the $5 stewed chicken lunch, Dawn's for local fish for around $10, or barbecue at Mr Q's for $5 to $8." Sue finds that, at these prices, eating out can cost less than cooking. "There are upscale places in the village that have prices close to the U.S., but we generally save those places for special events. The food at the local places is just as good, just in a less fancy setting."
One of Placencia's big draws is its marked lack of materialism. As Sue says, "I rarely spend money on things besides entertainment and food. I go months wearing flip flops and casual clothes, and these are acceptable everywhere. When I return to the U.S., I feel really overwhelmed by the materialistic culture."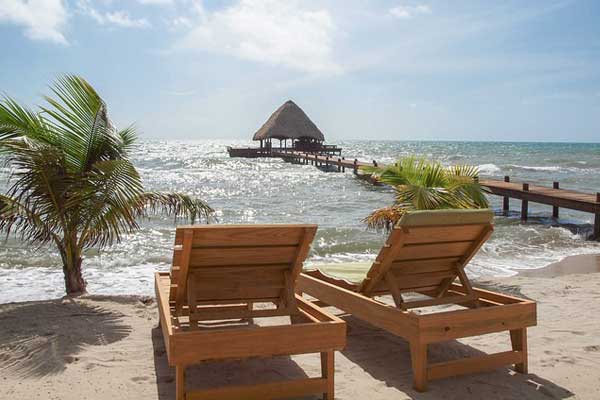 Expat life in Placencia revolves around swimming, kayaking, walks on the beach, and hanging out at the local beach bars. There are events every night to draw the crowds in, and it's easy to meet other visitors or expats. "I recently had a friend visit," Sue says. "And there was so much to show her. On Monday we had an exotic dinner, Tuesday we played trivia, Wednesday we checked out some local Garifuna drumming, Thursday we listened to a reggae band, and Friday we got together for a barbecue at a local tiki bar. We were able to do most of these activities for the price of a drink or two."
Although some costs in Placencia can be as much as or more than in the U.S., most expats here find they can live on much less than in the States. Many couples only have one car, if they have one at all (the preferred transport is a golf cart, bike, or on foot). A three-bedroom, three-bathroom condo with beach views can be rented in the village for about $1,300 a month, including air conditioning and laundry.
Utilities won't break the bank, as long as you're sensible. Water is affordable in Placencia, at about $25 a month for a one-bedroom. You can expect to pay about $100 a month for electricity if you use air conditioning, and less if you don't. You may hear complaints about the internet connection in Belize, but the average user is not going to experience much difference from that in the U.S. Internet and cable TV cost about $80 a month, and cable includes all the premium movie channels. Gas is cheap, and most people use propane tanks, which cost about $20 a month. Sometimes rental rates will include these services, as well.
Sue says of her life in Placencia, "Now that I experience summer year-round, with less pressure to keep up with the Joneses, it has allowed me to live a simple, relaxed life on the beach. When I hear about the winter back home and catch up with friends, I remember the stress-filled life in the U.S., and I could never go back."
Related Articles
Cost of Living in Ambergris Caye, Belize
Caye Caulker offers a kick-back, low-key island lifestyle
It's easy to have a simple, laidback, Caribbean lifestyle in Corozal