My wife, Jan, and I could be called experimental expats…an especially apt title for me, as I retired after a 35-year career in experimental science at the Los Alamos National Laboratory.
I call us "experimental," because we've taken the part-time approach to retirement: We take trips of up to 90 days at a time in Italy. We selected Italy as the best choice for this, since we had spent a lot of time here on vacation. We weren't necessarily searching for a place that is less expensive than the U.S. But we didn't want to exceed our income, either. We are both in our 70s, and medical care was an issue, too. Spending three months here lets us immerse ourselves, without needing to get residence visas or file complicated paperwork.
After touring houses in western, northern, and eastern Italy, we found our perfect place in the Le Marche region, in the village of Montappone. Our home is a townhouse, part of the 14th-century Montappone Castle, and it was love at first sight. Our door is the original palace door, and just outside the living room is the original well. As a physicist, I couldn't resist the urge to measure the depth by dropping in a stone and timing the fall. Galileo was the first to do that experiment. The answer: about 150 feet.
We found real estate prices in Italy to be lower than those in the U.S., especially for the older, sometimes historic, houses. These are the most desirable. They usually have great views, but they may also need some upgrading.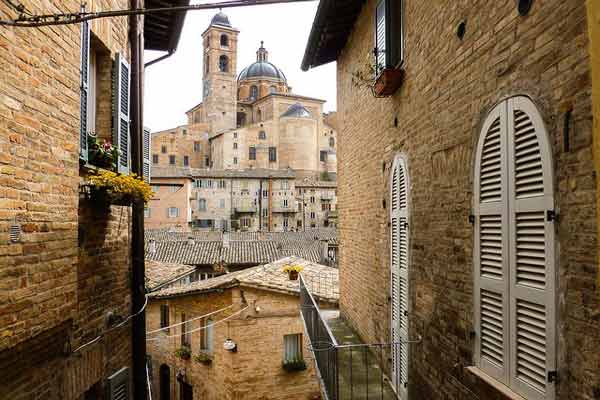 Italy's Le Marche region is filled with historic buildings dating back hundreds of years.
A short walk across the (square) from our door is a small hotel with an excellent restaurant, owned and operated by a local family, the Ricuccis. The young chef and his wife are neighbors, speak English well, and treat us as elderly relatives who sometimes need a bit of help to manage in a strange country.
In the restaurant, we usually just sit at a table, tell the waiter to bring us dinner, and enjoy a good local wine before our dinner arrives. Most often, it is a selection of local dishes that remind us why we enjoy Italy. Dinner is always an incredible bargain in our minds. Restaurants in Le Marche take pride in local ingredients and recipes, with main courses at a good restaurant costing around $10. In many of the area's bars, tapas-style aperitivos come free with evening drinks, whereas at lunchtime, fixed-price menus offer an economical way to fill up for $8 to $12.
We refer to Le Marche as "the real Italy." Few from the U.S. have been there, and The New York Times once called it Italy's best kept secret. As a result, little English is spoken. But it's easy to learn enough Italian to get by, and at critical moments, a smartphone translator performs well enough. A stranger passing on the street almost always offers a friendly buongiorno or buona sera.
Medical care and prescriptions in Italy cost much less than in the U.S., even if you're not covered by the national health system. We have had no complaints about the quality of care we've received. Dental care is not part of the national system, but Jan had a completely adequate root canal, done by two dentists. Including X-rays, it cost just a bit more than $200. Pharmacists are friendly and knowledgeable, and they provide some drugs and advice that would require a doctor's license in the U.S.
The food markets, both indoor and outdoor, offer the freshest food we have ever had. Get used to buying pecorino cheese or prosciutto ham sliced to order, zucchini and fava beans straight from the fields, and fish direct from the coast 30 miles away. If it's not fresh, they don't sell it.
Almost anywhere interesting in Italy is less than a day's drive away. We visit Venice several times a year, which is about a four-hour drive. And Sicily is always a pleasure. We have enjoyed many visits to Rome, a center of beauty and history and home to Europe's smallest country, the Vatican. The second smallest country, Monaco, which contains the elegance of Monte Carlo, can be reached in a day.
We now spend about half our time in Italy, staying just below the maximum visit time for those who are not permanent residents. We still have obligations in the U.S. that require attention. Each time we leave, though, we find parting more difficult. We all give practical and cultural reasons for choosing a particular home abroad, but the real reason is that when the airplane's wheels touch down in our country of choice, our hearts skip a beat. Dean Martin expressed the feeling perfectly in the words of the song: "That's amore."
Related Articles