Costa Rica is a small country, about the size of West Virginia. Overall, you'll find a low cost of living (many retired expat couples I meet live well on around $2,000 a month)…top-notch, low-cost medical care…friendly people—the national motto is Pura Vida, which translates to "life is good"…and bargain real estate—you can rent from $300 a month and up and find North America-style homes for $150,000 or less.
But tiny Costa Rica has a tremendous variety of climates, lifestyles, and landscapes within its borders: bustling beach resorts, quiet fishing villages, high mountain towns, vast farmlands, looming volcanoes, lush rainforests, isolated rural areas…
That means if you're considering a move to Costa Rica, finding the area or region that appeals to you is super-important. I've crisscrossed the country for the last several years, exploring well-known and under-the-radar spots. It's hard to choose the best…but the three below are some of my favorites in the entire country…
The Best Beach Town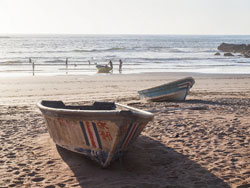 Even among beach towns, there's a lot of variety in Costa Rica, from popular, busy resort areas to quiet fishing villages with pockets of expat communities alongside working-class Ticos.
The town of Nosara, on the Nicoya Peninsula, is a good balance between these two extremes.
I first visited last January and was instantly taken with the laidback vibe and friendly folks I met…along with the high level of amenities in a somewhat isolated location.
Nosara is an up-and-coming destination, with more "mainstream" travelers joining the surfers and yoga enthusiasts who have been coming here for years. But while there are plenty of great restaurants of every cuisine and modern conveniences, you won't find big resorts, condo developments, or anything like that. It's low-key, with homes spread out along winding dirt roads through the forest. A wildlife refuge protecting nesting sea turtles prevents any construction on the shore for miles around. A two-bedroom beachfront condo—or at least as close to the beach as allowed by law—is $220,000. For $225,000 you can land a three-bedroom home on a quarter-acre lot, with a pool, a quick walk from the beach.
A Charming Rural Community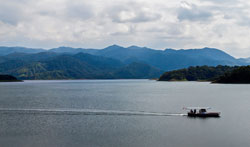 If you want a quiet life and a close-knit expat community in an area with rural character, head to Lake Arenal.
The 33-square-mile lake is ringed by a narrow two-lane road that passes by restaurants, cafés, boutiques, and art galleries. Nuevo Arenal, a small village, is the epicenter of expat life. There's an active and thriving expat community here, with plenty of dinner parties, happy hours, and social clubs. The climate is mild year-round and the unspoiled views of the lake are spectacular. In North America, a waterway this beautiful would be choked with powerboats and the shore littered with marinas and hotels. It's the opposite here.
Real estate is extremely affordable. One three-bedroom home, walking distance to the lake and Nuevo Arenal, is listed right now at $119,000. Or you could rent it fully furnished for $450 a month. Another three-bedroom, this one with a lake and volcano view, is $199,000.
I like Arenal a lot. But it's a bit too quiet for me—they roll up the streets after dark. That's perfect for many people, but not right for my family.
Small-Town Life in the Mountains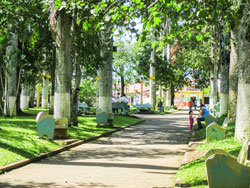 The Central Valley, the mountainous region on the interior of Costa Rica, is said to be the most popular region with expats. It's not hard to see why. The temperatures hover between 65 F and 85 F year-round. You're close to the international airport and the best medical facilities in the country. You also have the best shopping, amenities, and services. And, when you fancy a change, you can be at Pacific coast beaches in under two hours.
My pick for the best destination in the Central Valley is Atenas.
It's a farm town with a charming central park ringed by shops, cafés, and restaurants. The large expat community that lives here is very active. Most live in homes in the countryside. I live just down the road and count many Atenas expats as friends. Near town is a three-bedroom house surrounded by a fruit garden, with a separate guest house, for $110,000. Another two-bedroom home, furnished, is available for $725 a month.

Related Articles
Caribbean Coast vs Pacific Coast A Look at Two Typical Costa Rican Beach Towns
A Better Quality of Life in Costa Ricas Central Valley