When I think of country living in Panama, I think of Volcán in Chiriquí Province. It's one of my favorite places in Panama and offers the ideal blend of rural lifestyle in a small-town setting.
Barú Volcano, which gives the town its name, looms to the east and Cerro Punta, where most of Panama's produce is grown, rises to the north. The town rests at about 4,600 feet in a sloping valley facing toward the Costa Rica border. The open sky is clear blue this time of year. Blooming bougainvillea bushes of bright magenta and deep purple add a splash of color amid the pine trees.
But it's not just the scenery that draws me and other expats to Volcán. It's the character of the place and its residents. This authentic farm town is a hub for the surrounding community. While there is often plenty of activity, there's no sense of hurry. Farmers come to town in their pickup trucks, maybe hauling a load of produce, a few cattle, or hogs. They always have time to stop and chat with friends or to admire a hand-made saddle outside a tack shop.
Families walk from store to store, pausing to greet neighbors or to buy a sweet, syrupy snow cone from a vendor. Expats and retirees come into town from homes spread out among the hills to take care of business or to gather with friends. A few tourists or backpackers amble along and visit the artisan's market, stocked with local handicrafts to carry back home.
This is a working agricultural area and around the town you'll see feed stores and farm supplies, hardware stores and saddle makers. You'll also find all the necessities—pharmacies, banks, grocery stores, bakeries, and small department stores.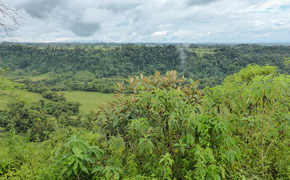 You'll find plenty of expats attracted to Volcán by the low cost of living and the cool highland climate. Thanks to Volcán's elevation, it is blessed with comfortable days at 75 F to 85 F and nights can be sometimes chilly at 60 F to 70 F. You won't need to pay A/C or heating bills. The area gets adequate rainfall, but usually in the afternoon or evening, so you can get your chores done in the morning.
A couple can live comfortably here on a monthly budget of $1,200 a month, including rent. Rentals are reasonable, and I found a cute two-bedroom cottage on offer for $350 a month, and another in a rental community for $495. It's easier to manage here with a car, as things are spread out, but bus service and taxis are reliable and inexpensive.
In addition to a farmer's market, there are stands along the road selling all varieties of vegetables and fruits grown nearby. A large bag of mixed veggies, enough for a week, will cost you $5, and the red, ripe strawberries with fresh cream from a local dairy are a specialty.
Venture a little outside of town and nature prevails. A unique and ancient archaeological site, Sitio Barriles, is just a few miles west of town. It's well worth a visit but it's just one of the activities you can do; coffee growers in the area offer tours to see their processes and taste their finished product. You can go horseback riding or hiking along the trails that climb Volcán Baru, all the way to the summit and over to Boquete on the other side. Bird watchers come to see a wide variety of species in their natural habitat, and orchid-lovers are enthralled by the Finca Drácula botanical garden.
Volcán is developing at a nice pace and though once largely unknown by expats, more and more are discovering it. If the slow pace and quiet beauty of a rural lifestyle appeals to you, Volcán is worth adding to your list of possible retirement destinations.
Get Your Free Panama Report Here:
Learn more about Panama and other countries in our daily postcard e-letter. Simply enter your email address below and we'll send you a FREE REPORT — Panama: First World Convenience at Third World Prices. 
This special guide covers insider advice on real estate, retirement and more in Panama. It's yours free when you sign up for our IL postcards below.
Get Your Free Report Here