Welcome to 'Finca Good Life'!"
That's what Michele Martin and her husband Ray say the moment you arrive for a visit. By the way, that's not just the name of their place; it's their personal philosophy, too. Living the good life is what they do every day on their mountain ridge in the province of Cartago, Costa Rica.
When it comes to places to settle down, you know you can trust their judgment. They've been to all 50 states of the U.S. and lived in 35 different places. Why? Because Ray always said he wanted to know what was "on the other side of the mountain."
But what in the world is a finca? In Spanish, it means "farm."
"We don't have anything like a huge Texas ranch, or a vast corn field in Iowa. It's not that kind of farm. Maybe you should think more about Old MacDonald's place. But put it on a mountaintop. At 5,000 feet. In Costa Rica. Now you're getting the idea," says Michele.
She goes on to say, "The municipality we live in is called Paraíso—that means 'paradise.' There's not a place in Costa Rica that isn't stunningly beautiful, but our piece of paradise is extra special."
I have to agree with her. Can you imagine looking to your right and seeing not one, but two sleeping giants? During my visit with the Martins, I didn't have to imagine it; I had a view of two towering volcanoes. Look a bit to the left instead, and the sight of a charming hamlet—complete with church spires—comes into focus in the distance. "Don't forget to look over your shoulder," Michele says with a smile, "because there's our emerald-green mountain valley laid out just behind you."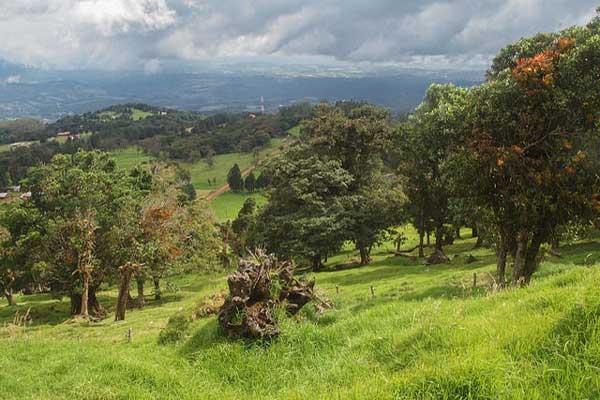 Waterfalls cover the opposite summit as easily as the coffee fields blanket the hillsides below. And the sky in between is dotted with lilting, swallow-tailed kites—one of the coolest birds on the planet. With deeply forked tails and bold black-and-white plumage, they chase dragonflies while we relax, laugh, chat, and drink steaming cups of java brewed from beans grown on those hillsides.
"Today a lot of folks call what we do 'homesteading.' We have a few chickens…and geese…and ducks…and turkeys. They strut around striking the most delightful poses," Michele explains.
Ray and Michele stay young by staying busy on their hobby farm. Ray starts his day by milking the goats and delivering those gallons of snow-white milk to Michele for cheese-making. She makes cheese about three times a week.
"I like to have some project that I can work on," Ray tells me. He does some maintenance work—patching a fence, directing their full-time farmhand in the day's chores, or fertilizing their avocado grove—but it's the "fun" stuff he looks forward to. He has taught himself to weld, and the evidence of his skill can be seen around the finca…from elaborate table bases (he makes the tabletops, too) to handsome raised beds for Michele's greenhouse.
Mikie (as her close friends call her) loves to cook and entertain. When she's not helping deliver new baby goats or gathering eggs from the henhouse, she's in the kitchen. It's not just great cheese that she's cooking up in there. The smell of some scrumptious something meets me the minute I walk in the house. "It's these fresh herbs we grow right here…they make all the difference," she says, as she holds up a luscious bouquet of basil and rosemary.
They live easily on their Social Security payments, because their cost of living is so much less than what it was in Atlanta. That includes travel, such as trips to visit family in the U.S., and to other places too. Last year they went to San Miguel de Allende, Mexico, and they plan to visit Rome in the near future.
"Living on our mountaintop in tropical Costa Rica, we never need to move again, because we now can see what is on every side of the mountain—and it's unconditional love, unquestioned acceptance, and natural beauty."
Ray calls it the meaning of life. Costa Ricans call it Pura Vida. Michele calls it the good life.
Whatever you call it, it's plain to see they've found it here, at the Finca Good Life.
Related Articles
A Dream Retirement Income in Costa Rica's Southern Zone
Affordable and Ecological Nuevo Arenal, Costa Rica
Playa Avellanas – A Tranquil Off-the-Beaten-Path Beach Community