Greetings from Killarney National Park. I'm touring Ireland's southwest. Right now I'm in Kerry where the weather was good enough to get some awesome views…
This time of year is normally the height of the tourist season. "We're missing the Americans" the locals will tell you. Killarney has the most tourist beds of any town or city outside of the capital Dublin.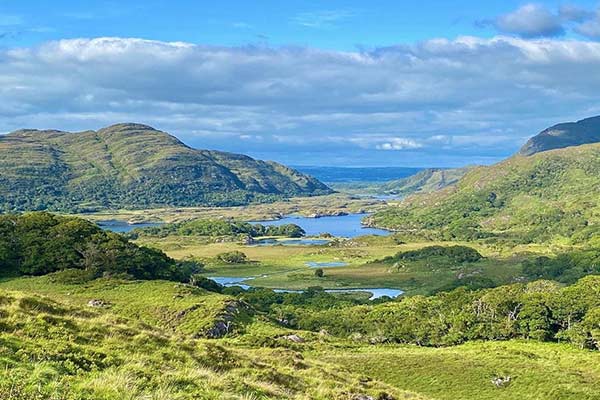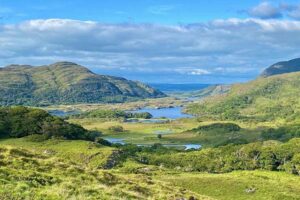 It gets tourists from all over the world, but especially Americans with Irish heritage. Some of whom might now be looking to their Irish ancestry to secure a second passport…
There's been a big increase in the number of U.S. citizens seeking a second passport. Firms that specialize in helping people get one are talking about a 30% to 40% increase in inquiries on last year.
Looks like many folks are realizing that residency and/or second citizenship of another country has big benefits.
You don't own your passport. The government does and reserves the right to take it back. So it's handy to have another one for that reason alone. It can open doors to invest, bank, and travel visa-free in exciting ways.
I know of two indices that rank and rate international passports and it looks like the U.S. passport has been slipping. In the Henley Passport Index the United States slipped from sixth place in 2019 to seventh in 2020 (and that was before the pandemic.)
In Arton Capital's Passport Index the U.S. comes in 20th place.
It's not my area of expertise but as I get a lot of questions about second passports and residency, here's some general advice from someone (me) who has two passports and legal residence in an additional two countries…
There can be very significant tax benefits to choose where you are tax resident. For example, you could establish tax residency in Portugal and be taxed at somewhere between 0% and 20% depending on the type of income.
Residency or the right to live and work year-round can be achieved in a variety of ways…an Irish grandparent…a European Jewish blood line…filling in some forms and paying a modest fee in Panama or Mexico.
Then there's a raft of investment programs that grant residency rights. In the last 15 years or so the Golden Visa has gone truly global. This "cash for passport" way of raising funds started with island nations in the Caribbean and Pacific in the 1980s. Over time other nations have rolled out their own versions. You can qualify for most, if not all such programs, by investing in real estate. In fact, it's the commonest way. The minimum amount required varies from $250,000 up to millions of dollars. (If you're a RETA member you'll find a full report on how to get what I consider the best of these visas for real estate investors on your members-only website.)
Models are Getting Naked in Tulum
I don't drink cocktails, don't care much about celebrities, and could never be mistaken for a follower of fashion.
But trends matter to investors…
The right style and the right association can make a business or spring a celebrity into the spotlight. And nowhere has more social cachet than Tulum.
These days, Tulum is mainstream with "Tulum inspired bars and restaurants opening in cities across the world." The newly opened Las Palmas in Los Angeles has modelled its outdoor dining experience on Tulum's beach bars. In Chicago, The Diver has switched its Cuban-themed flamingo rum club Cuban for the tropical bungalow vibes of Tulum.
The trend is changing apparel too. One of the most coveted garments in women's swimwear right now is a one-piece called "The Tulum."
Women are dropping $95 to dress like they've just stepped onto Tulum's pristine white-sand beach. That's if they can find one—the brand that makes them sold out 13 times already.
Models and Instagram influencers are going to Tulum just to be seen there. With over 5 million posts on the Tulum hashtag, they're going to new lengths just to grab some attention…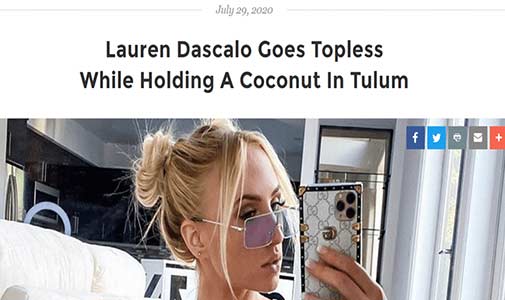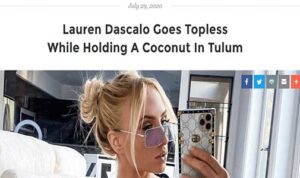 It's a sign of what I call "the Tulum Effect." Those who have been there are spreading the word, and those who haven't still want a taste…even if it means going for over-priced cocktails on an a rooftop bar in L.A.
Tulum has gone global. It's now a hangout for the international fashion set and Hollywood celebrities. You'll see it mentioned in the same publications as St. Barts, St. Tropez, the Swiss hotspot Gstaad, and the Greek island of Mykonos.
In the wake of the fashionable and famous have come millions of vacationers. Tulum, once just a hangout for hippies, is now a major travel trend. And as soon as travel fully re-opens, millions more are set to come…and Real Estate Trend Alert members are perfectly placed to profit…
In the most recent RETA deal, members have the opportunity to lock down condos on Tulum's emerging Golden Mile from just $134,000…condos I predict will be worth $190,000 three years after delivery.
It's an outrageously low price. In addition to the high-end finishes, the condos members can own from just $134,000 come pretty much fully kitted out with white goods and AC. That's refrigerator, washer-dryer, microwave, electric oven…and air conditioning units.
The last condo I looked at for sale in the immediate area of our opportunity was a two-minute drive from the condos we can own and had an asking price of $210,000.
Like I say, I'm predicting the condos RETA members can buy for $134,000 will be worth $190,000 three years after delivery.
On Tulum's emerging "Golden Mile," these condos are perfect for both the vacationers seeking the eco-chic sun, sea, and sand combination Tulum offers and folks staying longer term. Millions of people are now free to work from anywhere thanks to the global shutdown…many of them are realizing they can live in stunning places like Tulum.
With this opportunity I like the play of renting six months of the year at a rate of $60 per night, but with a minimum stay of a month. So, $1,800 per month.
Then in the high season months of January and February I'd rent by the night at an average of $150 per night. That's 50 nights for a total of $7,500.
So, a total annual income of $18,300…all while owning a condo we can buy for a RETA-only $134,000, which I figure will be worth $190,000 or more just three years after delivery. And, I figure the premium condos will appreciate even faster.
RETA members can read my full report on the Current Deals section of the website, right here.
Own in Europe
Now is a great time to pick up a home in Europe…no matter what your budget.
Think historic stone homes in time-worn villages for under $40,000…rambling old mansions with acres of land for less than $150,000…ocean-view cottages…lock-and-leave apartments…
For years, migration from the countryside to the cities, and overseas, has left a glut of character homes vacant and unloved…waiting for someone with some time and a little money.
In Italy, France, Spain and Portugal you'll find villages where woodsmoke wafts above ancient cobbled lanes and time still flows with the seasons. Amid the green fields of Ireland and the forests of Scandinavia there are country cottages and cabins with stunning views.
Hidden corners of the countryside are everywhere, waiting for you to stop a while and explore the property scene. Some of the best bang-for-buck is in bigger properties, grand country homes in need of some recovery.
Now Europe is in crisis. Some of the continent's fragile economies are in real trouble. And our chances of finding motivated sellers are getting better by the day.
I've owned pocket money boltholes before. I think of such properties not as an investment, but as a place to escape. A base from which to explore a wider region, a haven to hide in when things get chaotic.
They are not RETA-grade…
By that I mean that at RETA we seek real estate with which we can double our money in five years or less. We've been doing it successfully for 12 years. Our little group, which I founded in the midst of the 2008 financial crisis is stronger than ever.
But I'd be failing you if I didn't bring you details on what I view as a great moment to snap up a dream home in romantic Europe, a piece of history, a base from which to explore the cultural riches of the Old World, somewhere with spectacular views to hide out and relax.
Because, like I say, now is a great time to buy…
And there's a kicker.
We're in a period of historically low interest rates. Money has never been cheaper and some European banks will lend to foreigners…as much as 80% in some cases. Now imagine buying that dreamy historic home with bank financing and owning it for just a few hundred bucks a month…it's completely doable.
It's also something to consider when you think about your budget…with generous financing available that French chateau for $350,000 or $400,000 may now be a more reasonable proposition…
So in this month's issue of Real Estate Trend Alert I take a romp through prices and properties so you get the idea…from $30,000 to $500,000 and more…
If you're a RETA member go here to read the full story. If you haven't yet joined my little group I'll give you this taster from the full report…
I came across a village home in Umbria, Italy, for $33,700.
It's right on the square in the village of Pupaggi, and has two bedrooms, a bathroom and a kitchen and living room. It's ready to move into and there is also an option to buy two hectares of land, not far from the house for an additional $11,200. Here's the listing.⁠
This part of Umbria is called Sellano and known for its trekking and wildlife. Eco-tourism is growing in the region. I haven't seen this property in person, nor done any due diligence, but it's exactly the kind of pocket-money bolthole my team and I will be seeking out when we next scout in Italy.
And like I say, if you're a RETA member you'll find a dozen or so stunning properties in Europe in your latest issue and a breakdown of what your money gets you and where to look…
Connect with Ronan on Instagram  or Facebook
Get Your Free Real Estate Report Now
Sign up for our free daily Postcard e-letter and get a valuable free report on the The 5 Best Places to Buy Real Estate In 2023.
Related Articles
The 10 Best Places to Invest in Real Estate
Goodbye Office…Hello Spanish Bargains
Your Questions About RETA Answered