Imagine sitting on your terrace with a freshly brewed cup of coffee. Your view takes in the entire arc of the bay as pelicans gracefully swoop and splash into the surf, gathering their morning meals. Several humpback whales are surfacing just offshore on their annual migration. The sky is, once again, a brilliant blue and the gentle, warm ocean breeze regularly delivers the fresh scent of the sea. You and your camera will be joining friends later in the morning for a guided whale watching tour followed by an affordable lunch in a chic, trendy cafe on the Malecon (boardwalk). There is always time for a nap in the hammock before dinner.
For many, this is no fantasy. It is their daily life in one of Mexico's most desirable locations. Your very own, (and affordable) slice of paradise may well be waiting for you on the warm, sandy beaches of the Bay of Banderas on Mexico's Pacific coast. With annual temperatures averaging 81 F, ample sunshine, good medical care, affordable real estate, and modern infrastructure, the picturesque and historic city of Puerto Vallarta has a lot to offer its residents and potential investors.
Rising from the sandy shore of crescent-shaped Banderas Bay and gently climbing up the sides of the majestic Sierra Madre mountains, Puerto Vallarta remains as one of the world's foremost and most enchanting vacation destinations. It has retained a chic, artsy vibe that was enhanced when Hollywood discovered it back in 1964 with the on-location production of Night of the Iguana.
While tourists continue to flock to the area, retired expats and investors have also discovered Vallarta's many charms and lifestyle choices. Homes in the central/old town area can be found for under $100,000. With stunning beaches, warm waters, innumerable restaurants, cafés and trendy little bars, as well as a thriving art and theater scene, you could be fishing, boating, whale watching, or simply collecting some rays on the beach during the day. And your nights could be filled with scrumptious international cuisine, live music, professional stage productions, and dancing to salsa or the latest pop songs, if you wish.
For expats seeking a tropical, seaside retreat that offers wonderful ocean and mountain views, or are perhaps considering a second home to escape the penetrating winter chill of the north, Puerto Vallarta has much to offer. In this city of some 210,000 people, you can own a traditional three-bedroom, two-bathroom home near the famed Romantic Zone in Old Town, complete with air conditioning and furnishings for only $89,000.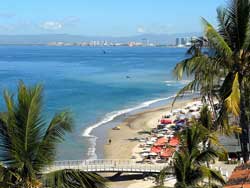 The Old Town area retains the feel of old Mexico with cobblestone streets and small sidewalk eateries making this a very walkable area. The Nueva Vallarta and Marina areas to the north offer more modern dwellings.
A spacious three-bedroom, three-bathroom condo in Nueva Vallarta, completely furnished in the popular Gardenias complex is available for $108,000. The community offers a pool and double parking spaces. Property taxes are a whopping $42 yearly, and monthly fees are only $165. If you're thinking of an investment, condos in the complex are easily rented from between $800 and $1,000 per month.
A short walk to the Malecon permits easy viewing of migrating humpback whales, just offshore, from mid-November through the end of March and if you want a closer look, whale-watching tours depart regularly from the marina.
Sunsets are a big deal here. People gather nightly in casual celebration, all along the Malecon, sipping good (and inexpensive) local wines, cold beer, and tropical drinks, breathing the fresh sea air and simply relaxing. This is the time when families and good friends stroll the picturesque cobblestone streets and get together to celebrate life as they enjoy live music and one of the best sunsets on the planet. You'll want to stake out your spot early as these sunsets draw large crowds nearly every night and the small bars, cafes, and restaurants along the Malecon fill rapidly. They say you can almost hear the sizzle as the huge reddish orb slowly settles below the horizon.
Residents here have a choice of amazing vantages providing spectacular views of the bay from many cliff-side locations as well as those available from the shore. The city is a mix of older, traditional residences and modern glass and steel condos all accessed by passage through narrow cobblestone streets that climb the hillsides and wind through long-established neighborhoods.
The best views are said to be had from the "Beverly Hills of Banderas Bay" or the Conchas Chinasarea. One example of a luxury townhouse in the area even includes a separate one-bedroom, one-bathroom apartment for $249,000. With direct access to the common-area pool, two bedrooms, two-and-a-half bathrooms, laundry, air conditioning, plenty of natural light and a rooftop terrace, you could have one of the best views in the area.
And with property prices providing excellent value and the current and significant strength of the U.S. dollar against the Mexican peso, this is a great time to take a look at investing in this well-established, seaside community.
In fact, Puerto Vallarta has collected various titles over the years including Friendliest City in Mexico, Most Romantic City in Mexico, and Best Vacation Destination in Mexico, to name but a few. Anyone who has ever been there can understand the appeal and Vallarta's own International Airport makes getting there a snap! If you haven't, then now's the time.
Get Your Free Roving Real Estate Investor Report Now

Sign up for the FREE Roving Real Estate Investor e-letter and get a valuable report (free for a limited time) on The Exact Location of Where to Make the Most Real Estate Profits This Year (Plus 4 More Places to Build Your Fortune in Latin America and Europe).
Related Articles
Tranquil Living by the Beach in Mexico for $150,000
Homes From Less Than $50,000 in This Tranquil Lakeside Town
Buy in One of Mexico's Most Beautiful Colonial Towns From Under $70,000