I'm a Canadian. I'm used to long, cold winters. But a few years back, my husband Gary and I had had enough.
I refuse to spend my precious retirement years shoveling snow and huddled in front of my fireplace…not to mention donning layers of clothing from top to toe just to venture outside.
And so each and every fall, we say goodbye to block heaters…snow shovels…hats, scarves, and outrageous heating bills…and head to Panama's warmer climes.
When we decided to make the move and to spend six months of the year in a warmer country, we researched long and hard.
We settled on Chiriqui Province, which is close to the border with Costa Rica. It's the agricultural part of Panama where livestock are raised and you'll find every conceivable fruit and vegetable. There are also coffee plantations (some of the best coffee in the world is grown here), and fresh seafood is delivered daily from villages on the coast.
We purchased a three-bedroom, two-bathroom house with an attached 800-square-foot covered terrace and a three-quarter-acre lot for approximately one quarter as much as we would have had to pay in Canada for a similar sort of property.
Our property is surrounded by lush trees and foliage (many of them fruit trees), and has a lovely creek flowing through it. It is situated in a small, quiet, safe, Panamanian community and we love it. Our neighbors have accepted us graciously and are helpful and kind.
When the weather starts to turn cold in Vancouver Island, we get ready to head to our second home. Previously we couldn't fly directly—we had to transfer to a local airline in Panama City—but this year an airline launched a full service from Canada to Panama. With Panama's economy doing so well new air routes are opening up all the time.
The most important benefit of choosing this lifestyle, for us, has to be no more winter. We're now a "perpetual summer" couple and love it.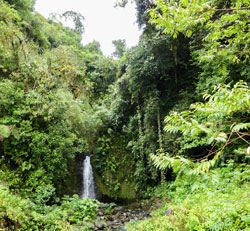 The cost benefit of Panama is another big plus. Thanks to the pensionado program, expat retirees can look forward to 10% to 50% discounts on pharmaceuticals, domestic flights, hotel rooms, restaurant meals, recreational activities, and more—helpful to those of us on fixed pensions.
There is something for everyone in this country. The terrain here is diverse. You can choose to live in a lively, bustling city, a small town, on or near the beach, in the highlands, or even in the bowl of a dormant volcano.
This alternative living arrangement provides a terrific way for retirees to decide whether they wish to settle into one new country, full- or part-time, or to travel from destination to destination on an eternal vacation.
While you try out the snowbird life, you get to immerse yourself in an entirely new and different culture, learn a new language, visit exciting places, meet new people, and have exciting adventures. Not to mention providing a vacation destination for friends and family.
If you're considering Panama, the snowbird life might be for you, too. My husband and I have never been happier.
Related Content
Part-Time Living as a Snowbird in Paradise
7 Tips for Living the Snowbird Life with Ease
We Found Our Snowbird Nest in Western Panama